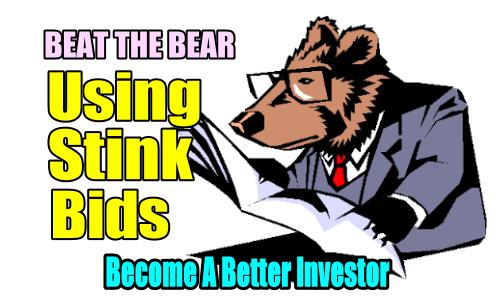 On a day like Wed Jan 27 2021 when the index tumbles  2.5% or more, volatility jumps allowing investors the use "stink bids" in an attempt to earn above average returns that would not normally be available. These returns during periods of high volatility are just another way to Beat The Bear and enjoy profits while waiting for the correction or pullback to sort itself out.
Strategy Article for Members
This strategy article is for members. It presents a unique way to profit during periods of uncertainty and high volatility in stock markets.
This strategy article is 900 words in length and will require 6 pages if printed.
Beat The Bear Using Stink Bids – Become A Better Investor
---
Spy Put Options Internal Links
Review Prior SPY ETF Hedge Trade Summaries:
SPY ETF Hedge Strategy Trades Summary For 2016
Review 2013 Spy Put Options Trades
Review 2012 Spy Put Options Trades
Review 2011 Spy Put Options Trades
Review 2010 Spy Put Options Trades
SPY PUT Options Strategy Articles
Spy Put Options External Links
SPY PUT SPDR 500 ETF Fund Overview
SPY PUT SPDR 500 ETF Dividends
---