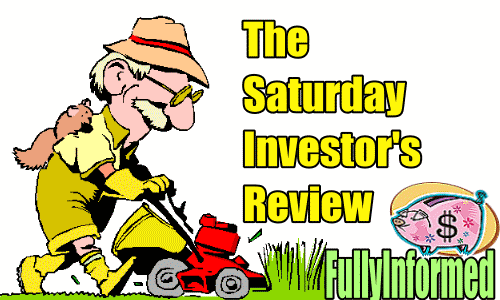 On this Veterans Day / Remembrance / Armistice Day, I hope investors take a moment out to recall our veterans and those still in service today. Many gave the ultimate sacrifice for the freedoms we enjoy today so please take time out to remember all those who have served.

SPX – Second Week Of November 2017
The S&P chart is set for 5 days with a 15 minute interval. Momentum is set for a period of 10.
For the second week of November the S&P ended the week down just 1.11 points to 2582.30. This is just 15 points below the all-time intraday high which was set on Tuesday. To listen to the business media on Thursday and even Friday you would have thought the markets were down "big". This is why during the week I kept writing about the trades I was entering and how the markets outlook was unchanged. Turning down or even off all the "media noise" can go a long way toward staying calm and focused on what is actually happening.
Earnings continued this week and again, the media focused on those earnings that tumbled stocks, but overall more than 80% of the earnings released during the second week of November averaged 7.7% better than the prior quarter. Businesses in general are doing well.
The S&P chart for the week should keep investors more upbeat for the upcoming third week of November. The S&P made a new all-time high on 2597 on Tuesday. Selling occurred after the high which is normal. On Wednesday investors pushed back and the S&P almost managed to break out from the intraday high. They failed, but much of the blame can be laid at worries over what the final tax reform bill, if it passes, may look like. This took down the markets on Thursday. Again, the drop was seen by the media as the start of something "far worse". However by the end of the day the S&P pretty well recovered all the losses.
Momentum saw the heaviest period of selling on Thursday until early afternoon. The bounce Thursday was the best of the week. On Friday markets drifted sideways and except for a short minor negative period mid-morning, momentum stayed positive.
Support is down at 2550 which is part of the reason the S&P can seem a bit volatile or choppy at times. However even if we get a drop down to 2550, unless the market closes a couple of times below 2550, the outlook is still up for the S&P.
NASDAQ- Second Week of November 2017
The NASDAQ chart is set for 5 days with a 15 minute interval. Momentum is set for a period of 10.
We saw a new intraday high on Tuesday of 6795. On Wednesday investors tried to push beyond that high and failed but just as we saw with the S&P, the failure is common after a new high is made. Both the S&P and NASDAQ indexes were pointing to overbought signals. Even after Thursday's drop and Friday's sideways action, both indexes are exhibiting many signs of being overbought still.

While worries over tax reforms took center stage as far as the media was concerned, normally the type of selling we saw on Thursday is just typical profit-taking. When investors see heavier than usual selling, they join in and as the selling intensifies, they sell even more. Equities remain probably the most emotional investment asset for everyone, professional as well as novice. Those who believe that professionals do a better job need only look at the carnage of 2008 to 2009 to realize that when selling erupts, even the professionals are drawn in. On Thursday there was selling in every sector including utilities. On Friday though, markets found their footings and ended basically sideways.
Momentum saw the most negative day on Thursday but the snap back afternoon rally was strong and swift. Friday was dominantly positive for momentum.
Support for the NASDAQ is down at 6600 so choppiness is bound to occur until support can be built higher. Pullbacks such as we saw on Thursday are significant for bulls market as they are what builds strength and support zones. Consolidations of gains means the markets can eventually move higher. Only sell-offs can create the kind of consolidation needed to be able to push a rally still higher.  The overall outlook for the NASDAQ is still higher by the end of the month.
---
Weekend Reading List
A bit of an increase in volatility this week means perhaps it is time to review a number of articles that can help refresh some key aspects of investing.
---
One of the more important aspects of investing in equities is understanding the combination of Daily Volume and Price. These two when combined can be powerful tools that can tell investors everything from entering a trade and exiting a trade to when to place stops or even when to drop a stock from a watch list.
Volume is the heart of stock market investing. One of the most interesting aspects of Volume is doing a quick daily review to see changes within volume. Investors often ask how they can tell if a stock is under buying or selling pressure daily. When a stock trades, for every seller there is a buyer and vice versa. The price movement in a stock combined with candlesticks is the way in which investors can determine daily buying and/or selling pressure. The close at the day is always marked by a candlestick which also indicates buying and selling pressure in a stock. The volume indicators during the day and at the close of the day are the keys to understanding buying and selling strategies based on volume.
This strategy article from March 2013, uses a Canadian Bank stock, Bank of Nova Scotia (BNS) which trades on both New York and Toronto. This strategy article is open to all investors. Read More…..
---
Often when markets make new highs investors worry about their longer-term stock holdings. With many stocks at historic highs and indeed many stocks up more than double digits from just a couple of years ago, one strategy that many investors might like to learn more about is a Collar Option or what is often referred to as a Married Put. This strategy article from May 2012 looks at the use of a Collar Option on dividend stocks for investors who are holding stocks for a longer-term than just a year or two. This is a lengthy article at 3200 words and it requires 10 pages if printed. Part of the article is available to all investors and the balance is for members.

Collar Options or a Married Put can be a very successful strategy if implemented the right way and for the right reasons. Before implementing any strategy, the importance of a having a plan is essential to financial success. No strategy will work consistently if not applied properly to meet goals established before the investment takes place. The interesting thing about the collar option or married put is that it is one strategy that probably allows for an investor to make a mistake with a stock and get out with limited losses. Two stocks are discussed, Citigroup and Kimberly-Clark Stock (KMB). The majority of the article studies Kimberly-Clark Stock (KMB). Read More…..
---

When volatility drops such as we have seen over the past 10 months, option premiums become smaller on many stocks. This becomes a problem for investors who sell options for income. The temptation is to either move higher, which means selling options closer to where a stock is trading, or to move a lot further out in time, such as 5 or 6 months or even longer. The farther an expiry is, the higher the option premiums will be.
This article from February 2014 was prompted by an investor on my Yahoo options forum, wondering why those who sell put strikes would choose what looks like a riskier put strike that expires in two weeks versus selecting a further out of the money put strike which pays more and has over two months to expiry. It would appear that the less riskier trade is taking the two month out trade. The answer though comes down to understanding risk to capital versus the reward to a portfolio. Read More….
This strategy article is 2500 words and is for members.
Enjoy the rest of the weekend and please take time out to remember our veterans and those who continue to serve our nations today. I will have further articles up all weekend.
---
 Market Direction Internal Links
Profiting From Understanding Market Direction (Articles Index)
Understanding Short-Term Signals
Market Direction Portfolio Trades (Members)
Market Direction External Links
IWM ETF Russell 2000 Fund Info
Market Direction SPY ETF 500 Fund Info