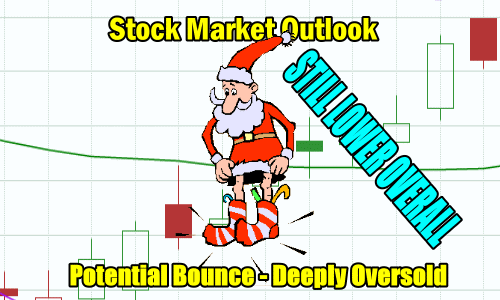 As this is Christmas evening I am doing just a short write-up.
With the SPX down to 2350 there is no change in the outlook from Monday. I am expecting a bounce at any time which could be rather swift and then another move back down.
The market is extremely oversold and has been for days but daily declines have been large. We should see markets try to stabilize and then rebound. It could happen on Wednesday, especially if markets open lower, perhaps down to 2340 and if volumes are high. They might signal buyers to jump in.
A large number of stocks are very attractive now, but most investors are worried they will be catching a falling knife now and stocks will end up being still cheaper in a couple more weeks.
I am expecting a bounce this week. It could be as early as Wednesday but the overall direction is still lower so a bounce might last just a day or even a couple of days although at present it certainly seems unlikely as investor sentiment is incredibly bearish.
---
---
Support Resistance Levels To Be Aware Of:
2700 is resistance
2675 is light resistance
2650 is light resistance
2620 is light resistance
2600 is strong resistance.
2550 is resistance.
2480 is resistance.
2450 is resistance.
2525 is resistance.
2400 was support and may still be.
2380 was support and may still be. A rally could reach the level.
2350 to 2300 is the best support and marks a full correction.
A break and a couple of closes below 2300 would signal an end to the bull market from 2009.
---
Stock Market Outlook Archives