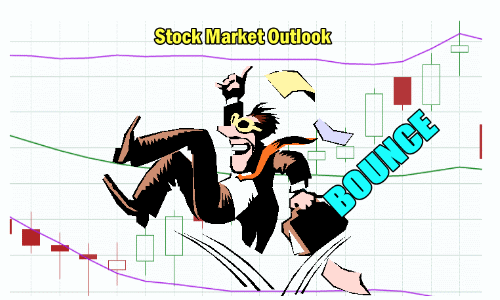 Friday saw a morning bounce attempt which managed to reach just above 4490 by 11:30 before spending the rest of the day collapsing to 4400 and reaching the 200 day moving average. The outlook was for the SPX to reach the 200 day on Monday and bounce. Instead investors sold heavily throughout Friday which saw the S&P fall 85 points to close at 4397 and the NASDAQ fell 385 points to close at 13768.92 well below the 200 day moving average and deeper into a correction. Now down 15% from its high, with many tech names down much deeper the NASDAQ is also deeply oversold.
With Friday's action, many stocks and the indexes are deeply oversold. A bounce should be expected for Monday.
Let's look at the technical indicators from Friday's close on the S&P to see what to expect for the start of the final week of January.
---
Stock Market Outlook Chart Comments At The Close on Fri Jan 21 2022
The closing candlestick on Friday is bearish but also points to a large bounce.
The Upper Bollinger Band is rising which is a bullish signal. The Lower Bollinger Band is falling, which at present is bearish.
The 21 day and 50 day moving averages are falling which is also bearish.
The 100 day is falling which is bearish. Only the 200 day moving average is rising which is still bullish.
For Monday the chart is very bearish and the index is sitting right at the 200 day moving average. A large bounce is predicted for Monday.
Stock Market Outlook: Technical Indicators Review:

Momentum: Momentum is falling and is negative. It is still signaling oversold and ready to bounce.
Settings: For momentum I use a 10 period when studying market 

direction

.
MACD Histogram: MACD (Moving Averages Convergence / Divergence) issued a down signal on Thursday Jan 6. On Friday the down signal gained more strength and with a reading of minus 32.42 a large bounce is expected. The MACD histogram is at a point where we often can expect a large bounce.
Settings: For MACD Histogram, I am using the Fast Points set at 13, Slow Points at 26 and Smoothing at 9. 
Ultimate Oscillator: The Ultimate Oscillator is falling and is oversold.
Settings: The Ultimate Oscillator settings are: Period 1 is 5, Period 2 is 10, Period 3 is 15, Factor 1 is 4, Factor 2 is 2 and Factor 3 is 1. These are not the default settings but are the settings I use with the S&P 500 chart set for 1 to 

3 months

.
Slow Stochastic: The Slow Stochastic has a down signal in place and is signaling extremely oversold.
Settings: For the Slow Stochastic I use the K period of 14 and D period of 3. The Slow Stochastic tries to predict the market direction further out than just one day.
Relative Strength Index: The RSI signal is falling and very oversold.
Settings: The relative strength index is set for a period of 5 which gives it 5 days of market movement to monitor.  It is often the first indicator to show an overbought or oversold signal.
Rate of Change: The rate of change signal is falling and at a level where normally we would see a bounce.
Settings: Rate Of Change is set for a 21 period. This indicator looks back 21 days and compares price action from the past to the present. With the Rate Of Change, prices are rising when signals are positive. Conversely, prices are falling when signals are negative. As an advance rises the Rate Of Change signal should also rise higher, otherwise the rally is suspect. A decline should see the Rate Of Change fall into negative signals. The more negative the signals the stronger the decline.
---
---
Support and Resistance Levels To Be Aware Of:
4800 is resistance
4725 is resistance
4700 is support
4670 is support
4655 is light support.
4600 is good support
4550 is light support
4525 is light support
4500 is support
4490 is light support
4475 is light support
4450 is support
4400 is good support and the 200 day moving average
4370 is light support
4350 is light support
4300 is light support
---
Stock Market Outlook for Tomorrow – Mon Jan 24 2022 
For Monday the indexes will open higher. They could then dip and then rally further. A large rally is predicted for Monday. Normally a large rally such as is expected for Monday will be followed by selling on Tuesday and then another rally on Wednesday. However many stocks are extremely oversold and once buying commences we could see the bounce carry into Tuesday.
On Monday morning I will be trying to buy SPY calls using Jan 28 expiry and shares of the TQQQ ETF. An invasion of Ukraine by Russia would stall the bounce should it occur.
Stock Market Outlook Archives