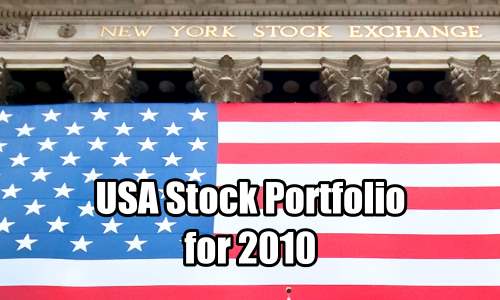 2010 marked the first full year since the collapse of stocks in 2008 to 2009. The recovery though seemed shaky at times. However once the US Federal Reserve Chairman Ben Bernanke announced more quantative easing in late Spring 2010, stocks continued to climb. This is the complete listing of stocks and trades for my USA Stock Portfolio for 2010.
Select the stock's name to view trades for including charts and comments.
US  STOCK PORTFOLIO 2010:
Capital Committed For 2010: $500,000.00
Total Capital In Use At Year End: $678,650.00
Margin Which Might Have Been Required At Year End: $30,905.50
Income Earned In 2010: $149,335.00
Annual Percent Return For 2010: 29.86%
STOCKS FOR 2010:
Select a stock name to review the trades for 2010.
CLOROX (CLX STOCK) For 2010
Year 2 Of Clorox Stock Trade
Position Started: March 23 2009
Income Earned In 2010: $9245.75
Total Income Earned Since Year 1 In Clorox Stock: $14985.75
Final 2010 Action: Dec 29 2010 – Sold 6 Naked Puts FEB 2011 $65.00 strike for $2.65
COCA COLA (KO STOCK) For 2010
Year 2 Of Coca Cola Stock Trade
Position Started: May 1 2009
Income Earned In 2010: $6477.75
Total Income Earned Since Year 1 In Coca Cola Stock: $19372.75
Final 2010 Action: Dec 31 2010 – Sold 10 Naked Puts Jan 2011 $62.50 strike for .61
EXXON STOCK (XOM STOCK) For 2010
Year 1 of Exxon Stock Trade
Position Started: March 5 2010
Income Earned In 2010: $6754.25
Total Income Earned Since Year 1 In Exxon Stock: $6754.25
Final 2010 Action: Dec 23 2010 – Sold 10 Naked Puts Feb 2011 $70 strike for .95
INTEL CORPORATION (INTC STOCK) For 2010
Year 1 of Intel Stock Trade
Position Started: Mar 10 2010
Income Earned In 2010: $4518.50
Total Income Earned Since Year 1 In Nucor Stock: $4518.50
Final 2010 Action: Nov 19 2010 – Sold 4 Naked Puts JAN 2011 $19 strike for .24
JOHNSON & JOHNSON (JNJ STOCK) For 2010
Year 2 of Johnson & Johnson Stock Trade
Position Started: Feb 26 2009
Income Earned To Dec 31 2010: $7960.75
Total Income Earned Since Year 1 In Johnson & Johnson Stock: $12236.75
Final 2010 Action: Dec 31 2010 – Sold 4 Naked Puts FEB 2011 $60 strike for $1.25
KRAFT STOCK (KFT STOCK) For 2010
Year 3 of Kraft Stock Trade
Position Started: Oct 6 2008
Income Earned In 2010: $9901.50
Total Income Earned Since Year 1 In Kraft Stock: $15952.25
Final 2010 Action: Dec 6 2010 Sold 5 Naked Puts JAN 2011 $30 strike for .58
McDONALDS STOCK (MCD STOCK) For 2010
Year 2 of McDonalds Stock Trade
Position Started: Aug 25 2009
Income Earned In 2010: $5461.00
Total Income Earned Since Year 1 In McDonalds Stock: $10060.25
Final 2010 Action: Dec 16 2010 – sold 4 Naked Puts JAN 2011 $75 strike for .88
MICROSOFT STOCK (MSFT STOCK) For 2010
Year 2 of Microsoft Stock Trade
Position Started: Jul 10 2009
Income Earned In 2010: $4422.75
Total Income Earned Since Year 1 In Microsoft Stock: $9061.00
Final 2010 Action: Dec 9 2010 –  Sold 8 Naked Puts FEB 2011 $25 strike for .50
NUCOR STOCK (NUE STOCK) For 2010
Year 2 of Nucor Stock Trade
Position Started: Dec 11 2009
Income Earned In 2010: $4652.25
Total Income Earned Since Year 1 In Nucor Stock:$6781.00
Final 2010 Action: Sep 17 2010 Sold 3 Naked Puts JAN 2011 $33.00 strike for $1.12
PEPSICO STOCK (PEP STOCK) For 2010
Year 2 of PepsiCo Stock Trade
Position Started: Feb 11 2009
Income Earned In 2010: $5455.25
Total Income Earned Since Year 1 In PepsiCo Stock: $9262.75
Final 2010 Action: Sep 17 2010 Sold 5 Naked Puts JAN 2011 $60 strike for $1.12
SPDR S&P 500 ETF -SPY PUT HEDGE For 2010
Used To Hedge my Portfolio During Market Downturns
Position Started: Jan 22 2010
Income Earned In 2010: $65,409.00
The SPY Put is my method of hedging my portfolio against market corrections and bear markets.
Understanding Spy Put Hedge Strategy – Part 1
Understanding Spy Put Hedge Strategy – Part 2
Understanding Spy Put Hedge Strategy – Part 3
VISA STOCK (V STOCK) For 2010
Year 2 of VISA Stock Trade
Position Started: Aug 3 2009
Income Earned In 2010: $12090.00
Total Income Earned Since Year 1 In Visa Stock: $16105.50
Final 2010 Action: Dec 31 2010 Sold 3 Naked Puts FEB 2011 $62.50 strike for .72
YUM STOCK (YUM STOCK) For 2010
Year 2 of YUM Stock Trade
Position Started: Aug 11 2009
Income Earned In 2010: $5964.00
Total Income Earned Since Year 1 In Yum Stock: $7361.25
Final 2010 Action: Dec 22 2010 Sold 10 Naked Puts FEB 2011 $46 @ .60
View USA Stock Portfolio 2012 Index