TRADING SPY PUTS - THE SHORT VERSION WITH THE OSCILLATOR - 4 STEPS:
I receive emails constantly asking if I could explain how I trade SPY puts. For those who want a shorter version, I use the oscillator. The oscillator is my best tool for day trading SPY puts. Here are the 4 steps I follow:

STEP 1)

I have a cash cushion, so if I am wrong I am basically losing some of my previous profit. I always trade for the day unless absolutely necessary to hold longer. I like to keep adding to my profit and build up the cash cushion.

STEP 2) I have to be confident in the market trend down. Today (Friday May 7 2010) I was totally convinced we would move lower, after Thursday's unexpected 992 point collapse. In my opinion that spooked investors so I believed there was no way we would rally higher. This is key – I have to be confident I am right – that gives me the confidence to jump right in and buy the puts every time the market moves up. Think about it for a moment – yesterday we fell 992 points. Then we rallied back and closed down just over 300 points. But a thousand point fall in 30 minutes is bound to scare the daylights out of any investor. The market makers fled from stocks during that 30 minutes. You could tell because many stock bids collapsed as they ran away from stocks. As well both Thursday and again today (Friday) the VIX was up over 40 - fear is back!

STEP 3) Look at the chart below for the day. I follow the SPY charting it by minutes and use the Oscillator. The red is overbought so when I see that I get ready to buy my puts. The green is oversold – again when I see that I get my sell in.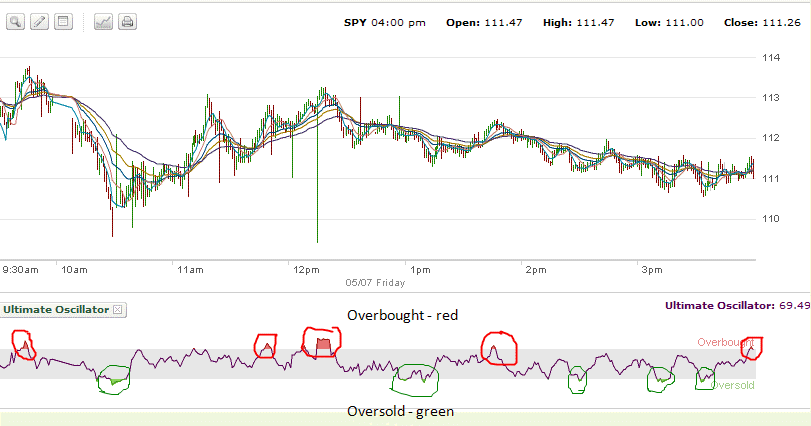 STEP 4)

After a day like Thursday's 992 plunge I know that doing 5 or 10 or 20 contracts is not necessary for me (depending on the amount of capital I want to risk). I believe in my outlook that the market is going to fall, so then I jump in and buy 50, 60 or 70 puts. Overall I am not actually risking 30 or 40 thousand. In my case this morning, I bought 60 puts for a cost of 14,360 approx. Meanwhile my cash cushion from previous SPY trades is at 19,500 so I am risking my previous profit. There is no way I would lose the entire sum. If my call was wrong I would cover my puts and wait for another opportunity.

SUMMARY:

For me it comes down to confidence in my technical charts, so I can jump right in and not even question the decision. On Thursday May 6 my technicals didn't show a coming collapse and in fact didn't look all that bad. Therefore I was doing 5 contracts each time. I bought and sold SPY puts a number of times, but I had no idea the market would collapse. Today though with yesterday's collapse it was easy to decide on a larger quantity of contracts. It is this confidence that makes so many of these trades successful. With that confidence I can act immediately without pause which in a moving market can make the difference between a great trade and a poor one. I paper traded this strategy for a number of years until I gained the confidence needed to make a quick decision. I believe that paper trading is the best way to learn this and any trade without worrying about loss of capital.



---