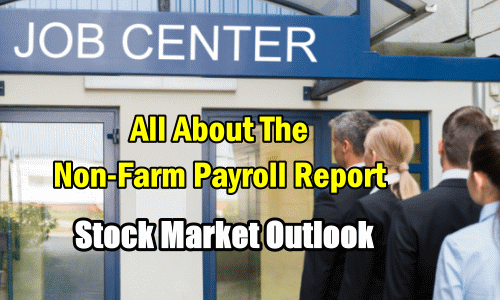 Today we saw the aftermath of the Fed's quarter point decision on interest rates from Wednesday but also the outlook for a slowing of further rate hikes. With the Fed Chair referring several time to disinflation during his news conference yesterday,  investors are jumping back into stocks as they figure further sharp interest rate hikes are done.
Trading volumes today were among the best in months. The NASDAQ traded 7.4 billion shares. I would have to look back through my records to find a few days with volume this high. The S&P traded 5.7 billion which is still good for the index. On the NASDAQ 80% of all volume was being traded to the upside for a second straight day. On the S&P there were 205 new 52 week highs and just 5 new lows.
Much of today's action was also helped by the stunning reversal of Meta Stock (META) which investors shot up $35 by the close to end the day up 23% to $188.77.
Friday though investors have to deal with January's jobs numbers and disappointing earnings from Alphabet (GOOGL), Apple (AAPL) and Amazon.com (AMZN) which are certain to weigh on the markets.
Let's review the closing technical indicators from the SPX on Thu Feb 2 to see what to expect for Fri Feb 3.
---
Stock Market Outlook Chart Comments At The Close on Thu Feb 2 2023 
On Thu Feb 2 the S&P traded higher and closed once again well above the 200 day moving average.
The closing candlestick is bullish for Friday but also signaling the market is ahead of itself and very overbought. The candlestick is pressuring the Upper Bollinger Band and closed above the band.
The Upper Bollinger Band is rising rapidly which is bullish. The Lower Bollinger Band is also rising which is also bullish.
The 200 day moving average is rising which is bullish. All the major averages are now rising.
The 21 day moving average is at the 200 day. Another rise tomorrow and it will issue another up signal.
At present there are are 3 down signals in place since April 24 and 3 up signals.
The chart is 80% bullish for Friday although it is showing stocks are overbought at present.
Stock Market Outlook: Technical Indicators Review:

Momentum: Momentum is rising sharply and positive. It is reaching levels that are considered overbought.
Settings: For momentum I use a 10 period when studying market 

direction

.
MACD Histogram: MACD (Moving Averages Convergence / Divergence) issued an up signal on Monday Jan 9. The up signal gained strength on Thursday as did the histogram.
Settings: For MACD Histogram, I am using the Fast Points set at 13, Slow Points at 26 and Smoothing at 9. 
Ultimate Oscillator: The Ultimate Oscillator is unchanged for a third day and on the verge of signaling overbought. It is advising that the market may have further room to the upside.
Settings: The Ultimate Oscillator settings are: Period 1 is 5, Period 2 is 10, Period 3 is 15, Factor 1 is 4, Factor 2 is 2 and Factor 3 is 1. These are not the default settings but are the settings I use with the S&P 500 chart set for 1 to 

3 months

.
Slow Stochastic: The Slow Stochastic has an up signal in place and is very overbought.
Settings: For the Slow Stochastic I use the K period of 14 and D period of 3. The Slow Stochastic tries to predict the market direction further out than just one day.
Relative Strength Index: The RSI signal is rising and signaling overbought.
Settings: The relative strength index is set for a period of 5 which gives it 5 days of market movement to monitor.  It is often the first indicator to show an overbought or oversold signal.
Rate of Change: The rate of change signal is rising and positive. It is getting close to levels when the market is overbought.
Settings: Rate Of Change is set for a 21 period. This indicator looks back 21 days and compares price action from the past to the present. With the Rate Of Change, prices are rising when signals are positive. Conversely, prices are falling when signals are negative. As an advance rises the Rate Of Change signal should also rise higher, otherwise the rally is suspect. A decline should see the Rate Of Change fall into negative signals. The more negative the signals the stronger the decline.
---
---
Support and Resistance Levels To Be Aware Of:
4250 is resistance
4220 is resistance
4200 is resistance
4180 is resistance
4150 is resistance
4125 is resistance
4100 is resistance
4090 is resistance
4075 is resistance
4050 is resistance
4030 is light support
4025 is light support
4000 is light support
3975 is light support
3965 is light support
3950 is good support
3930 is light support
3900 is good support
3875 is light support
3850 is good support
3830 is good support
3810 is light support
3800 is good support
3775 is good support
3750 is good support
---
Stock Market Outlook for Tomorrow – Fri Feb 3 2023 
Comment: Note in the support and resistance levels in the section above, how quickly the rally has pushed through 4000 and 4100. The support levels are well below where the index is currently trading. The index needs more time to be able to build support. A dip back for the SPX could be fairly sharp and probably down to at least 4100 if not 4050. This is not to say the market is set to fall back. This is just an observation based on years of trading and knowing what can happen to a market that lacks proper support levels.
Friday's Outlook:
Huge volume on Thursday again pushed the indexes higher and now back to levels last seen in August. The SPX today tried to break to 4200 but a lack of buying saw the index close at 4180 which was a support level back in August. The index is very overbought and investor enthusiasm has pushed stocks too fast and many of them, too high. A negative day is likely.
As well the January jobs numbers will have a lot of impact. If the numbers are stronger than expected the market could slip a bit further than expected, simply due to the overbought condition stocks are now in. That said, deeper dips are opportunities I will be using to setup more trades.
As well earnings from Alphabet (GOOGL), Apple (AAPL) and Amazon.com (AMZN) disappointed. Even Qualcomm (QCOM) earnings were a miss although they came close to estimates. All of this will weigh on stocks on Friday. By next week most investors will have forgotten and the4se stocks will recover, but not on Friday.
For Friday expect the index to close lower. But the technical indicators, which are signaling overbought, are also advising that the rally has further to run. By next week we should see stocks move higher again.
Potential Economic and Political Market Moving Events
The next major event is today when we get the January non-farm payroll numbers.
Friday:
8:30 January non-farm payroll numbers are expected to be 187,000
8:30 Unemployment rate is expected to come in at 3.6%
8:30 Average hourly earnings are expected to be 0.3% unchanged from last month.
---
Stock Market Outlook Archives