My Market Direction outlook for Tuesday certainly was off. The market was soft before the open with the S&P 500 down 0.22 percent and the Dow off a quarter of a percent. But within minutes of the open the dollar strengthened, gold fell and the Fed indicated that housing debt had fallen back to 2006 levels. Momentum picked up and by 11:00 AM the S&P 500 was back in virgin territory. The big gainers were across the board with more than two-thirds of all stocks moving higher including the Banks. BAC Stock was up 2.6 percent and Goldman Sachs was up 3.4 percent. The move today has pushed market direction up by 16 percent since the start of the year. Many analysts speaking on CNBC indicated they saw no reason for the continual rise in the markets and many seemed to be expressing dismay. Other pointed that more cash is piling into the markets and keeping stocks from correcting as even the smallest dip is being bought.
The market direction for the past three sessions had been more sideways than anything else, but that sideways motion seems to be the only thing investors need to decide whether to buy more shares. This has been a pattern we have seen repeatedly since March. The market direction drifts sideways but fails to fall instead drifting with a slight dip. When the markets do not sell lower, investors step back in and buy again, pushing stocks back up. The question for Wednesday will be whether there will be follow through tomorrow which is something we have not seen very often after big up days.
Market Direction Economic News For The Week
Just to recap, these are the economic reports that could impact the market direction this week. So far we have had the latest retail sales and they were up just 0.1 percent but then analysts were calling for a contraction of 0.3 percent after March's contraction of 0.5 percent. Tomorrow we get producer prices and industrial production.
Monday we get the latest retail sales.
Wednesday we get producer prices and industrial production.
Thursday is consumer prices and housing starts
Friday is leading indicators.
Market Direction Closing For May 14 2013
The S&P 500 closed at 1,650.34 up 16.57 points. The Dow closed at 15,215.25 up 123.57 points. The NASDAQ closed at 3,462.61 up 23.82 points.
Market Direction Technical Indicators At The Close of May 14 2013
Let's take a moment now and review the market direction technical indicators at the close of May 14 2013 on the S&P 500 and view the market direction outlook for May 15 2013.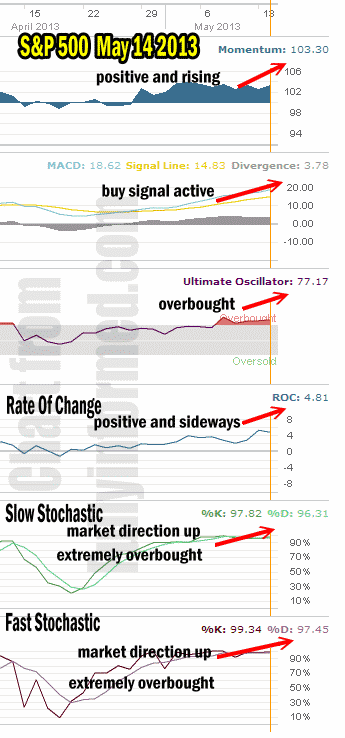 For Momentum I am using the 10 period. Momentum is positive and rising again but it still has not reached the strength of early last week.
For MACD Histogram I am using the Fast Points set at 13, Slow Points at 26 and Smoothing at 9. MACD (Moving Averages Convergence / Divergence) issued a buy signal on April 26 and the signal remains valid. The signal reading is pushing higher today but not as high as you would think after such a good move. This inability to really jump shows how overbought the market is.
The Ultimate Oscillator settings are Period 1 is 5, Period 2 is 10, Period 3 is 15, Factor 1 is 4, Factor 2 is 2 and Factor 3 is 1. These are not the default settings but are the settings I use with the S&P 500 chart set for 1 to 3 months.
The Ultimate Oscillator is extremely overbought.
Rate Of Change is set for a 21 period. Rate Of Change is pushed sideways to down a bit today. Yesterday's big jump normally indicates a change of trend, but often down. Instead the move was up. We will have to see if it can hold for Wednesday.
For the Slow Stochastic I use the K period of 14 and D period of 3. The Slow Stochastic is extremely overbought and is signaling that the market direction is back to up but only slightly.
For the Fast Stochastic I use the K period of 20 and D period of 5. These are not default settings but settings I set for the 1 to 3 month S&P 500 chart when it is set for daily. The Fast Stochastic is also extremely overbought and while yesterday it was signaling down, today it is signaling there is a chance for a move higher still, but the market is terribly overbought.
Market Direction Outlook And Strategy for May 15 2013
I was obviously looking too deeply at the market direction technical indicators yesterday when I felt that the markets could drift sideways. Obviously the market direction remains higher and while some of the Market Direction technical indicators are signaling here and there that not everything is perfect with this rally, the market direction is actualy clearly higher.
I think the most important aspect now is to look for those dips such as I saw in Intel Stock yesterday and AT&T Stock today and sell puts because until the market decides to correct in a meaningful way, any little pullback is being continually bought. Investors are enthusiastically supporting this market and are determined that the Fed will not stop the liquidity train until sometimes next year at the earliest. It is important for those of us who have been in the market since the crash in 2009 and have been trading it throughout this recovery, to understand that many other investors, particularly many institutional investors have been on the sidelines for years. They now are trying to make up for lost time through getting invested here, trying to bring in big gains now and obviously hoping to get out before anything "scary" happens later.
With that knowledge in mind, Put Selling is obviously going to continue to generate very good income since Put Selling works very well in uptrending markets. In fact what we are seeing is that even a few days of sideways motion is being considered good news for buyers. They look to see if the market is failing to fall on sideways days and because it does not, they buy it again and push it still higher. While it may seem strange to a lot of investors, the movement for stocks is still to the upside and my focus is definitely zeroed in on Put Selling and the Trading For Pennies Strategy.
Tomorrow we could see some weakness due to the overbought nature of the market itself but any dip because of today's move higher remains an opportunity for Put Selling my favorite stocks. Market direction is clearly the best Put Selling climate to be in. Market Direction Uptrends make Put Selling easy.
Internal Market Direction Links
Profiting From Understanding Market Direction (Articles Index)
Understanding Short-Term Signals
Market Direction Portfolio Trades (Members)
Market Direction External Links
Market Direction IWM ETF Russell 2000 Fund Info