The outlook for market direction today was more consolidation but still moving higher. While I am not expecting big 100 point plus up days at this point in this rally, I am expecting a slow grind higher which is perfect for trading and for building support into stocks. Eventually this rally will end and the market direction will turn down and seek to find support levels, but at present that is not the case. The market direction remains up.
Market Direction Outlook Intraday – 1 Minute Chart
The one minute chart continues to not only offer me exceptional daily returns within the IWM ETF Trading For Pennies Strategy but also shows what investors need to keep an eye on. In the morning almost like clockwork, the S&P jumped higher but by 11:00 am was setting up the lows for the morning and possible the day. This has been the point where I have done the Trading For Pennies trade.
However what we want to watch is that morning low. Once this pattern breaks and the market direction in the afternoon falls below the morning lows, then we can look for the rally to begin to stall out and pull back.
Another interesting view is the small gap this morning after 10:00 AM. I would expect to see the market direction in the afternoon pull back and fill that gap. We could in fact see the market close somewhere around that gap but that's just a prediction and not technical in any term.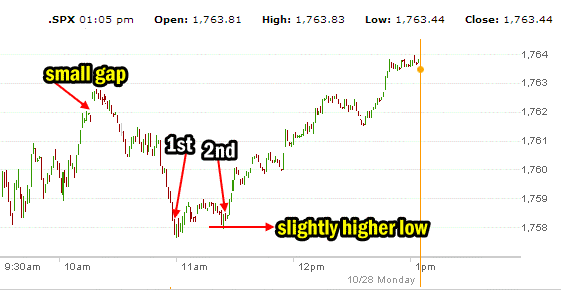 Merck Stock (MRK)
Merck Stock had poor revenue and earnings this morning and naturally the stock has sold lower. I wrote an article on it and I am busy Put Selling against the downturn as outlined in my article.
Microsoft Stock (MSFT)
After the rise in Microsoft Stock late last week, I am not surprised by a little weakness today. It is too early in my opinion for selling calls including covered calls and puts. I do think if ann investor wants out of his shares selling covered calls is fine but the chance of the stock pushing back up is tough to call at this point. I will not be surprised though is a little weakness here is followed by a push even higher.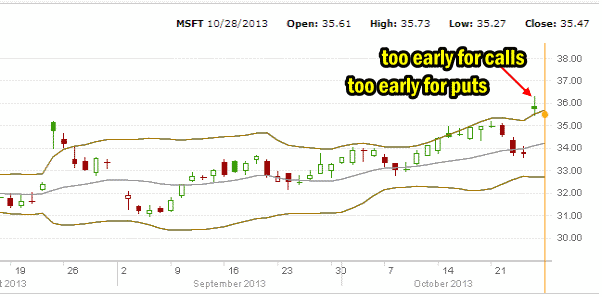 Stanley Black and Decker Stock (SWK)
A review of SWK Stock is showing that volume is rapidly declining, which is never a good sign for the stock. It has held the $75 support level and climbed back above the $77.50 level but it is looking weak here. I would not be Put Selling at this point. Any Put Selling I have done was back when the stock collapsed. Instead I am looking to buy to close some positions and then get ready in case the SWK Stock moves back down and retests the $75 support level. At the very least I think it will push back through $77.50 support level which is light support at best.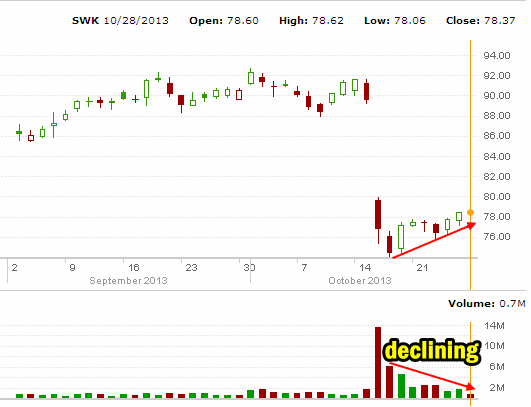 Barrick Gold Stock (ABX)
Barrick Gold stock is pushing higher but is looking poor as it tries to hold the Upper Bollinger Band. I included the MACD technical indicator which issued a buy signal on October 21. Although I personally think technical indicators are tough to use for gold stocks, they can offer a bit of information for traders. Still though as explained in this in-depth article on ABX Stock and rolling covered calls, it is the price of gold that drives the gold miners and almost nothing else really matters. At the time of writing this article gold was up $1.20 to $1353.60 but the US dollar looks like it may be bottoming and if it is, then gold will most likely suffer. That will be an ideal moment to sell covered calls or naked calls on ABX Stock.
Market Direction Outlook Into The Close
Into the close I believe the markets will end with more upside and the S&P looks like it may try to close right around the 1762.00 level which was the early morning gap. Right now I don't see any concerns with market direction and I am continuing to sell puts and trade the IWM Trading For Pennies Strategy at least once a day. I will post my outlook for tomorrow after the markets close.
Market Direction Internal Links
Profiting From Understanding Market Direction (Articles Index)
Understanding Short-Term Signals
Market Direction Portfolio Trades (Members)
Market Direction External Links
Market Direction IWM ETF Russell 2000 Fund Info