Merck stock has been in and out of my portfolios since 2011. Some times it has been a great stock for Put Selling. Other times Merck Stock is decent but the put premiums did not warrant the risk to my capital. It has always been a trade off with Merck Stock. When I risk my capital I like to know that it's either safely being deployed for a reasonable return or its being deployed against a riskier trade in Merck Stock but the return justifies the risk.
Singulair Sales Hit Merck
The earnings out of Merck this morning were poor to say the least. Earnings fell 35% due to the loss of exclusivity for asthma and allergy drug Singulair. This contributed to weaker sales than the company expected although when we look at the chart I am sure there were many who either knew sales were going poorly or suspected it. We will get to that in a moment. Sales of Singulair were down 53% as the drug no longer has patent protection.
Sales Outlook Downgraded Again
Earlier this year Merck had announced expected revenue of $3.55 a share and then downgraded it to $3.52 a share and now another downgrade to $3.48 a share. Merck also reaffirmed that it is continuing with its cost cutting measures in the hopes of reducing overhead by $2.5 billion annually by 2015.
The Number That Matters – REVENUE – Down 4%
Merck reported a profit of $1.12 billion, or 38 cents a share which is down from $1.73 billion, or 56 cents a share, last year. Adjusted earnings were down to 92 cents from 95 cents. The most important number and one that is hard to manipulate, revenue, decreased 4% to $11.03 billion.  Analysts had expected 88 cents per share but on revenue of $11.12 billion.
Put Selling Safely Merck Stock
So where does this leave Put Selling Merck Stock? Let's first look at the 6 month Merck Stock chart below. I am always surprised at how often stocks moves are supposedly "anticipated" by investors. Back the at end of September the Stock was pushing toward $49.00 which I have marked as POINT A, and then commenced a slide right into earnings. To me it seems obvious when a stock slides into earnings that many either already know some news (think insiders) or some analysts are particularly "smart" when it comes to specific stocks. It is obvious from POINT A that "some people" either knew or suspected "some thing" about the stock's direction. Once I saw the stock falling I stayed clear.
Merck Stock $47.5 Support Level
The $47.5 level in Merck stock had some reasonably decent support. You can see in the chart that quite often over the past 6 months each time the stock got down to $47 it would hold and then try to push back up. In this last slide through the stock barely held at $47 and then plunged toward $46.
Merck Stock $46 Support Level
Much less support was at $46 which is obvious even without looking at Volume charts. This is part of the reason why Merck Stock plunged easily through support at $46 and obviously is on its way to $45 where there is again stronger support. This leaves a lot of investors at $47.50 and above. They will want to get out at some point.
Merck Stock Ultimate Oscillator
The Ultimate Oscillator which I have marked as point B is trending back toward oversold but is not there yet. This past 6 months you can see that the stock has only reached extremely oversold three times. One was at the $45 support level and the other two at $46. However at present there is still room for Merck stock to fall further according to the Ultimate Oscillator.
Merck Stock Slow Stochastic
The Slow Stochastic though has been oversold for over a week now. The signals have continually pointed to further weakness though.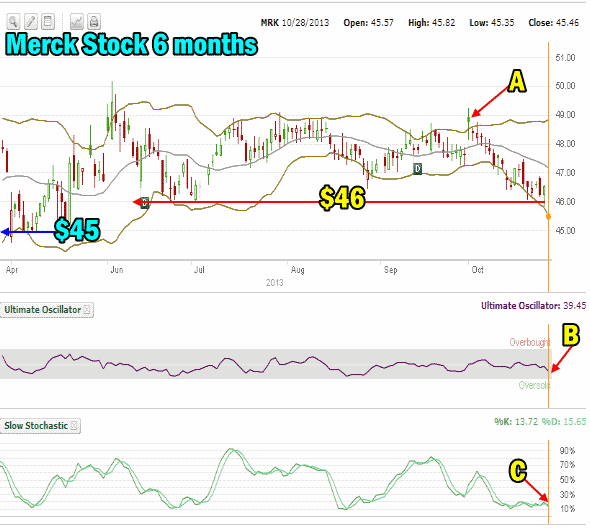 Put Selling Merck Stock 12 Month Chart
To figure out the safest Put Selling strikes to select for Merck Stock the 12 Month Chart is quite helpful. Adding in the volume indicator we can see that $47.50 had built up decent support this year starting in June. Repeated tests that took the stock down to $46 ended up quickly being pushed back to above $47.50. With so many investors trapped at $47.50, the next level of support at $45 makes a lot of sense for Put Selling.
Even if the stock falls below $45, the chance of it getting much below $44 is slim at present unless the bull market in stocks were to end shortly, which does not appear to be the case. Therefore Put Selling the $45 strike to start and then if need be, rolling down to $44 to avoid assignment should Merck Stock fall below $45 makes sense.
However taking assignment of shares at $45 also makes sense and then selling covered calls at $45 or in the money at $44 probably 3 months out would likely see the stock exercised away and might allow an investor the chance to pick up the next dividend.

Trapped at $47.50 in Merck Stock
If I had naked puts or stock trapped at support at $47.50 I would be selling puts at $45 and then $44 to average myself lower into Merck Stock.
Why Big Cap Stocks Work
Recently I wrote an article explaining why why big cap stocks work so well for my Put Selling portfolio. Merck Stock is yet another example. As long as an investor interested in Put Selling remains consistent and sticks to chart patterns, they need not fear pull backs and bad earnings announcements such as today's.
Chart Patterns Matter
By following the chart pattern I had stopped Put Selling back in September when the stock shot back above support at $47.50. Now that Merck stock has come back down I am busy put selling the $45 put strike to start and will move into other put strikes for Put Selling should Merck stock continue to stay weak. However unlike most Junior Stocks, this is yet another example of how a Big Cap stock even with poor earnings, fails to fall so deep that my portfolio is damaged. Instead here I am, back enjoying handsome profits on what is arguably a great company with revenue still well into the double-digit billions.
Put Selling Merck Stock Resumes
Big Cap Stocks like Merck Stock continue to demonstrate why it is best to shun high fliers, junior stocks, penny stocks and specs stocks. I have not had any big cap stock damage my portfolio in more than a decade and a half which means that even during the last two bear markets, my portfolio has remains profitable and growing, thanks to sticking with big cap stocks and watching when to sell puts and when to wait.
For Merck Stock, the waiting is over.  I will be commencing Put Selling at $45 today should it hold and definitely I will be starting the $44 put strike for November 22 options expiry. More conservative investors may want to wait for more signals from the slow stochastic that the selling has slowed and the trend is stable to up.
Merck Stock Internal Links