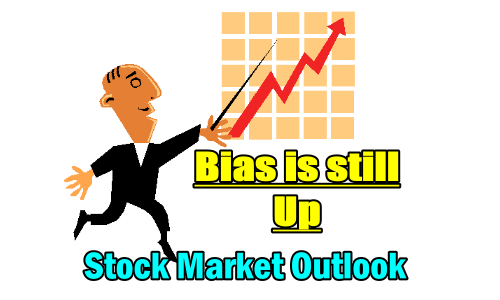 Tuesday saw stocks continue to make gains with the S&P and NASDAQ indexes making new closing highs.  The financial sector was the strongest group as utilities and real estate sectors were weaker along with Treasury yields. Meanwhile McDonalds Stock plunged $5.20 for a loss of 3.22% which kept the Dow from a higher close. As well Apple Stock which moved higher heading into their unveiling of the new iPhone8 and iPhoneX pulled back after the phones were released closing down at $160.86 for a loss of 0.40%. Oil closed up 0.3% to $48.23 (WTI).  The dollar rose against most currencies on Tuesday.
S&P 500 Index Close
The S&P index ended up 8.37 to 2496.48
Dow Jones Index Close
The Dow Jones ended up 61.49 to 21,118.86
NASDAQ Index Close
The NASDAQ closed up 61.49 to 6454.28




Stock Market Outlook
Chart Comments At The Close:
The S&P n Tuesday rose to close at the Upper Bollinger Band. The closing candlestick is bullish for Wednesday.
The 21 day moving average is moving back up and could cross up and over the 50 day moving average which would negate the sell signal from just a couple of days ago when the 21 day moving average fell below the 50 day moving average.
The Upper Bollinger Band which had been turning lower is turning back up which signals further upside is ahead for the index.
The 100 and 200 day moving averages are continuing to climb higher.
Stock Market Outlook: Technical Indicators:
Momentum: For momentum I use a 10 period when studying market direction. Momentum is positive and rising.
MACD Histogram: For MACD Histogram, I am using the Fast Points set at 13, Slow Points at 26 and Smoothing at 9. MACD (Moving Averages Convergence / Divergence) issued a buy signal on Aug 31. The buy signal was stronger on Tuesday.
Ultimate Oscillator: The Ultimate Oscillator settings are: Period 1 is 5, Period 2 is 10, Period 3 is 15, Factor 1 is 4, Factor 2 is 2 and Factor 3 is 1. These are not the default settings but are the settings I use with the S&P 500 chart set for 1 to 3 months. The Ultimate Oscillator is positive and rising into overbought signals.
Slow Stochastic: For the Slow Stochastic I use the K period of 14 and D period of 3. The Slow Stochastic tries to predict the market direction further out than just one day. The Slow Stochastic has an up signal in place for Wednesday.
Relative Strength Index: The relative strength index is set for a period of 5 which gives it 5 days of market movement to monitor.  It often is the first indicator to show an overbought or oversold signal.  The RSI signal is higher and into overbought readings.
Rate of Change: Rate Of Change is set for a 21 period. This indicator looks back 21 days and compares price action from the past to the present.  The rate of change signal is positive and higher, indicating higher prices for the index lie ahead .
---
Support Levels To Be Aware Of:
The market has light support at 2450 and good support at 2425. There is also light support at 2400, 2380, 2350 and 2300.
---
 Stock Market Outlook for Tomorrow – Wed Sep 13 2017
With investors buying into financial stocks on Tuesday, the financial sector becomes one more sector that was oversold and is now quickly rising. Most other sectors have regained a lot of the lost valuations and stocks are back to being "pricey" once again.
We should still see a positive close on Wednesday but the rally is starting to see a bit of weakness. The rally should move up on Wednesday but there could be some dips as a move to 2500 for the S&P seems likely for Wednesday. However we should see the 2500 level retested several times in coming days. So while Wednesday should be higher, Thursday may see a bit of a weak day and a slightly negative close.
---
 Market Direction Internal Links
Profiting From Understanding Market Direction (Articles Index)
Understanding Short-Term Signals
Market Direction Portfolio Trades (Members)
Market Direction External Links
IWM ETF Russell 2000 Fund Info
Market Direction SPY ETF 500 Fund Info