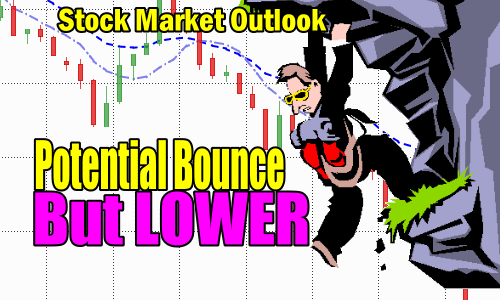 Tuesday started off strong but after a big jump on Monday, there just wasn't enough conviction once the S&P broke above 2700, for buyers to keep loading up on stocks. As the day wore on sellers appeared and took profits on many stocks that had jumped in the past two days. A lot of the rally on Monday was probably short covering and the bounce higher on Tuesday saw the index reach a 50% retracement level from top to bottom of the bear market plunge which ended March 23. That was enough to have investors decide to take profits rather than continue to buy more stocks. The day ended with all 3 indexes mildly lower, but the real story was the loss of a major morning bounce.
---
Stock Market Outlook Chart Comments At The Close on Tue Apr 7 2020 
The SPX chart continues to be bearish with 5 sell signals in the chart.
This evening you can clearly see the Bollinger Bands Squeeze that is underway. It is still questionable which way the squeeze will end up but at present there still looks like we could see the index slip back to 2500 but that's a personal opinion and not based on technical signals.
The index is continuing to hold above 2500 and for ta second day, the index closed above the 21 day moving average. The closing candlestick is bearish for Wednesday.
Stock Market Outlook: Technical Indicators Review:

Momentum: Momentum is back falling but it is still above the red line in the technical chart. That line was resistance. We want to see momentum stay above that red line, otherwise there is more downside ahead.
Settings: For momentum I use a 10 period when studying market 

direction

.
MACD Histogram: MACD (Moving Averages Convergence / Divergence) issued an up signal on Thursday March 26. The up signal was strong on Tuesday.
Settings: For MACD Histogram, I am using the Fast Points set at 13, Slow Points at 26 and Smoothing at 9. 
Ultimate Oscillator: The Ultimate Oscillator signal is falling but it is also above the prior resistance line.
Settings: The Ultimate Oscillator settings are: Period 1 is 5, Period 2 is 10, Period 3 is 15, Factor 1 is 4, Factor 2 is 2 and Factor 3 is 1. These are not the default settings but are the settings I use with the S&P 500 chart set for 1 to 

3 months

.
Slow Stochastic: The Slow Stochastic has an up signal in place.
Settings: For the Slow Stochastic I use the K period of 14 and D period of 3. The Slow Stochastic tries to predict the market direction further out than just one day.
Relative Strength Index: The RSI signal is moving sideways but it too is above the prior resistance line.
Settings: The relative strength index is set for a period of 5 which gives it 5 days of market movement to monitor.  It is often the first indicator to show an overbought or oversold signal.
Rate of Change: The rate of change signal is rising and also above the resistance line. The rise indicates we will see price changes on Wednesday, higher or lower.
Settings: Rate Of Change is set for a 21 period. This indicator looks back 21 days and compares price action from the past to the present. With the Rate Of Change, prices are rising when signals are positive. Conversely, prices are falling when signals are negative. As an advance rises the Rate Of Change signal should also rise higher, otherwise the rally is suspect. A decline should see the Rate Of Change fall into negative signals. The more negative the signals the stronger the decline.
---
---
Support and Resistance Levels To Be Aware Of:
2700 is strong resistance and was a drop of 20.4%.
2675 is light resistant
2650 is resistance
2625 is light resistance
2600 is resistance
2550 is light resistance
2500 was good support and marked a correction of 26.3%
2344 is the next level of support and marks a 30.9% correction.
2100 is light support
2000 is good support and marks a drop of 1393 points for a 41% correction. More analysts are jumping onto this level as where the correction is heading.
---
Stock Market Outlook for Tomorrow – Wed Apr 8 2020 
For Wednesday the technical indicators took a hit on Tuesday with the index giving back the day's rally, but that's not uncommon in a volatile market.
The technical indicators are showing there is another chance for a bounce attempt on Wednesday, but there is not a high chance that any bounce will hold. A negative close is likely again.
---
Stock Market Outlook Archives