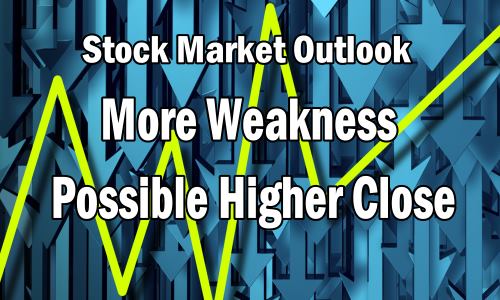 On Wednesday the rally was all about China once again. Tuesday markets sold off due to comments from the President that a trade deal might not happen until after the 2020 election. On Wednesday markets climbed back, recovering Tuesday's loss on reports that a trade deal with China was close. Equities are stuck in a roller coaster ride which continues to assist in driving more profits on dips and rallies.
---
Stock Market Outlook Chart Comments At The Close on Wed Dec 4 2019 
The SPX chart is still bullish, and on Wednesday the index closed above the 21 day moving average which is also bullish. At the same time, the rally is suspect as it recovered 19 of the 47 points lost or 40% which is typical of an oversold bounce.
The closing candlestick is bullish for Thursday.
There are some further bearish signs on Wednesday by the close.
The 21 day moving average is stalling at present which is bearish and the Upper Bollinger Band is falling back while the Lower Bollinger Band is rising to meet it which will form a Bollinger Bands Squeeze shortly.
Aside from the 21 day moving averages the remaining major moving averages are still climbing including the 50, 100 and 200 day moving averages.
Light support is at 3075 which was tested on Tuesday and held.

Stock Market Outlook: Technical Indicators Review:

Momentum: Momentum is rising and negative.
Settings: For momentum I use a 10 period when studying market 

direction

.
MACD Histogram: MACD (Moving Averages Convergence / Divergence) issued a down signal on Mon Dec 2 2019. Today the down signal was stronger.
Settings: For MACD Histogram, I am using the Fast Points set at 13, Slow Points at 26 and Smoothing at 9. 
Ultimate Oscillator: The Ultimate Oscillator signal is turning sideways.
Settings: The Ultimate Oscillator settings are: Period 1 is 5, Period 2 is 10, Period 3 is 15, Factor 1 is 4, Factor 2 is 2 and Factor 3 is 1. These are not the default settings but are the settings I use with the S&P 500 chart set for 1 to 

3 months

.
Slow Stochastic: The Slow Stochastic is no longer overbought and has a strong down signal in place for Thursday.
Settings: For the Slow Stochastic I use the K period of 14 and D period of 3. The Slow Stochastic tries to predict the market direction further out than just one day.
Relative Strength Index: The RSI signal is signaling a bounce is underway.
Settings: The relative strength index is set for a period of 5 which gives it 5 days of market movement to monitor.  It is often the first indicator to show an overbought or oversold signal.
Rate of Change: The rate of change signal is starting to rise which indicates prices may improve shortly for equities.
Settings: Rate Of Change is set for a 21 period. This indicator looks back 21 days and compares price action from the past to the present. With the Rate Of Change, prices are rising when signals are positive. Conversely, prices are falling when signals are negative. As an advance rises the Rate Of Change signal should also rise higher, otherwise the rally is suspect. A decline should see the Rate Of Change fall into negative signals. The more negative the signals the stronger the decline.
---
---
Support and Resistance Levels To Be Aware Of:
3150 is resistance
3075 is light support
3030 is light support
3000 is support
2960 is light support
2950 was light support
2900 is light support
2860 is light support
2840 is support
2800 is strong support
2795 is light support
2745 to 2750 is light support
2725 is light support
2700 is light support
---
Stock Market Outlook for Tomorrow – Thu Dec 5 2019 
The technical indicators are becoming mixed. There are still two very strong down signals, from MACD and the Slow Stochastic for Thursday.
However the 3075 level was not seen again on Wednesday. Instead the S&P opened higher and climbed higher although closing well off its high of 3119, as it dipped to 3112 by the close.
The biggest concern at present is that the rally on Wednesday recaptured 40% of what was lost over the past two prior days of selling This is typical of a bounce and we could see the bounce continue for perhaps another 10 points on Thursday, which would still keep the bounce suspect.
For Thursday there are still signs that the open may be higher and then weakness may move in for a dip back to just below the 3110 level. From there a resumption of the bounce from Wednesday should occur but with far less strength. Only news that trade negotiations are done and an agreement reached can send stocks a lot higher on Thursday. Instead the day looks like a test to see if Wednesday's bounce is more than just that, a bounce from oversold.
---
Stock Market Outlook Archives