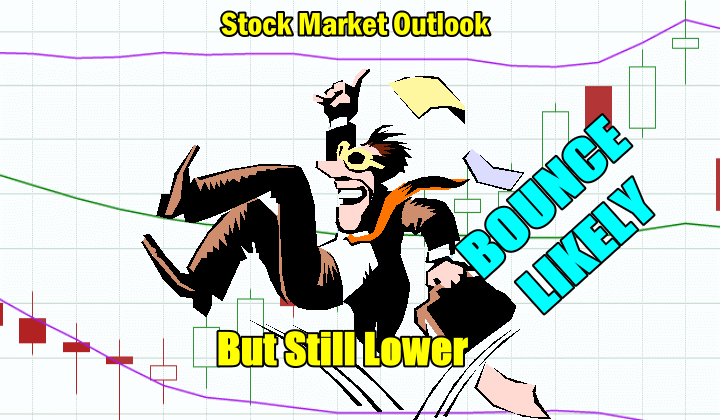 Monday saw stocks waver before moving lower. Failure of the passage of a coronavirus stimulus bill as parties bickered left investors feeling that another day was wasted for stocks. The plunge during the day left the S&P and Dow at their lowest levels so far in the correction although all three indexes managed to recover some of the lows by the close. The Nasdaq fared the best spending quite a bit of time positive and closing down just 18 points. The market is showing signs of weariness with lower volatility which almost always indicates, if there is no change overnight, the market will bounce from being too deeply oversold.
---
Stock Market Outlook Chart Comments At The Close on Mon Mar 23 2020 
The SPX chart continues to be very bearish. The S&P moved lower on Monday reaching below 2200 for a new low of 2192 although it managed to close at 2237. The next major support level is 2000 and would mark a correction of 1393 points for a 41% correction. The correction today was 35.3%.
The candlestick on Monday was back inside the Lower Bollinger Band but it reached the Lower Band and tried to bounce off of it. This has left behind a potential reversal candlestick which signals a bounce should be attempted on Tuesday or Wednesday.
The Upper Bollinger Band is now turning strongly lower signaling more downside ahead.
There are 3 sell signals in the chart but on Monday the 100 day is almost ready to fall below the 200 day. This will be a fourth down signal.
Often we will see a bounce attempt before the 100 day falls below the 200 day moving average.
All the moving averages are plunging but the 21 day is plunging more spectacularly than the other 3 which shows just how relentless selling has been.
The Lower Bollinger Band is falling rapidly which still advises more downside is ahead.
Overall the chart is ugly for equities but they are at least two signals for a potential bounce for Tuesday.
Stock Market Outlook: Technical Indicators Review:

Momentum: Momentum is rising despite another down day on Monday. It is still negative but it is also very oversold. It is very bearish showing a strong declining balance but we might see it attempt to break that downtrend line, at least for a day.
Settings: For momentum I use a 10 period when studying market 

direction

.
MACD Histogram: MACD (Moving Averages Convergence / Divergence) issued a down signal on Friday Feb 21. The down signal is still quite strong but it lost a bit more strength on Monday despite another down day and a new low. Again, there could be a bounce forming.
Settings: For MACD Histogram, I am using the Fast Points set at 13, Slow Points at 26 and Smoothing at 9. 
Ultimate Oscillator: The Ultimate Oscillator signal is rising despite today's decline in equity prices and if you look at the oscillator chart, you can see that today's close is a bit above the first spike, which is a good signal for a potential bounce.
Settings: The Ultimate Oscillator settings are: Period 1 is 5, Period 2 is 10, Period 3 is 15, Factor 1 is 4, Factor 2 is 2 and Factor 3 is 1. These are not the default settings but are the settings I use with the S&P 500 chart set for 1 to 

3 months

.
Slow Stochastic: The Slow Stochastic has a down signal in place and is extremely oversold.
Settings: For the Slow Stochastic I use the K period of 14 and D period of 3. The Slow Stochastic tries to predict the market direction further out than just one day.
Relative Strength Index: The RSI signal is falling and oversold.
Settings: The relative strength index is set for a period of 5 which gives it 5 days of market movement to monitor.  It is often the first indicator to show an overbought or oversold signal.
Rate of Change: The rate of change signal is also falling and oversold. Each prior spike higher has also been lower which again we need to see reverse. Right now the rate of change is indicating prices are going to continue to fall.
Settings: Rate Of Change is set for a 21 period. This indicator looks back 21 days and compares price action from the past to the present. With the Rate Of Change, prices are rising when signals are positive. Conversely, prices are falling when signals are negative. As an advance rises the Rate Of Change signal should also rise higher, otherwise the rally is suspect. A decline should see the Rate Of Change fall into negative signals. The more negative the signals the stronger the decline.
---
---
Support and Resistance Levels To Be Aware Of:
2700 is strong resistance and was a drop of 20.4%.
2675 is light resistant
2650 is resistance
2625 is light resistance
2600 is resistance
2550 is light resistance
2500 was good support and marked a correction of 26.3%
2344 is the next level of support and marks a 30.9% correction.
2100 is light support
2000 is good support and marks a drop of 1393 points for a 41% correction. More analysts are jumping onto this level as where the correction is heading.
---
Stock Market Outlook for Tomorrow – Tue Mar 24 2020 
News continues to be grim as there are more coronavirus cases and more deaths. There is also a growing feeling of frustration with a continuation of shutting down the world's biggest economy as the coronavirus numbers continue to climb although almost half of all cases are in New York at 23,230. With many economists now calling for a 20% unemployment rate in the next quarter and a potentially disastrous negative GDP for the second quarter, it may seem odd but the market on Monday had lower volume despite the decline and the VIX spent much of the day declining even as markets drifted to new bear market lows. There are signals tonight that the market may try to bounce on Tuesday or Wednesday and while the bounce won't mark the bottom of this bear market, this might be a reasonably decent bounce, especially if the Senate can get something solid on the stimulus bill.
For Tuesday then, a bounce could occur, but it won't mark the end of the selling, it could though provide a bit of rest and some trade opportunities which might only last the day.
---
Stock Market Outlook Archives