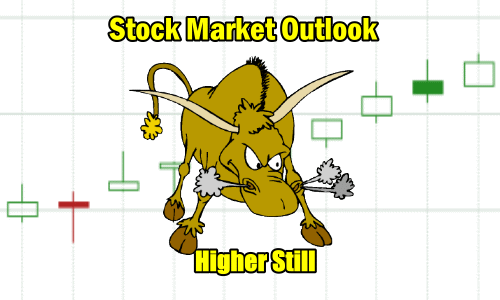 For Friday the Stock Market Outlook is condensed due to the time spent studying and setting up the many trades for Friday.
I plan to end the week on a lot more profits but it takes time to review charts and pinpoint entry points. With a lot of trades planned for Friday, there wasn't much time to report on the index.
---
Stock Market Outlook for Tomorrow – Fri Jan 24 2020 
For Friday the index is still overbought. However Intel's earnings were far better than expected. That will help boost stocks. Also the rebound of the market on Thursday from an early morning sell-off will add conviction for a lot of investors and they will bring more capital into trades.
The index ended the day on Thursday at the highs. That means the market probably will open up or flat and then drop before recovering and moving higher into the close. A lot of investors are waiting for dips to setup more positions. That means dips, such as those we saw on Thursday, are going to bring investors into stocks. Dips then are opportunities, but they may be short-lived and shallow on Friday.
Indexes will be still higher by the close on Friday.
---
Stock Market Outlook Archives