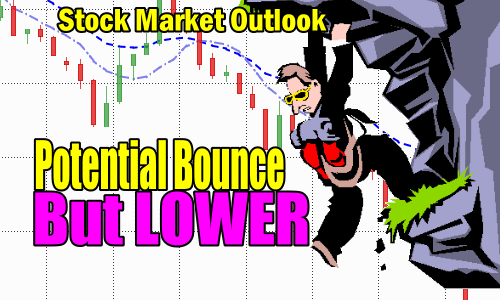 Thursday outlook was for a return to weakness and a lower day. Instead investors returned to dumping tech names and pushed the NASDAQ lower by 381 points to end the day at 14806.
This left the NASDAQ well below the 100 day moving average and just above Monday morning's open near 14800. This was a loss of 2.5% and marks a second large plunge in 7 trading days.
The SPX index lost 1.4% for a decline of 67 points to end the day at 4659. The bulls tried to hold the 4670 valuation which had continued to hold up well through December and January sell-offs, constantly slowing sellers and seeing the losses quickly recover back to that level. On Thursday the S&P is just 10 points below that important level but a retest of Monday's low of 4582 may be in the cards.
Selling was not quite as wide spread as it was on Monday or on Wednesday January 5 but overall, the bulls were stunned by the constant waves of selling on Thursday that kept bulls from mounting any kind of sustained rallies.
Both the NASDAQ and SPX closed just slightly off their lows.
Let's review the technical signals from Thursday's close to see whether there is more selling ahead for Friday as some banking stocks release earnings Friday before markets open.
---
Stock Market Outlook Chart Comments At The Close on Thu Jan 13 2022 
The closing candlestick on Thursday is bearish for Friday. It points to the potential for a bounce but after a rough two weeks of selling, the chance of a bounce back at present is limited.
The Upper Bollinger Band stayed sideways, a bullish signal. However the Lower Bollinger Band is bearish as it trends along above the 100 day moving average.
The 21 day and 50 day moving average are climbing which is bullish along with the 100 and 200 day moving averages which are also climbing.
The candlesticks though are showing that the bounce on Monday was nothing more than that, an oversold snap back. Friday in the chart, does not look as lucky. The chart remains more bearish than bullish primarily due to the bearish candlesticks over the past two weeks.
Stock Market Outlook: Technical Indicators Review:

Momentum: Momentum is falling and is negative.
Settings: For momentum I use a 10 period when studying market 

direction

.
MACD Histogram: MACD (Moving Averages Convergence / Divergence) issued a down signal on Thursday Jan 6. On Thursday the down signal gained more strength.
Settings: For MACD Histogram, I am using the Fast Points set at 13, Slow Points at 26 and Smoothing at 9. 
Ultimate Oscillator: The Ultimate Oscillator is falling.
Settings: The Ultimate Oscillator settings are: Period 1 is 5, Period 2 is 10, Period 3 is 15, Factor 1 is 4, Factor 2 is 2 and Factor 3 is 1. These are not the default settings but are the settings I use with the S&P 500 chart set for 1 to 

3 months

.
Slow Stochastic: The Slow Stochastic has a neutral signal in place.
Settings: For the Slow Stochastic I use the K period of 14 and D period of 3. The Slow Stochastic tries to predict the market direction further out than just one day.
Relative Strength Index: The RSI signal is falling and could shortly signal oversold.
Settings: The relative strength index is set for a period of 5 which gives it 5 days of market movement to monitor.  It is often the first indicator to show an overbought or oversold signal.
Rate of Change: The rate of change signal is falling.
Settings: Rate Of Change is set for a 21 period. This indicator looks back 21 days and compares price action from the past to the present. With the Rate Of Change, prices are rising when signals are positive. Conversely, prices are falling when signals are negative. As an advance rises the Rate Of Change signal should also rise higher, otherwise the rally is suspect. A decline should see the Rate Of Change fall into negative signals. The more negative the signals the stronger the decline.
---
---
Support and Resistance Levels To Be Aware Of:
4800 is resistance
4725 is resistance
4700 is support
4670 is support
4655 is light support.
4600 is good support
4550 is light support
4525 is light support
4500 is support
---
Stock Market Outlook for Tomorrow – Fri Jan 14 2022 
For Friday there are no technical indicators signaling that the market is oversold. The three-day rally from Monday to Wednesday took care of the oversold signal. That means the index can fall easier as dip buyers pullback once again from chasing stocks. On Thursday, volumes indicate that a lot of investors were caught in the 3 day rally and on Thursday they were selling out whether there were profits or not. This resulted in the market falling lower in the final hour of trading.
With no strong oversold signals, a bounce is limited. If bank earnings are better than expected investors may try to get a bounce started but for staying power it will need buyers and after getting caught on Thursday in the decline, surprised buyers will be rather reluctant to chance buying again. Most will want to wait for "others" to step up first.
The opening could see a small bounce but further selling is likely as the SPX index works its way back to the 100 day.
The NASDAQ is close to the 200 day moving average. A chance of it closing below the 200 day is high on Friday.
Stock Market Outlook Archives