The market direction outlooks have continued to point to weakness in stocks. Last night the outlook was for more selling and then a possible push back in the afternoon. I wrote this up as a "slight" bias to the downside. Well slight was the inappropriate word. It is important to remember that stocks are highly emotional. That will never change. When selling starts a lot of investors are drawn in. As stocks fall lower they worry more. Once they see a stock moving toward their entry price the panic and dump depressing shares even more. Emotions run high which is why I have been writing about getting into the VIX Index call options but out to June or July as I think stocks are going to have a rough spring. Needless to say I have not been able to get the price I want to pay for the VIX Index Call options.
Weekly Initial Unemployment Insurance Claims
I wrote this morning about the Weekly Initial Unemployment Insurance Claims and the market direction timing signals. Remember that this is not a short-term signal. The sell-off today is related to the Ukraine, China in particular, the overbought nature of stocks and the fact that stocks cannot seem to "get going". Investors are impatient and when stocks tread sideways, each day weighs more and more on investors until a lot of them start to take profits. The Weekly Initial Unemployment Insurance Claims is advising that the chance of a bear market or a plunge in stocks is slight but it cannot predict short-term sell-offs. Today's sell-off with the Dow down at one point just over 200 points is only about 1.3%. What the Weekly Initial Unemployment Insurance Claims market timing signal is advising is not to expect big corrections of 10% or more and certainly not a bear market.
Take Advantage Of Drops
Therefore as an investor I look to take advantage of drops like today to review my watch list of stocks and see what stocks are worthy of Put Selling or other strategies. In particular the Spy Put Options trade I did this morning was exceptional. Because the market direction outlook is for stocks to move lower, I know to watch for opportunities in the Spy Put Options. Investing is all about taking advantage of opportunities. Again, if your comfort level is such that sell-offs concern you, then you can only trade within upturns and 2014 does not so far appear to be that kind of market.
Expecting Big Gains
Last year I did quite well with my strategies, but it was easy because the market direction was almost straight up. The corrections were few and most of the time just 4% to 5%. That is a roaring bull market and investors get complacent when that happens. This year is back to more volatility which means better premiums for my Put Selling but also more risk to my capital. However that said, by the end of this year we may find that stocks have not really done much, but I am expecting big gains this year, purely because volatility is staying higher and there are more spikes and plunges making trading very profitable.
Keep The Watch List Close
The key is to keep your watch-list of stocks close and set alerts to ring your mobile device. I have mine set for 2%, 4% and 5% plus moves in my favorite stocks. That then alerts me to potential opportunities and I can take a moment and review whichever stock I am being advised is down or up and determine what trade might be available.
The S&P 500 Intraday
Let's take a moment and review the S&P 500 intraday. You can see that the S&P has been just inching its way toward retesting the 50 day simple moving average (SMA) which is sitting around the 1840 level. That level has now become important support. Should be break, the market direction will move quickly down to 1825 and then 1800. A break of 1840 will draw in more sellers as those who bought at the 1840 level and who have not taken profits will get nervous and want out.
You can see in the chart that momentum which spiked higher when the market direction recovered from the early Feb low, started to fall away as the S&P turned sideways. Then as the S&P tried to climb higher and made new highs, momentum kept falling. As explained before, this is a classic warning that stocks are going to head lower.
MACD has issued a sell signal today intraday and I am expecting that it will be the same at the close today. Momentum has turned negative.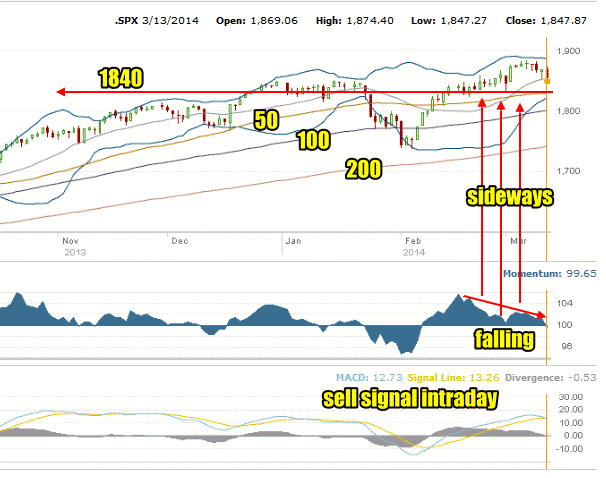 One Day Does Not End A Crisis
Back at the start of the month I wrote that one day does not end a crisis. I was referring to the Ukrainian crisis and indeed last night the indications were that the G7 was going to get tough with Putin and what certainly appears to be an attempt to retake the Crimea. This crisis coupled with China's bond problems and slowing economic outlook is weighing heavy on investors just now. Next week the Federal Reserve meets and Yellen is sure to issue some further statements. That too is starting to concern investors.
Market Direction Outlook Into The Close For March 13 2014
The unemployment numbers were good as were retail sales but investors are focused on other events just now and many want to take profits. A market direction that treads water for too many days always bothers investors who are impatient for stocks to move higher. Since they are waiting to take profits, a move lower such as today, draws in more and more sellers as they fear they might "miss the boat" and don't want to be caught in a big downturn. I am not expecting to see a change today. There will most likely be an attempt to close off the lows for today, but the mood of investors is back to selling for today. I will review the market technical outlook after the close today.
Internal Stock and Option Trades Links
Put Selling Strategies For Members
Covered Calls Strategies For Members
Profit And Income Strategies Index
Stock and Option Strategies For Members
Stock And Option Trades Explained For Members
Ask A Question About A Trade You Are In