The market direction outlook for today was for a continuation of the sideways action we have seen but with a bias slightly lower. What we want to keep an eye on at present is the MACD (Moving Average Convergence / Divergence) technical indicator which yesterday at the close gave a sell signal. While MACD has not been the strongest indicator, it is probably the second or third most important technical indicator for investors at the present time and a sell signal yesterday should not be ignored.
Catalysts To The Downside Needed
When trading as the market continues to churn sideways you need to think more about catalysts and what could cause the market direction to change and move lower. At the present time the only two major catalysts are Iraq and the Ukraine. The unknown catalyst is interest rates but the Fed seems quite content to wait for much stronger inflation readings or lower rates of non-participation among the unemployed. That is my opinion looking at the market at present. Therefore I am continuing to stay invested but I am careful to stay with large cap stocks I would own if assigned shares in an unexpected and quick downturn.
S&P Market Direction – Looking For Sell Signals
The daily chart below for the S&P shows that stocks are slowly grinding their way higher. At 12:30 the S&P is back above 1940 which places it above the 1930 level which I have mentioned several times as being somewhat crucial to the trend higher at the present time. Among the technical indicators:
Momentum is rising slightly.
MACD at negative 50 has not confirmed yesterday's sell signal yet.
The Ultimate Oscillator is sideways but no longer overbought so there is more room to the upside.
The Rate Of Change is trending sideways which at this time would indicate a reluctance among investors to buy but also a reluctance to sell.
The Slow Stochastic at 12:30 PM it is still signaling a lower market direction.
The Fast Stochastic is signaling market direction up, but remember that the Fast Stochastic looks out for very short periods so at 12:30 it is basically indicating the market direction is still moving higher at present, not necessarily what it is predicting for later in the day or even for tomorrow.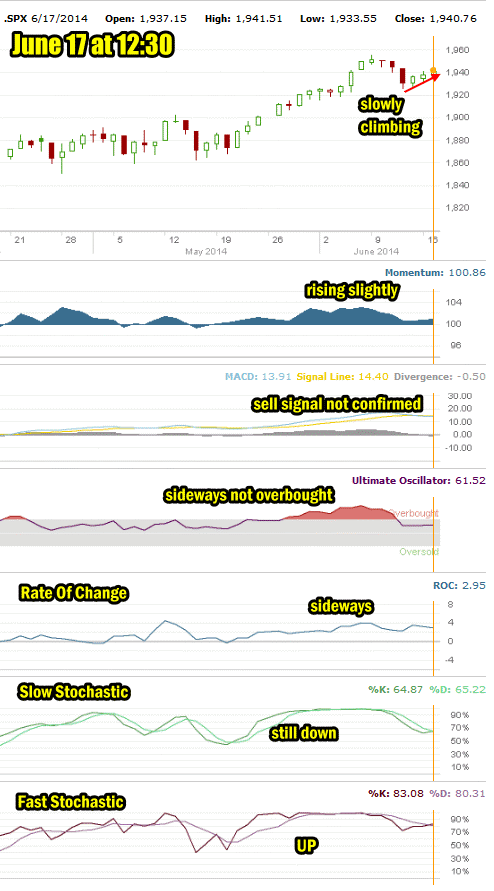 Intraday Market Direction Summary
Intraday the market direction remains weak but the bias still is to the upside. Aside from that staying cautious but selecting strong stocks and continuing with my strategies is starting to turn this year into one of the better years for returns. The sideways action is causing numerous opportunities for trades.
The pull back to retest support at around 1870 which I have been expecting for the summer is no where to be found, but then there is still a lot of summer left. For today I would expect a positive close unless the Fed mentions something about raising interest rates this afternoon which I am not expecting..
Internal Stock and Option Trades Links
Put Selling Strategies For Members
Covered Calls Strategies For Members
Profit And Income Strategies Index
Stock and Option Strategies For Members
Stock And Option Trades Explained For Members
Ask A Question About A Trade You Are In