YUM Stock Decline Presents An Opportunity:
Since the start of January Yum Stock has been in decline. Earlier this month there was a decline to around $48.00 and then Yum Stock had a two-day run up which failed and as you can see in the chart below, the stock has declined ever since.
Yesterday the stock fell dramatically and made a new lower low for the past few months.
Normally with YUM stock falling below the last two recent lows I would wonder if the stock is going to fall further. That would be a good assumption for any investor.
But I prefer to bring out one of my favorite tools, the Ultimate Oscillator and see what it has to say. The Ultimate Oscillator is an excellent tools and one that I use repeatedly to try to figure out if a stock is going to fall further.
You can see in the chart below that the Ultimate Oscillator tells me that the stock is going to bounce. It is flashing an oversold indicator and has been for two trading sessions. Therefore instead of worrying, I bought 500 shares of Yum stock and I rolled my sold put contracts from Feb at the $46.00 strike to Mar at the $46.00 put strike.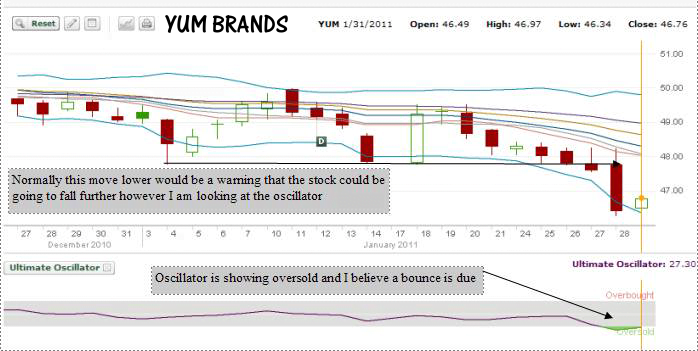 YUM Stock Jan 31 2011: Summary
It is always worthwhile to use all the tools available before deciding my next step. It only takes a few minutes but the results can be dramatic and often assists an investor in avoiding a wrong choice.
In my instance, by studying the ultimate oscillator, I was able to decide to not roll my Yum Stock put contracts lower, but instead I rolled out another month at the same strike for an excellent 1.28% return for holding the sold put contracts for another month. It is important to remember that writing puts is a strategy of small amounts of income. On the put roll from Feb to Mar I earned just .63 cents. It is not a large amount but it fits perfectly into my strategy of earning 1% a month on my capital.
It is important to remember that risk can never be under estimated. I am risking $46.000 of my capital on this trade for a return of $630.00. That small amount of money will not cover much if the stock is actually going to decline further and put my capital at risk of assignment. This is why it is important for an investor to take a moment and use the tools available before deciding on the best course of action.
In my case I believe that YUM Stock based on the ultimate oscillator is due for a bounce. I could not have made that decision without the help of these technical indicators. I cannot stress enough the value of having tools available for use on any trade, whether it be YUM Stock or any other.
View YUM Stock google chart.
Return to YUM STOCK trade chart for 2011.