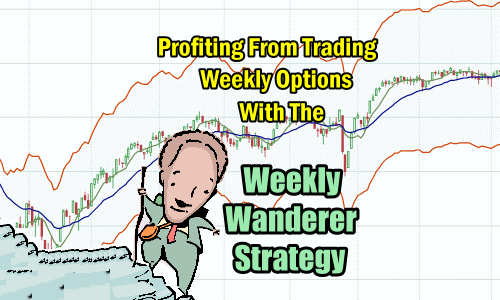 The majority of stocks are highly speculative. The profit-making potential among speculative stocks is very high which is what tempts many investors to risk their capital. But losing capital slows the building of portfolios. To assist my speculative trades I developed the Weekly Wanderer Strategy years ago. It was originally designed for monthly option selling against speculative and/or more volatile stocks that had at least one billion in assets and a viable business model. It is designed to protect my capital from losses, pinpoint put strikes to sell, give entry signals and advise when to stay away from a trade.
When weekly options were introduced I tweaked the Weekly Wanderer Strategy by tightening some of the settings, to focus on short-term trades rather than monthly trades. One of the stocks I used it against was Research In Motion before the stock collapsed. After adapting this strategy to weekly options, I back tested it and then implemented it. I first did paper trades against Lululemon, Barrick Gold, Harley-Davidson and Priceline. After tweaking the strategy further I then used it against my speculative stocks which this year are Gilead Sciences stock (GILD) and Facebook Stock (FB Stock).
I experimented with a number of strategies in 2013 on Facebook Stock. This year I also tried a number of other strategies as well but settled on the Weekly Wanderer Strategy for Facebook as the strategy has produced consistent winning trades in both Gilead Sciences and Facebook Stock.
This strategy can be used in many different aspects for gaining profit by trading among the weekly options available. I am working on a much larger PDF which will eventually be in my store, but for now I want to outline how the strategy is being used to profit from Facebook Stock and protect my capital in use from losses.
Trading Weekly Options with the Weekly Wanderer Strategy
Weekly option trading has distinct advantages. The shorter time frame often can provide superior protection of capital in use. As well if structured properly, earning income weekly can compound a portfolio faster and often can lead to superior annual gains. But at the same time trading weekly options can lure investors into stocks that are more volatile as investors seek higher option premium returns and consequently better annual gains. Many investors that trade weekly options find they have a checkered record of profits and losses. The weekly wanderer strategy is designed to assist in all those areas.
This strategy article is 5000 words in length and will require 14 pages if printed. This strategy article is for FullyInformed Members. To read this strategy paper, FullyInformed Members can login directly through this link or they can sign in to the full members site here. Non-members can join here.
---
Disclaimer: There are risks involved in all investment strategies and investors can and do lose capital. Trade at your own risk. Stocks, options and investing are risky and can result in considerable losses. None of the strategies, stocks or information discussed and presented are financial or trading advice or recommendations. Everything presented and discussed are the author's own trade ideas and opinions which the author may or may not enter into. The author assumes no liability for topics, ideas, errors, omissions, content and external links and trades done or not done. The author may or may not enter the trades mentioned. Some positions in mentioned stocks may already be held or are being adjusted.
Internal Stock and Option Trades Links
Put Selling Strategies For Members
Covered Calls Strategies For Members
Profit And Income Strategies Index
Stock and Option Strategies For Members
Stock And Option Trades Explained For Members
Ask A Question About A Trade You Are In