Exxon Stock has been in my portfolio since 2010. Exxon Stock represents Exxon Mobil Corporation, the largest oil and gas company in the world and by market value, the largest corporation in the world. Exxon stock symbol is XOM. Over the past 3 years Exxon Stock has been another solid performer in my US Stock portfolio. The dividend increased again in 2012 and at the start of 2013, the annual dividend was at $2.28.
Exxon Stock Three Year Chart
The key to the profits I have made in Exxon Stock is knowing the trends and Put Selling the proper put strikes. In the chart below you can see that 2010 was a recovery year for the stock. In 2011 I was primarily Put Selling at and around the $75, $80 and $82.50 put levels. In 2012 the levels have been primarily the $82.50 to $87.50 level.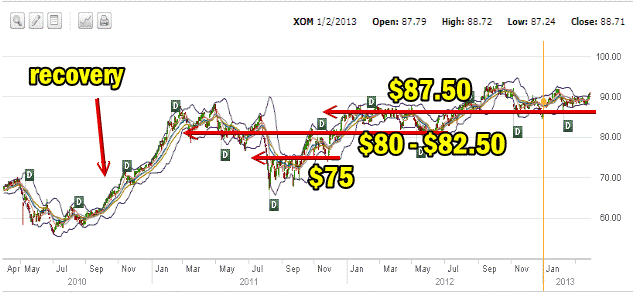 What keeps XOM Stock valuable for Put Selling is that the stock is volatile enough to keep the option premiums up although 2012 marked lower volatility in the stock. Despite this volatility the trading range is as you have seen in the chart above, easy to put sell against. This is an ideal situation and I hope it continues into 2013 – namely enough volatility to keep option premiums worthwhile selling against, yet Exxon stock itself stuck in an easy to define trading range.
Exxon Stock (XOM Stock) Investment Strategy For 2013
The strategy remains Put Selling just slightly out of the money and watching for any signs that the trading range is about to change on the stock. Meanwhile as XOM Stock is slightly higher priced than many of the other stocks I trade in,  I will sparingly use my Bollinger Bands Strategy Trade which you can review through this article for trading the stock but only when I believe there is a significant gain to be made. Otherwise my capital is better used Put Selling other stocks rather than buying shares.
Exxon Stock (XOM Stock) Trades For 2013 – Year 4

Exxon Stock (XOM Stock) TRADE STATS:
Capital Currently In Use: $0.00
Income Earned in 2013: $20176.00
Total Income Earned Since Trade Started In 2010: $50873.00
Total Of My Own Capital Required If All Naked Puts Were Assigned: $0.00
Number Of Shares If All Naked Puts Were Assigned: 000
Share Price Valuation(Total Capital Required/Number of shares): $0.00


REVIEW TRADES BY YEARS:
Review Exxon Stock Trades For 2013
Review Exxon Stock Trades For 2012
Review Exxon Stock Trades For 2011
Review Exxon Stock Trades For 2010
REVIEW PORTFOLIOS:
Review All Portfolios for US Stocks
Review All Portfolios for Canada Stocks
Review All Retirement Portfolios
SELECT TO REVIEW ALL MY STOCKS
Date
Stock At
Time Of
Trade
Action Taken (All Figures Are US Dollars)
ACTIVE TRADES ARE HIGHLIGHTED
Commission is $1.00 per option contract plus $5.00 per trade

Comm.
Shares
Held
Capital
In Use
Gain/Loss
Total
Income
Dec 28 2012


85.25

Sell To Open (STO) 5 Naked Puts Exxon Stock 19JAN13 $82.50 put for $.88 (status: expired)


10.00

41260.00

430.00

30697.00
Total Income earned to the end of 2012
30697.00
The above is the remaining trade from 2012.
You can review Exxon Stock 2012 Trades

through this link

.
Total capital earned in 2012 = $16147.75 / $41260.00 capital in use = 39% return





All Exxon Stock Trades Below Are in 2013
Commission $1.00 per contract + $5.00 per trade


Jan 8

87.50

Sell To Open (STO) 10 Exxon Stock 16FEB13 $85.00 put strike naked puts for $0.90 (status: expired)


15

85015.00

885.00

31582.00

Jan 18

90.80

Jan Options Expiry $82.50 naked puts expired

Feb 7
87.75
Sell To Open (STO) Put Selling 5 Exxon Stock Naked Puts 16MAR13 $85.00 Strike for $1.05 (Status: expired)
10.00
42510.00
515.00
32097.00
Feb 15


88.36

Feb Options Expiry $85.00 naked puts expired

Feb 25
87.90
Bought 500 shares Exxon Stock for $87.90 (status: sold Mar 5 for $89.60)
5.00
500
(43955.00)
Feb 25
87.90
Sell To Open (STO) Put Selling 5 Exxon Stock Naked Puts 16MAR13 $85 Strike for $.80 (status: expired)
10.00
42510.00
390.00
32487.00
Mar 5
89.60
Sold 500 shares of Exxon Stock for $89.60
5.00
0
44795.00
840.00
33327.00
Mar 15
89.37
March Options Expiry: $85 naked puts expired
Mar 21
88.00
Bought 500 shares at $88.00 (Status: sold Mar 28 for $90.50)
5.00
500
(44005.00)

Mar 21

88.00

Sell To Open (STO) Put Selling 10 Exxon Stock Naked Puts 20APR13 $85 Strike for $.75(Status: expired)


15.00

85015.00

735.00

34062.00

Mar 28
90.50
Sold 500 shares Exxon Stock for $90.50
5.00
0
45245.00
1240.00
35302.00

Apr 15

86.35

(STO) Put Selling Exxon Stock 3 Naked Puts 18MAY13 $85.00 put strike for $0.88 (status: expired)

8.00

25508.00

256.00

35558.00

Apr 17

85.25

(STO) Put Selling Exxon Stock 5 Naked Puts 18MAY13 $85.00 put strike for $1.45 (status: expired)

10.00

42510.00

715.00

36273.00

Apr 19

87.45

April Options Expiry $85 puts expired

Apr 25

87.80

(STO) Put Selling Exxon Stock 5 Naked Puts 18MAY13 $85.00 put strike for $0.69 (status: expired)

10.00

42510.00

335.00

36608.00

May 18

91.76

May Options Expiry: $85 nakedput strike expired 

 

 

 

 

Jun 6

89.25

(STO) Put Selling Exxon Stock 5 Naked Puts 20JUL13 $85.00 put strike for $0.57 (status: expired)

10.00

42510.00

275.00

36883.00

Jun 25

88.50

(STO) Put Selling Exxon Stock 5 Naked Puts 20JUL13 $85.00 put strike for $0.45 (status: expired)

10.00

42510.00

215.00

37098.00

Jun 26

89.00

Bought 500 shares for $89.00 (Bollinger Bands Strategy Trade in progress) Status: sold for $93.20 Jul 12

5.00

500

(44505.00)

Jul 12

93.20

Sold 500 shares for $93.20 (end of Bollinger Bands Strategy Trade)

5.00

0

46745.00

2240.00
39338.00

Jul 19

95.17

July options expiry: $85 put strikes expired

Aug 19

86.68

(STO) Put Selling Exxon Stock 5 Naked Puts 21SEP13 $85.00 put strike for $0.80 (status: expired)
Comments: To understand this trade

please read this article

.


10.00

 

42510.00

390.00

39728.00

Aug 22

86.55

Bought 500 shares of Exxon Stock at $86.55

5.00

500

(43280.00)

 

 

Aug 26

87.55

Sold 500 shares of Exxon Stock at $87.55

5.00

0

43770.00

490.00

40218.00

Sep 6

86.90

(STO) Put Selling Exxon Stock 5 Naked Puts 19OCT13 $85.00 put strike for $0.70 (status: expired)


10.00

 

42510.00

340.00

40558.00

Sep 20
88.66
Sep Options Expiry: $85 naked puts expired

Oct 9

85.00

(STO) Put Selling Exxon Stock 5 Naked Puts 16NOV13 $85.00 put strike for $1.35 (status: expired)


10.00

 

42510.00

665.00

41223.00

Oct 10

85.55

Bought 500 shares of Exxon Stock at $85.55 (sold Dec 27 for $101.65)


5.00

500

(42780.00)

 

 

Oct 18
87.55
Oct Options Expiry: 5 naked puts $85 expired
Nov 7
Dividend 500 X .63
315.00
41538.00
Nov 8
91.60
(STO) Put Selling Exxon Stock 5 Naked Puts 21DEC13 $90.00 put strike for $1.25 (status: expired)
10.00
45010.00
615.00
42153.00
Nov 15
95.27
Nov Options Expiry: 5 naked puts $85 expired
Dec 2
93.20
(STO) Put Selling Exxon Stock 5 Naked Puts 18JAN14 $92.50 put strike for $1.50 (status: BTC Dec 27 for .10 cents)
10.00
46260.00
740.00
42893.00
Dec 19
99.43
December Options Expiry: 5 naked puts $90 expired
Dec 24
98.50
Sell To Open (STO) Put Selling 5 Exxon Stock Naked Puts 18JAN14 $95 Strike for $1.60
Dec 27
101.65
Sold 500 shares of Exxon Stock at $101.65
5.00
50820.00
8040.00
50933.00
Dec 27
101.65
Buy To Close (BTC) 5 naked puts Jan 18 14 $92.50 put strike for .10 cents
10.00
(60.00)
50873.00

Exxon Stock (XOM) Internal Links

Exxon Stock (XOM) External Links