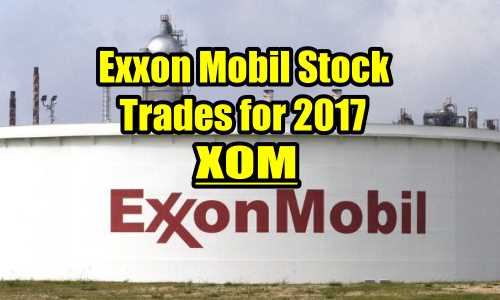 These are the latest update of trades being done in Exxon Mobil Stock in 2017. I have traded in Exxon Mobil Stock since March 5 2010 during which annual returns have ranged from 9.6% in 2010 to a high of 39.6% in 2013.  2017 marks the eighth consecutive year of trading in Exxon Mobil Stock.
To Mar 24 2017 trades are up 7%. At the rate of income being earned there is a good possibility that Exxon Mobil Stock trades this year could generate a 25% return.
Reviewing Exxon Mobil Stock Trades
Investors should take a moment out and review trades being done in Exxon Mobil Stock since January. The stock has been in a downtrend since the start of the year. While there are some signals that the stock could fall further, the returns being made are using a variety of strategies, that are worth studying. I have had only one Bollinger Bands Strategy Trade so far this year so the bulk of the profits are being made through other strategies.
At present there are 2 active trades, one of which stretches out to January 2018.
By reviewing trades, investors can learn the strategies being used and determine entry and exit price points for ongoing trades. They can decide for themselves the validity of whether to risk capital in trades within the world's largest oil company.
The rest of this Exxon Mobil Stock update of trades for 2017 is for FullyInformed Members.
Exxon Mobil Stock (XOM) Trades for 2017 Update To Mar 24 2017
---
Disclaimer: There are risks involved in all investment strategies and investors can and do lose capital. Trade at your own risk. Stocks, options and investing are risky and can result in considerable losses. None of the strategies, stocks or information discussed and presented are financial or trading advice or recommendations. Everything presented and discussed are the author's own trade ideas and opinions which the author may or may not enter into. The author assumes no liability for topics, ideas, errors, omissions, content and external links and trades done or not done. The author may or may not enter the trades mentioned. Some positions in mentioned stocks may already be held or are being adjusted.

Exxon Stock (XOM) Internal Links
Review Exxon Stock Trades For 2014
Review Exxon Stock Trades For 2013
Review Exxon Stock Trades For 2012
Review Exxon Stock Trades For 2011
Review Exxon Stock Trades For 2010
Review all articles about Exxon Stock
Review all Members only articles about Exxon Stock
Exxon Stock (XOM) External Links
Review Investor Relations for Exxon Stock
Review Portfolios:
Review All Portfolios for US Stocks
Review All Portfolios for Canada Stocks
Review All Retirement Portfolios
SELECT TO REVIEW ALL MY STOCKS
Internal Stock and Option Trades Links
Put Selling Strategies For Members
Covered Calls Strategies For Members
Profit And Income Strategies Index
Stock and Option Strategies For Members
Stock And Option Trades Explained For Members
Ask A Question About A Trade You Are In