Market Direction today has been all about the unemployment numbers. Disappointing payrolls numbers is probably an understatement. Exactly how such bad numbers went undetected is strange as the Weekly Initial Unemployment Insurance Claims did not indicate such bad numbers for today. Only 88,000 jobs were created in March which was less than half the expected numbers of 190,000. Meanwhile February's numbers had been revised upward to a gain of 268,000 jobs. The market took the news on the chin as it were and sent stocks lower from the outset. A lot of analysts are pointing to the payroll tax increases as an instigator and indeed the Obama administration will be on the defensive with these numbers.
Market Direction Action For Apr 5 2013
The market direction drop at the open (point A) was over 1% as investors reacted negatively to the news. It was perhaps more of an over reaction as since then the market direction has been a gradual climb back. I have done three Spy Put Options trades today and all three were for very small amounts. There has been one loss which was again a very small amount. At 2:00 PM I am still holding Spy Put Options and will probably hold them into the close as I am expecting more selling later this afternoon.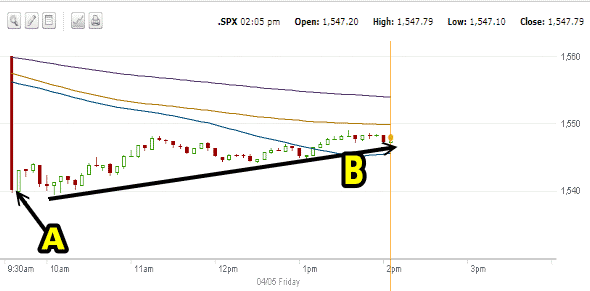 Market Direction Outlook Intraday for Apr 04 2013
The market direction though could be a lot worse and even the buying after the big opening drop shows that investors remain active, although cautious. This remains a bull market and as such you have to be careful not to short the upside potential. That said I have sold puts further out of the money today, at the open to take advantage of the drop and the rising volatility.
Those FullyInformed Members who have done the VIX Index Market Direction Trading Strategy should be doing well. My most recent VIX Index calls are up a lot this morning and I sold my June $13 calls for $4.30 this morning. Even at 2:00 PM they are still trading for $4.03. This concludes another excellent VIX Index Strategy trade. This link explains the VIX Index Strategy Trade 
Aside from that trade I have done trades in BNS Stock on the TSX, Aflac Stock, Cat Stock, Intel Stock and others. I believe this is a good opportunity for Put Selling but I do not believe it will be the only opportunity. Days like today do not mark a bottom in a selling cycle. I do believe the market direction technical indicators today will show further market weakness in stocks.
April is one of the best month's for stocks but if April fails to provide a new high for the markets then history tells us that the rest of the year will be poor. Whether history will repeat itself in 2013 remains to be seen but the market direction could easily waffle between up and down and spend a lot of time going sideways. This makes for an ideal Put Selling environment. 2013 could turn out to be one of the best years since 2009 for returns from selling options.
My intraday market direction outlook is for stocks to move sideways and then sell-off into the last hour with a possible rebound attempt around 3:30. I will be selling my Spy Put Options before then if there are any clues as to the market bouncing back at the close of the day.
Internal Market Direction Links
Profiting From Understanding Market Direction (Articles Index)
Understanding Short-Term Signals
Market Direction External Links
Market Direction IWM ETF Russell 2000 Fund Info