YUM stock has been a solid performer for the past two years in my portfolio. Today, Sep 29 2011, the stock got hit hard with a drop of more than 7% about a half hour before the market close. Volume on YUM Stock has been heavy with more than 6 million shares trading. On an average day the stock trades about 4.1 million shares.
Analysts consensus had priced the stock at a value of $59.75, but as we often see, analysts and reality are two different worlds. YUM Stock is trading at 21.1X earnings which is higher than McDonald's, its major competitor, which trades at 17.8X earnings.
In the past 52 weeks Yum Stock set a low of $45.94 but in August it set an interim low of $47.54.
Earnings for the quarter are not announced until October 21.
YUM Stock – Sinks With China
Evidence out of China today indicates that their economy is definitely slowing and analysts predict that growth will continue to fall right through to 2016. Exactly how they can look that far forward in their crystal ball is beyond my ability to comprehend, however the market doesn't like the news. As well the Justice Department announced that it is going to be investigating some US traded Chinese stocks and, well you have the catalyst for the some serious selling.
YUM stock makes a lot of its money from Asia and in particular China, so naturally investors are dumping shares. When one of my favorite stocks has something like this happen, I have to step back and look at the charts to decide if the stock is still worth writing puts against.
Using The Early Warning Tools To Spot A Collapsing Stock
YUM Stock – MACD Test
First up let's look at the MACD reading for YUM Stock. To read more about the Early Warning Tools To Spot A Collapsing Stock, go here.
MACD (Moving Average Convergence Divergence) is a momentum indicator. The chart below is the past 6 months for YUM Stock. MACD turned negative back on July 20 2011 and the stock fell to a low of $47.54. The move back up for YUM stock was confirmed throughout, by MACD which remained positive.
Just the last couple of sessions has seen MACD turned slightly negative. This neither confirms the move lower or confirms the stock is now in a serious downtrend.

YUM Stock – The Bollinger Bands Test
The next tool I use is the Bollinger Bands. Below are the settings I use. The normal settings are fine, but over years of use I have found the below settings for the bollinger bands are a little more sensitive to the volume and price movement in most stocks.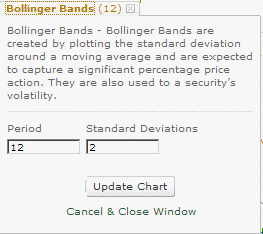 Below is the past 6 month chart for Yum Stock with the Bollinger Bands clearly showing.The first pullback in YUM Stock did not see the lower bollinger band broken. The second, more pronounced decline in YUM Stock saw the lower bollinger slightly broken but the following day the stock recovered and moved back up into the bollinger band. This is a definite sign that the stock should not collapse.
Today's drop through was enormous and while the stock broke through the lower bollinger, it still managed to close inside the lower bollinger and the candlestick is not indicating that it closed at the low.

YUM Stock – What The Warning Tools Are Predicting
MACD is only slightly negative and the last move up was confirmed by MACD. With today's steep selling, I would want to check MACD for a couple more trading sessions, but if it only stays slightly negative, then I see no problem with continuing to write puts against YUM Stock, albiet as far out of the money as possible.
Bollinger Bands Test is certainly not predicting a collapse in the stock. At the close the stock had recovered to $49.54 which is inside the lower bollinger band.
I will wait for a couple of trading sessions to see if the lower bollinger band is broken through decisively for a couple of trading sessions. If it is, then I will roll down my existing sold puts on Yum Stock.
As well should Yum Stock keep pushing below the lower bollinger band, then I will hold off writing puts until I see the stock set a new tradable range.
My own prediction looking at the above charts is that YUM Stock may set up a new range between $45.00 to $50.00 which would be excellent for writing puts against. But that's just a guess on my part.
It's important to stay consistent when investing and the above two simple tests have saved my portfolio more times than I can remember. My love for YUM Stock has to always be tempered with the knowledge that any stock can change direction for extended periods of time. There is no point is being in love with a stock only to watch it wipe out months or years of gains.
Writing puts for income is a strategy of small monthly gains, so a serious collapse in a stock can wipe them out in just a few short trading sessions. While I doubt YUM Stock is in any trouble and in fact could become very worthwhile to sell larger quantities of put contracts against, today's break of the lower bollinger band makes a case for waiting a day or two to confirm that the drop is simply investor worry and nothing more.
To view 2011 YUM Stock trades select here.
To get the latest YUM Stock quote select here.
Read More Yum Stock Profit And Income Trades Articles