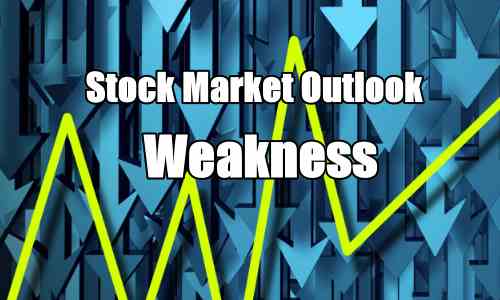 Stock Market Summary for May 15 2018 
After 7 days of the S&P climbing, stocks took a breather on Tuesday and ended the day lower.
As this evening I spent most of the time assisting some investors the usual stock market outlook is shortened this evening.
---
Stock Market Outlook Chart Comments At The Close on Tue May 15 2018 
There is no chart tonight.
Despite the pullback today, the S&P is still above all major moving averages. The 21 day moving average continued to rise and reached the 50 day moving average on Tuesday. It may cross above it on Wednesday which would be a very bullish signal.
The closing candlestick on Tuesday is bearish for Wednesday.

Stock Market Outlook: Technical Indicators Review:

Technically the pullback on Tuesday did not change the Moving Average Convergence / Divergence up signal or the momentum move higher. It did however turn the Slow Stochastic into a down signal and the Ultimate Oscillator, Relative Strength Index (RSI) and Rate Of Change all turned down.
---
---
Support Levels To Be Aware Of:
2745 to 2750 was light support
2710 is light support.
2700 was support.
2675 was light support.
2650 is light support
2620 is light support
2600 is strong support.
There is good support at the 2550 level from where the market bounced back from the recent correction low on Feb 9.
The S&P has light support at 2480. It also has light support at 2450 and good support at 2425. Below that there is some support at 2400, 2380, 2350. 2300 has the most support at present but would represent a full correction as a drop to this level would be 20% and just 5% away from a potential bear market signal.
---
Stock Market Outlook for Tomorrow – Wed May 16 2018 
For Wednesday there is still going to be some weakness. The only area to watch is the 2700 level. If it holds on Wednesday and the index stays above 2700 or closes above it, the outlook will remain positive for the markets. A close below 2700 will probably set the market up for a move back to 2680 and possibly 2650.
The technical indicators are split so the outlook is almost 50/50 for the S&P direction on Wednesday. I think the 2700 level will hold even if the index dips below it intraday on Wednesday. The close should still be at or above 2700.  For Wednesday then we are looking at a day of weakness.
---
Stock Market Outlook Archives