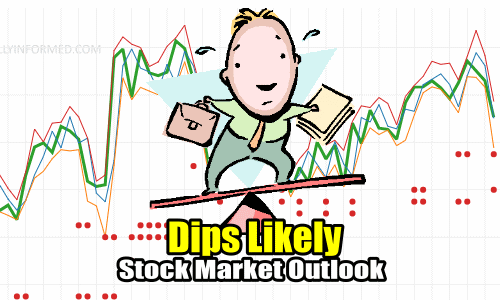 On Friday market pundits were noting that the market was having its worst week since October and its worst day since May 12. Today, Mon Jun 21 these same analysts were commenting that the S&P was having its best day since March 26. It's hard for investors to turn down all the noise but basically these stats are just talking points to fill the airwaves. Instead what investors should focus on is what caused the drop on Friday and why the rally on Monday recovered all the losses from Friday. Friday was caused by nervous investors, not just retail investors, but all investors who heard Fed President Bullard's comments on raising rates earlier. This spooked the market and investors sold out of positions in large volumes. Monday saw other investors jump in and buy those same stocks that were being dumped on Friday. By mid-afternoon, a lot of investors who had sold out were rethinking their Friday's selling and were back buying again. That pushed the index to a 1.4% gain and left the SPX back above both the 50 and 21 day moving averages. Let's review the close following Monday's big rally to see what staying power this rally may have.
---
Stock Market Outlook Chart Comments At The Close on Mon Jun 21 2021 
Monday saw the S&P recover all of Friday's loss which was more than I had expected from the rally. The rally also lasted right into the close. Normally that means we should expect some weakness Tuesday morning.
The close saw the index back above both the 21 and 50 day moving averages which is bullish. The candlestick left at the close was also bullish for Tuesday but signaled overbought on the day.
The Upper Bollinger Band is falling and the Lower Bollinger Band is rising which has started the Bollinger Bands Squeeze which currently has no clear signal whether it will push the index higher or lower. We won't know that for a few days. Presently this is bearish.
The 21 day is still above the 50 day which is bullish and the 50 day is trending sideways which is also bullish.
Meanwhile the 100 and 200 day moving averages are climbing. These are bullish signals.
The SPX chart is split almost equally between bullish and bearish signals. That means my outlook for the start of the week is probably incorrect. After Monday's strong rally, the chance of the index falling to the 100 day is lower.
Stock Market Outlook: Technical Indicators Review:

Momentum: Momentum is rising and negative.
Settings: For momentum I use a 10 period when studying market 

direction

.
MACD Histogram: MACD (Moving Averages Convergence / Divergence) issued a down signal Thursday June 17 2021. The down signal on Monday was still quite strong. We will see some negative days this week unless the reading erodes further.
Settings: For MACD Histogram, I am using the Fast Points set at 13, Slow Points at 26 and Smoothing at 9. 
Ultimate Oscillator: The Ultimate Oscillator is rising sharply.
Settings: The Ultimate Oscillator settings are: Period 1 is 5, Period 2 is 10, Period 3 is 15, Factor 1 is 4, Factor 2 is 2 and Factor 3 is 1. These are not the default settings but are the settings I use with the S&P 500 chart set for 1 to 

3 months

.
Slow Stochastic: The Slow Stochastic has a down signal in place but it could change to an up signal on Tuesday if we get a higher close.
Settings: For the Slow Stochastic I use the K period of 14 and D period of 3. The Slow Stochastic tries to predict the market direction further out than just one day.
Relative Strength Index: The RSI signal is rising and indicating Monday was a bounce.
Settings: The relative strength index is set for a period of 5 which gives it 5 days of market movement to monitor.  It is often the first indicator to show an overbought or oversold signal.
Rate of Change: The rate of change signal is rising slightly.
Settings: Rate Of Change is set for a 21 period. This indicator looks back 21 days and compares price action from the past to the present. With the Rate Of Change, prices are rising when signals are positive. Conversely, prices are falling when signals are negative. As an advance rises the Rate Of Change signal should also rise higher, otherwise the rally is suspect. A decline should see the Rate Of Change fall into negative signals. The more negative the signals the stronger the decline.
---
---
Support and Resistance Levels To Be Aware Of:
4250 is resistance
4225 is resistance
4200 is resistance
4175 is light support and just below the 50 day moving average
4150 is light support
4100 is light support
4070 is very light support
4050 is light support and is where the 100 day moving average rests
4000 is good support
3900 is support
3850 is support
3800 is support and just below the 200 day moving average
3750 is good support
3700 is light support
3680 is light support
3600 is strong support
---
Stock Market Outlook for Tomorrow – Tue Jun 22 2021 
On Monday the index rallied strongly and closed right at the 4225 resistance level. I had expected a bounce on Monday but not as strong as we saw. I then expected more selling and a lower close. On Tuesday the index will experience selling especially in the morning, following such a strong rally but the close for the day should be slightly lower or higher.
Wednesday will be equally important for the market. If Tuesday gives back 25 or 30 points of Monday's rally, Wednesday could see some further selling. I am not expecting to see such a drop on Tuesday. If the close is lower, I would expect it to be 15 to perhaps 20 points lower at most.
For a general stock market outlook for Tuesday, watch for weakness with dips but with a close that is just slightly higher or lower as the market digests Monday's rally. Wednesday may end up being more important than Tuesday.
---
Stock Market Outlook Archives