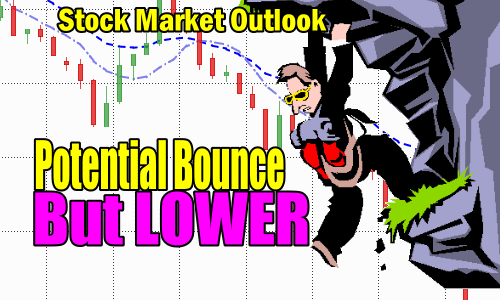 On Wednesday stocks ran into selling and volumes rose dramatically on the markets. Investors remain cautious of the debt ceiling agreement and whether it will pass. They also are cautious on a potential June interest rate hike as mixed messages seemed to be coming from various Fed Reserve Officials. The Fed's Beige Book released at 2:00 PM sparked a bit of a rally off the day's lows but the report showed not much weakness that would indicate inflation is beaten. With so much uncertainty, once selling started many investors joined in and profit-taking dominated Wednesday.
Even NVIDIA Stock (NVDA) which had roared above $400 just a day before, fell back $22 to close at $378.34 losing 5.6% on the day. Volume was over 100 million shares traded. The average daily volume is normally around 48 million shares. A lot of investors were taking profits in NVIDIA Stock (NVDA) on Wednesday.
The S&P fell 25 points to close at 4179, back below 4200. Volume rose to 6.2 billion which is well above average and one of the highest days in 2023.
The NASDAQ fell 82 points to end the day at 12,935. Volume rose to 6.1 billion shares traded, an above average day of trading for the index.
Let's review the SPX closing technical indicators on Tue May 30 to see what to expect for stocks to start June 2023.
---
Stock Market Outlook Chart Comments At The Close on Wed May 31 2023 
The index closed lower and left behind a bearish candlestick which also pointed to a possible bounce for Thursday.
The SPX continues above the 21 day moving average but is below the Upper Bollinger Band. This is still bullish. The candlestick does point to a probable dip to the 21 day on Thursday and then a bounce attempt.
The 100 day moving average is back at the Lower Bollinger Band which is bearish.
The 50 and 100 day moving averages are rising which is bullish.
The S&P chart is more bullish than bearish but there are enough bearish signals for Thursday to stay cautious.
There are 7 up signal since January and no down signal in the chart.
Stock Market Outlook: Technical Indicators Review:

Momentum: Momentum is unchanged and positive.
Settings: For momentum I use a 10 period when studying market 

direction

.
MACD Histogram: MACD (Moving Averages Convergence / Divergence) issued an up signal on Friday May 26. The up signal weakened on Wednesday. The MACD histogram is still positive.
Settings: For MACD Histogram, I am using the Fast Points set at 13, Slow Points at 26 and Smoothing at 9. 
Ultimate Oscillator: The Ultimate Oscillator is rising and positive.
Settings: The Ultimate Oscillator settings are: Period 1 is 5, Period 2 is 10, Period 3 is 15, Factor 1 is 4, Factor 2 is 2 and Factor 3 is 1. These are not the default settings but are the settings I use with the S&P 500 chart set for 1 to 

3 months

.
Slow Stochastic: The Slow Stochastic has an up signal in place.
Settings: For the Slow Stochastic I use the K period of 14 and D period of 3. The Slow Stochastic tries to predict the market direction further out than just one day.
Relative Strength Index: The RSI signal is falling sharply but positive.
Settings: The relative strength index is set for a period of 5 which gives it 5 days of market movement to monitor.  It is often the first indicator to show an overbought or oversold signal.
Rate of Change: The rate of change signal is falling and slightly positive.
Settings: Rate Of Change is set for a 21 period. This indicator looks back 21 days and compares price action from the past to the present. With the Rate Of Change, prices are rising when signals are positive. Conversely, prices are falling when signals are negative. As an advance rises the Rate Of Change signal should also rise higher, otherwise the rally is suspect. A decline should see the Rate Of Change fall into negative signals. The more negative the signals the stronger the decline.
Support and Resistance Levels To Be Aware Of:
4250 is resistance
4240 is resistance
4225 is resistance
4210 is resistance
4200 is resistance
4190 is resistance
4180 is resistance
4175 is resistance
4150 is resistance
4135 is resistance
4125 is support
4100 is support
4090 is support
4075 is support
4050 is support
4030 is light support
4025 is light support
4000 is support
Stock Market Outlook for Thu Jun 1 2023 
For Thursday the S&P technical indicators are pointing to another mixed day for the SPX with a probable lower close. The signals however are still bullish longer-term.
Increasing trading volume on Wednesday was partially a result of end of month positioning. Sometimes though, increased selling points to further weakness developing.
For Thursday the index looks set to try to bounce on the back of the passing of the debt ceiling bill by the House. The bounce though will fail on Thursday as investors wait for the Senate vote. The day will end flat to lower.
Potential Economic and Political Market Moving Events
The debt ceiling will dominate for much of this week. The debt ceiling bill passed the House but must be passed by the Senate.
For Thursday there are a number of reports that could assist a bounce but the next major report is on Friday with the May non-farm payroll.
Thursday:
8:15 ADP employment
8:30 Weekly Initial Unemployment Insurance Claims  are expected to rise to 235,000 from 229,000.
8:30 Productivity which is expected to be unchanged at -2.7%
9:45 S&P Manufacturing PMI which is estimated to be unchanged at 48.5
10:00 ISM Manufacturing is estimated to be 47%
10:00 Construction Spending is expected to be lower at 0.1%
---
---