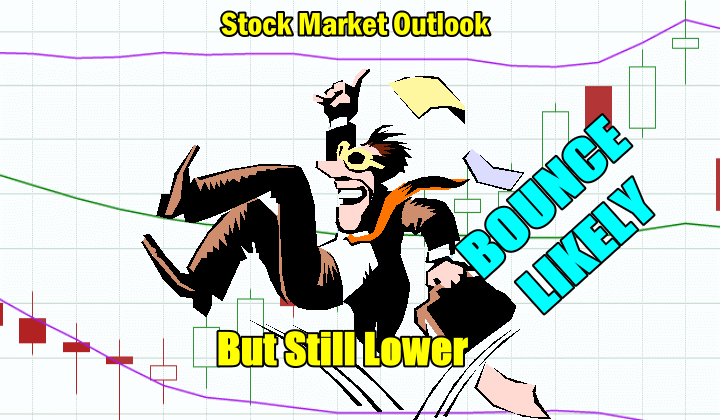 Wednesday saw the S&P open lower quickly taking out the important 3800 support level. This support level was tested in a surprise mid-morning drop on Monday and often it is a signal that it will be tested again. This morning once 3800 broke the SOX quickly fell to 3770, tried to bounce and ran into sellers as soon as the index moved back above 3800 mid-morning. By noon the index was back at 3770 and selling pressure seemed to ease. That brought in another wave of buyers who only managed to graze the 3800 which set up a second intraday top. When the buying slowed, sellers returned and by 2:00 PM when Fed Chair Powell was speaking and answering questions, sellers continued to dump shares, eventually breaking the 3750 support level and falling just below 3740 shortly after 3:30. The last half hour saw a small rebound to at least retake the 3750 support level but the carnage was widespread and the S&P ended down 2.5% to 3750.77.
There were many reasons put forth for the plunge on Wednesday, but perhaps the most logical was the crushing of short-sellers in GameStop Stock (GME) meant that many short-sellers had to sell out of other positions to raise capital to close short positions for what are certainly enormous losses. Other stocks with heavy short selling volume also rose on Wednesday. Perhaps many short sellers also decided to close their trades on those stocks as well, rather than risk another trade such as GameStop Stock (GME). This seemed the out logical reason for the sell-off and at some point, we may find out this was the reason for the selling.
Whatever the reasons, the drubbing stocks took on Wednesday was the worst day since Oct 28 when the S&P lost 119 points. Perhaps more important though, this was the second large drop in January following a 55 point loss on January 4, the first trading day of the year. It also sets up the index for a loss for the month of January. Unless the index can recover lost ground over the next two days, it will mark a losing January. Historically every year since 1950, a losing January has been followed by a new bear market, or a flat market or a minimum 10% correction in the year. These next two days may be telling for stocks this year.
With the decline on stocks on Wednesday, the S&P is 3.1% below its 52 week high. A 5% correction would need the index to reach 3677.00 another 73 points lower. That definitely looks achievable.
---
Stock Market Outlook Chart Comments At The Close on Wed Jan 27 2021 
Wednesday marked the fourth straight day of a bearish candlestick. More important, the bearish candlestick on Wednesday swiftly broke through the 21 day moving average. During the day, the index almost touched the 50 day moving average. All of these are bearish signals.
The 200, 100, 50 and 21 day moving averages are all climbing still but we shouldn't expect them to turn down for a few days yet, and only if the index were to move lower over the next several days.
The Upper Bollinger Band turned lower on Wednesday after having been turning higher since January 5 which is bearish. The Lower Bollinger Band is still turning back up which is also bearish.
In one day of selling, the moving averages have turned back down and are signaling there is more downside to come.
Stock Market Outlook: Technical Indicators Review:

Momentum: Momentum is falling and negative.
Settings: For momentum I use a 10 period when studying market 

direction

.
MACD Histogram: MACD (Moving Averages Convergence / Divergence) issued an up signal on Jan 20. On Wednesday a new down signal was issued. It is unconfirmed.
Settings: For MACD Histogram, I am using the Fast Points set at 13, Slow Points at 26 and Smoothing at 9. 
Ultimate Oscillator: The Ultimate Oscillator is falling.
Settings: The Ultimate Oscillator settings are: Period 1 is 5, Period 2 is 10, Period 3 is 15, Factor 1 is 4, Factor 2 is 2 and Factor 3 is 1. These are not the default settings but are the settings I use with the S&P 500 chart set for 1 to 

3 months

.
Slow Stochastic: The Slow Stochastic has a strong down signal in place.
Settings: For the Slow Stochastic I use the K period of 14 and D period of 3. The Slow Stochastic tries to predict the market direction further out than just one day.
Relative Strength Index: The RSI signal is falling.
Settings: The relative strength index is set for a period of 5 which gives it 5 days of market movement to monitor.  It is often the first indicator to show an overbought or oversold signal.
Rate of Change: The rate of change signal is falling.
Settings: Rate Of Change is set for a 21 period. This indicator looks back 21 days and compares price action from the past to the present. With the Rate Of Change, prices are rising when signals are positive. Conversely, prices are falling when signals are negative. As an advance rises the Rate Of Change signal should also rise higher, otherwise the rally is suspect. A decline should see the Rate Of Change fall into negative signals. The more negative the signals the stronger the decline.
---
---
Support and Resistance Levels To Be Aware Of:
3850 is resistance
3800 is support
3750 is support
3700 is light support
3600 is strong support
3550 is support
3500 is strong support
3450 is support
3400 is support
3375 is support
3300 is strong support
3275 is support
3200 is support
3150 is support
3050 is support
3000 is strong support
---
Stock Market Outlook for Tomorrow – Thu Jan 28 2021 
After the close on Wednesday a new strong down signal was generated by Moving Average Convergence / Divergence technical indicator. It is unconfirmed at present. As well, all the technical indicators are falling back with most having strong readings to the downside after the heavy selling.
For Thursday the index could potentially bounce or try to bounce but the chance of a large move higher would need a catalyst to the upside. With no such catalyst yet available, the outlook is for a bounce and then more sellin and a move lower.
---
Stock Market Outlook Archives