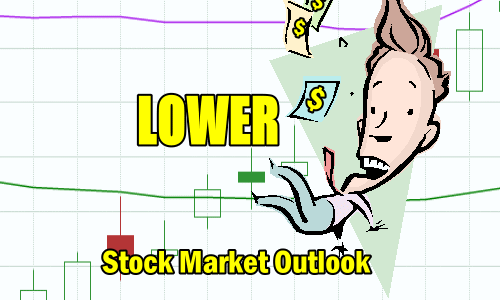 After Thursday's reversal plunge, a sideways day was not unusual for Friday. The S&P ended the day down 23 points for a half percent decline to 4123.  The NASDAQ though, fell 173 points for a 1.4% loss ending the day at 12,144.
Friday's sideways day was typical in market moving lower. Monday could see another attempt to bounce but with more Fed tightening, the outlook remains lower.
Let's review Friday's closing numbers to see what to expect for Monday to start off the second week of May. A week that is historically week.
---
Stock Market Outlook Chart Comments At The Close on Mon May6 2022 
On Friday the day ended with a bearish candlestick that advised another lower day should be expected.
The Upper Bollinger Band and Lower Bollinger Band are both now falling quickly indicating more downside for this week. I have been pointing to the 4000 level for the past two weeks as a likely target. We should see that Monday or Tuesday. The original forecast was for the S&P to reach 4000 and then we might see a bounce before it moved still lower. The Bollinger Bands are still predicting this outcome.
All moving averages are still bearish and there are still three sell signals in the index. All the major moving averages are falling including the 200 day.
The chart is 100% bearish for Monday. That means. The index has tried to rally three times over the past two weeks without success. It will move lower before buyers try again for a bounce.
Stock Market Outlook: Technical Indicators Review:

Momentum: Momentum is rising and negative. When you look at the indicator you can see it is actually moving sideways, rather than up or down. This is bearish.
Settings: For momentum I use a 10 period when studying market 

direction

.
MACD Histogram: MACD (Moving Averages Convergence / Divergence) issued a down signal Friday April 8. On Friday the down signal strengthened. The histogram also gained strength to the downside.
Settings: For MACD Histogram, I am using the Fast Points set at 13, Slow Points at 26 and Smoothing at 9. 
Ultimate Oscillator: The Ultimate Oscillator is rising and positive.
Settings: The Ultimate Oscillator settings are: Period 1 is 5, Period 2 is 10, Period 3 is 15, Factor 1 is 4, Factor 2 is 2 and Factor 3 is 1. These are not the default settings but are the settings I use with the S&P 500 chart set for 1 to 

3 months

.
Slow Stochastic: The Slow Stochastic still has a down signal in place.
Settings: For the Slow Stochastic I use the K period of 14 and D period of 3. The Slow Stochastic tries to predict the market direction further out than just one day.
Relative Strength Index: The RSI signal is falling.
Settings: The relative strength index is set for a period of 5 which gives it 5 days of market movement to monitor.  It is often the first indicator to show an overbought or oversold signal.
Rate of Change: The rate of change signal is unchanged.
Settings: Rate Of Change is set for a 21 period. This indicator looks back 21 days and compares price action from the past to the present. With the Rate Of Change, prices are rising when signals are positive. Conversely, prices are falling when signals are negative. As an advance rises the Rate Of Change signal should also rise higher, otherwise the rally is suspect. A decline should see the Rate Of Change fall into negative signals. The more negative the signals the stronger the decline.
---
---
Support and Resistance Levels To Be Aware Of:
4400 is resistance
4370 is light support
4350 is light resistance
4300 is light resistance
4290 is light resistance
4270 is light resistance
4250 is resistance
4225 was light support
4200 was good support
4150 is good support
4100 is light support
4050 is light support
4025 is light support
4000 is good support
---
Stock Market Outlook for Tomorrow – Mon May 9 2022 
For Monday the index is positioned to move still lower. 4000 is the next likely target. As you can see from the support and resistance levels (above), there is only light support until 4000 which is better support. A break below 4000 will see the index slide to 3750 as the next level of some support.  3750 represents a 22% decline from the 52 week high of 4818.
There is always a chance for a rally but rallies are opportunities to take profits and I will be buying SPY put options using May 20 expiry.
On Monday investors get the 1 and 3 year consumer inflation outlook and the "big" day this week is Wednesday when investors learn the CPI numbers. (see chart below).
This week promises to be difficult again for stocks.
Potential Market Moving Events
Monday:
10:00 Wholesale inventories
11:00 Consumer 1 and 3 year inflation outlook. This number could be a catalyst lower if it is higher than 6% for the 1 year and 3.5% for the 3 year.
Tuesday:
11:00 Real Household Debt which is unlikely to alert market direction
Wednesday:
This is the "big" day for markets. Higher than expected percentages will push markets lower.
8:30 Consumer Price Index which if higher than 1.2% will move the market lower.
8:30 Core CPI which is forecast to be 0.4%.
8:30 CPI year-over-year which needs to come in below 7.5% to alert the market direction lower
8:30 Core CPI year-over-year which was 6.4% previously. A lower percentage is needed
2:00 Federal Budget which won't affect the markets this time around.
Thursday:
8:30 Initial jobless claims and continuing jobless claims
8:30 Producer price index which is expected to be half a percent.
Friday:
10:00 Consumer Sentiment Index (UofMich)
10:00 5 Year inflation expectations (UofMich)
Stock Market Outlook Archives