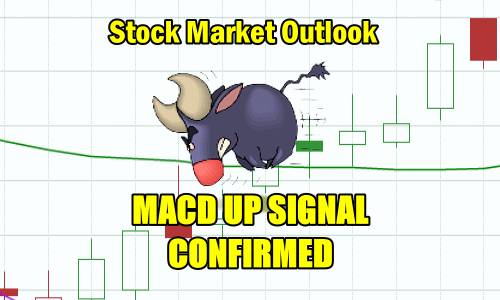 On Friday stocks climbed higher closing the week with positive gains. Over the past two weeks the S&P has added 109 points and the NASDAQ has added an impressive 684 points.
With the Fed's recent rate increase behind us and further banking woes possibly lying ahead, the Fed and Treasury have once again placed a stop behind losses from banks for depositors. Basically an early preemptive strike to try to insure the credit crisis of 2008 to 2009 will not be repeated. Whether it works remains to be seen but for the final week of March, we should see further highs, at least at the start of the week.
Let's review the closing technical indicators from Fri Mar 24 2023 to see what we should expect for Mon Mar 27 2023.
---
Stock Market Outlook Chart Comments At The Close on Fri Mar 24 2023 
The index closed with a bullish candlestick to start the day on Monday. There is a long shadow in Friday's candlestick and often it signals to be prepared for some selling but the close is expected to be higher.
The Upper Bollinger Band is turning sideways which is a bearish signal. The Lower Bollinger Band is also turning sideways. There is no signal up or down as of Friday's close.
The 200 day moving average is falling which is bearish. The 21 day is continuing to descend after generating a down signal on Friday Mar 17. It is below all major moving averages.
Meanwhile the 50 day has turned sideways but is holding above the 200 day. This is still bullish. The 100 day is moving sideways above the 21 day. This is bearish.
At present there are 4 down signals in place since April 24 and 3 up signals since Jan 13.
The chart is still bearish for Monday.
Stock Market Outlook: Technical Indicators Review:

Momentum: Momentum is rising and positive.
Settings: For momentum I use a 10 period when studying market 

direction

.
MACD Histogram: MACD (Moving Averages Convergence / Divergence) confirmed the upsignal on Friday Mar 24. The histogram is also positive.
Settings: For MACD Histogram, I am using the Fast Points set at 13, Slow Points at 26 and Smoothing at 9. 
Ultimate Oscillator: The Ultimate Oscillator is rising and positive.
Settings: The Ultimate Oscillator settings are: Period 1 is 5, Period 2 is 10, Period 3 is 15, Factor 1 is 4, Factor 2 is 2 and Factor 3 is 1. These are not the default settings but are the settings I use with the S&P 500 chart set for 1 to 

3 months

.
Slow Stochastic: The Slow Stochastic has a weak down signal in place.
Settings: For the Slow Stochastic I use the K period of 14 and D period of 3. The Slow Stochastic tries to predict the market direction further out than just one day.
Relative Strength Index: The RSI signal is rising and back positive.
Settings: The relative strength index is set for a period of 5 which gives it 5 days of market movement to monitor.  It is often the first indicator to show an overbought or oversold signal.
Rate of Change: The rate of change signal is rising slightly and nearing positive readings.
Settings: Rate Of Change is set for a 21 period. This indicator looks back 21 days and compares price action from the past to the present. With the Rate Of Change, prices are rising when signals are positive. Conversely, prices are falling when signals are negative. As an advance rises the Rate Of Change signal should also rise higher, otherwise the rally is suspect. A decline should see the Rate Of Change fall into negative signals. The more negative the signals the stronger the decline.
---
---
Support and Resistance Levels To Be Aware Of:
4100 is resistance
4090 is resistance
4075 is resistance
4050 is resistance
4030 is resistance
4025 is resistance
4000 is resistance
3975 is light support
3965 is light support
3950 is good support
3930 is light support
3900 is good support
3870 is light support
3850 is good support
3825 is light support
3810 is light support
3800 is good support
3775 is good support
---
Stock Market Outlook for Mon Mar 27 2023 
For Monday the technical indicators trying to build strength to the upside. MACD confirmed its up signal after 3 days which shows how choppy trading has been.
For Monday there will be some selling but the close will be higher to start the final week of March.
Potential Economic and Political Market Moving Events
No events on Monday are expected to shift market sentiment.
---
Stock Market Outlook Archives