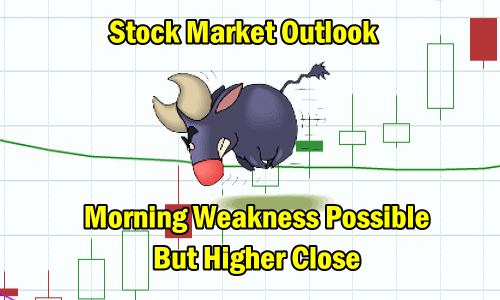 Friday Nov 29 was a half day resulting in low volume but the index pushed higher to challenge Wednesday's intraday all-time day of 3154. The index didn't have enough volume and but still managed to reach 3150 intraday mid-morning. That was followed by selling which saw the index slips lower to close down 12 points to 3140 by 1:00 PM. November though saw excellent gains on all 3 indexes and new all-time highs. On Monday, we start the final month of the year.
Black Friday Special Ends Tuesday Dec 3 at Midnight EST
A reminder that the Black Friday special ends on Tuesday Dec 3 at Midnight. As the sale was extended an extra day there will be no extensions after Tuesday. There will be a small price increase after the Black Friday sale ends. Here are all the details.
---
Stock Market Outlook Chart Comments At The Close on Fri Nov 29 2019 
The SPX chart is still bullish, although the closing candlestick Friday was once again bearish for Monday. Friday though was half a day on low volume so its hard to read much into the bearish candlestick.
All the remaining signals are still bullish.
Light support has moved higher as of Friday's close. It now sits at 3075.
All the major moving averages are still climbing including the 50 and 21 day moving averages. The 21 day moving average is still rising above the 3075 level which is bullish. The 50 day is above the 3030 level which is also bullish.
The Lower Bollinger Band has moved above the 50 day moving average which is bullish and is following the Upper Bollinger Band higher.
The 100 and 200 day moving averages are still rising.

Stock Market Outlook: Technical Indicators Review:

Momentum: Momentum is positive but fell on Friday.
Settings: For momentum I use a 10 period when studying market 

direction

.
MACD Histogram: MACD (Moving Averages Convergence / Divergence) issued an up signal on Tuesday Nov 26 2019. On Wednesday the up signal was confirmed but on Friday the up signal was weaker.
Settings: For MACD Histogram, I am using the Fast Points set at 13, Slow Points at 26 and Smoothing at 9. 
Ultimate Oscillator: The Ultimate Oscillator signal is trending sideways.
Settings: The Ultimate Oscillator settings are: Period 1 is 5, Period 2 is 10, Period 3 is 15, Factor 1 is 4, Factor 2 is 2 and Factor 3 is 1. These are not the default settings but are the settings I use with the S&P 500 chart set for 1 to 

3 months

.
Slow Stochastic: The Slow Stochastic is overbought and has a down signal in place.
Settings: For the Slow Stochastic I use the K period of 14 and D period of 3. The Slow Stochastic tries to predict the market direction further out than just one day.
Relative Strength Index: The RSI signal is falling.
Settings: The relative strength index is set for a period of 5 which gives it 5 days of market movement to monitor.  It is often the first indicator to show an overbought or oversold signal.
Rate of Change: The rate of change signal is falling indicating lower prices may lie ahead.
Settings: Rate Of Change is set for a 21 period. This indicator looks back 21 days and compares price action from the past to the present. With the Rate Of Change, prices are rising when signals are positive. Conversely, prices are falling when signals are negative. As an advance rises the Rate Of Change signal should also rise higher, otherwise the rally is suspect. A decline should see the Rate Of Change fall into negative signals. The more negative the signals the stronger the decline.
---
---
Support and Resistance Levels To Be Aware Of:
3150 is resistance
3075 is light support
3030 is light support
3000 is support
2960 is light support
2950 was light support
2900 is light support
2860 is light support
2840 is support
2800 is strong support
2795 is light support
2745 to 2750 is light support
2725 is light support
2700 is light support
---
Stock Market Outlook for Tomorrow – Mon Dec 2 2019 
The technical indicators are showing a bit of weakness as of Friday's close. All the signals lost strength on Friday but being a half-day its hard to read much into the lower readings.
We should get a better idea on Monday as to where the first week will head.
The start of Monday looks steady with a possible pop at the open and then a bit of selling mid-morning. Nothing serious is expected in the way of selling but after some morning weakness we should expect a higher close.
Any dips on Monday are trading opportunities in my opinion.
---
Stock Market Outlook Archives