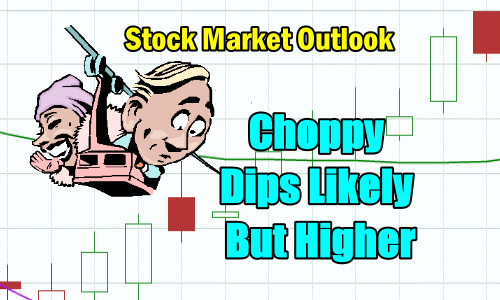 Friday saw a stunning July Non-Farm Payroll report that surprised all analysts. 528,000 more jobs were added, up from the prior 398,000 and well above 258,000 estimated for the month of July. The unemployment rate fell to 3.5%. Analysts immediately said obviously the Fed will raise rates further in September and that news sent stocks lower to start the day.  The dip in the S&P took the index down to 4107, just above the 100 day moving average which is currently trending around 4100. That brought in buyers who snapped up stocks. By the end of the day the S&P was down just 6 points to close at 4145. The NASDAQ was down half a percent losing 63 points to close at 12,657. The Dow Jones Index rose 76 points or just shy of a quarter of a percent to close at 32,803.
Let's review the closing technical indicators from Friday to see what to expect for Mon Aug 8 2022.
---
Stock Market Outlook Chart Comments At The Close on Fri Aug 5 2022 
The closing candlestick is neutral for Monday for the second day. It fell almost to the 100 day moving average but then bounces to close half way to the 200 day moving average. This is bullish despite the neutral candlestick.
The 21 day moving average is still rising and is above the 50 day for a fourth day. The 50 day moving average is also turning higher. Both are bullish.
The first up signal since April which was released Tuesday Aug 2.
The Upper Bollinger Band is rising and continued to move above the 200 day moving average which is bullish.
The Lower Bollinger Band is trending sideways which is bullish.
The 200 and 100 day moving average are still falling which is bearish.
There are 3 down signals still in place and one new up signal.
The chart is 80% bullish for Monday. This is the same bullish percentage we saw both Thursday and Friday.
Stock Market Outlook: Technical Indicators Review:

Momentum: Momentum is rising and positive.
Settings: For momentum I use a 10 period when studying market 

direction

.
MACD Histogram: MACD (Moving Averages Convergence / Divergence) issued an up signal on Monday June 27. On Friday the up signal weakened. The histogram also weakened. Both are bullish still but the strength of the signals is starting to wane.
Settings: For MACD Histogram, I am using the Fast Points set at 13, Slow Points at 26 and Smoothing at 9. 
Ultimate Oscillator: The Ultimate Oscillator is unchanged and trending just below overbought readings.
Settings: The Ultimate Oscillator settings are: Period 1 is 5, Period 2 is 10, Period 3 is 15, Factor 1 is 4, Factor 2 is 2 and Factor 3 is 1. These are not the default settings but are the settings I use with the S&P 500 chart set for 1 to 

3 months

.
Slow Stochastic: The Slow Stochastic has a neutral signal in place for a second day and is overbought.
Settings: For the Slow Stochastic I use the K period of 14 and D period of 3. The Slow Stochastic tries to predict the market direction further out than just one day.
Relative Strength Index: The RSI signal is falling but still in overbought readings.
Settings: The relative strength index is set for a period of 5 which gives it 5 days of market movement to monitor.  It is often the first indicator to show an overbought or oversold signal.
Rate of Change: The rate of change signal is falling.
Settings: Rate Of Change is set for a 21 period. This indicator looks back 21 days and compares price action from the past to the present. With the Rate Of Change, prices are rising when signals are positive. Conversely, prices are falling when signals are negative. As an advance rises the Rate Of Change signal should also rise higher, otherwise the rally is suspect. A decline should see the Rate Of Change fall into negative signals. The more negative the signals the stronger the decline.
---
---
Support and Resistance Levels To Be Aware Of:
4200 is light resistance
4150 is light resistance
4100 is light resistance
4050 is light resistance
4025 is light support
4000 is light support
3975 is light support and is a decline of 17.5%
3900 is light support and is a decline of 19%
3850 is light support and is a decline of 20%
3825 is light resistance.
3800 is good support.
3775 is light support
3750 is light support
3730 is light support
3700 is good support
3675 is light support
3650 is light support
3625 is light support
3600 is good support and is a decline of 25%
---
Stock Market Outlook for Tomorrow – Mon Aug 8 2022 
For Monday the S&P chart is once again 80% bullish, for a third straight day. The technical indicators are still mixed and the July Non-Farm Payroll numbers has added more uncertainty to the signals.
Overall the signals are still more bullish than bearish. The technical indicators though are showing further weakness. The MACD signal has been losing strength for two days. The market itself is only slightly overbought leaving plenty of room to move higher.
Friday's recovery from the early morning sell-off was bullish but on Monday we will see selling once again to start the day. It will be a choppy day with some back and forth action but the close has a good chance to still be higher. Prepare for more talk of rising interest rates and a recession this week following July's jobs numbers. Most analysts immediately jumped on the three quarter rate hike for September band wagon after the July jobs numbers. However we still have the August jobs numbers at the start of September, before the Fed interest rate decision is announced in September. You can never be sure what the data will show. July's numbers stunned everyone and the further drop in the unemployment rate shows a strong economy that continues to churn out job opportunities. A recession with historically low unemployment would be a rare event. For Friday watch the morning dips for trade opportunities.
Potential Market Moving Events
This week we get some inflation numbers on Monday, Wednesday and Friday. Those could cause some market gyrations.
Monday:
11:00 NY Fed 3-year inflation outlook. Previously it was 3.6%. A higher number could send stocks lower. A lower number will boost stocks.
Stock Market Outlook Archives