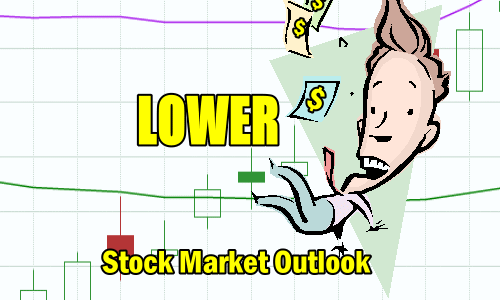 Wednesday's huge rally was quickly lost on Thursday as worries over further cases of coronavirus mixed with a state of emergency declaration in California, more cases in New York and further travel restrictions being implemented were too much for investors. Thursday was all about selling and while the index managed to stay above 3000 selling at times was heavy again.
---
Stock Market Outlook Chart Comments At The Close on Thu Mar 5 2020 
The SPX chart is bearish. The index closed the day under the 200 day moving average and only a bit above the important 3000 level. Two large rally attempts have been unable to break the fear investors continue to have despite the strength in the economy at the present time.
The 21 day moving average continues to decline further since the confirmed sell signal of March 2. All the moving averages are now turning lower including the 200 day.
The index is a bit oversold but not enough to expect another bounce attempt. News this evening of Elizabeth Warren ending her Presidential bid has futures down again as investors also worry that a lot of her supporters may flock to Sanders, who investors believe is anti-wall street and anti-business.
The closing candlestick on Thursday is bearish for Friday.
Stock Market Outlook: Technical Indicators Review:

Momentum: Momentum is negative ad back falling. It is signaling oversold once again.
Settings: For momentum I use a 10 period when studying market 

direction

.
MACD Histogram: MACD (Moving Averages Convergence / Divergence) issued a down signal on Friday Feb 21. The down signal was weaker again on Thursday but at -24.96 this is still a very strong sell signal.
Settings: For MACD Histogram, I am using the Fast Points set at 13, Slow Points at 26 and Smoothing at 9. 
Ultimate Oscillator: The Ultimate Oscillator signal is rising slightly and no longer negative.
Settings: The Ultimate Oscillator settings are: Period 1 is 5, Period 2 is 10, Period 3 is 15, Factor 1 is 4, Factor 2 is 2 and Factor 3 is 1. These are not the default settings but are the settings I use with the S&P 500 chart set for 1 to 

3 months

.
Slow Stochastic: The Slow Stochastic still has a weak up signal in place for Friday but as you can see in the chart, it is almost back to a sell signal.
Settings: For the Slow Stochastic I use the K period of 14 and D period of 3. The Slow Stochastic tries to predict the market direction further out than just one day.
Relative Strength Index: The RSI signal is falling and not oversold, leaving room for the markets to fall lower.
Settings: The relative strength index is set for a period of 5 which gives it 5 days of market movement to monitor.  It is often the first indicator to show an overbought or oversold signal.
Rate of Change: The rate of change signal is back falling sharply, indicating lower prices are picking up momentum.
Settings: Rate Of Change is set for a 21 period. This indicator looks back 21 days and compares price action from the past to the present. With the Rate Of Change, prices are rising when signals are positive. Conversely, prices are falling when signals are negative. As an advance rises the Rate Of Change signal should also rise higher, otherwise the rally is suspect. A decline should see the Rate Of Change fall into negative signals. The more negative the signals the stronger the decline.
---
---
Support and Resistance Levels To Be Aware Of:
3400 is resistance
3300 is resistance
3200 is resistance
3100 is light resistance
3075 is light support
3000 is good support
2960 is light support
2900 is light support
2860 is light support
2840 is good support
2800 is strong support
---
Stock Market Outlook for Tomorrow – Fri Mar 6 2020 
For Friday the market is not oversold enough to expect a bounce back. As well concerns over the possibility that Elizabeth Warren's supporters may move to Bernie Sanders will also weigh on investors for Friday.
Overall the market action on Thursday was poor and deeply negative. While there is always the chance of a bounce on Friday, even a small one, there is little expectation that it will hold. The index looks set to fall lower on Friday and wipe out the remaining gain made this week.
There is no chance 3000 will hold up. The next level of support is down at 2960 but the low from Feb 28 is at 2855. While it would be unusual for the correction after two massive rallies this week, to pick up volumes enough on Friday to send the S&P back to 2855, investor sentiment is so worried that we could indeed see another sell-off on Friday to retest the low from last Friday.
The index has tried with two huge rallies this week to break investor fear and build a base. The inability of the market to hold any of these rallies has disappointed investors and with fear still high, a lower close on Friday is anticipated.
---
Stock Market Outlook Archives