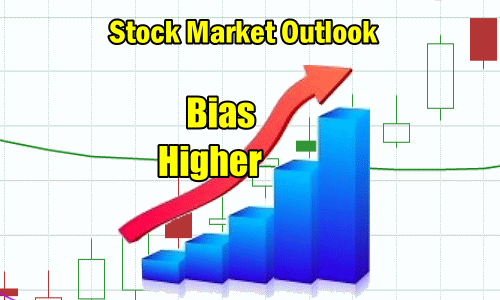 December's rather disappointing unemployment report on Friday had a level of concern for some investors but it was also being used as an excuse to take profits. As well with the situation with Iran still unsettled on Friday, investors used that worry as a second reason to take profits ahead of the weekend. While analysts spent much of the day talking about the weakness in the markets following the December non-farm payroll numbers, losses were actually quite small and definitely understandable. Indexes are sitting at all-time highs and the dips we saw on Friday were minor. If anything they looked more like the usual Friday crowd moving to the sidelines ahead of the weekend. Considering all the events of the past week, perhaps it was not more surprising that the week did not see a lot heavier selling. The lack of any kind of determined selling continues to advise that the bias is still higher for stocks but it will be choppy.
---
Stock Market Outlook Chart Comments At The Close on Fri Jan 10 2020 
The SPX chart continues to be bullish but the closing candlestick was bearish for the start of the week.
The biggest concern at present is the Lower Bollinger Band rising much quicker than the Upper Bollinger Band. Instead the Upper Bollinger Band looks like it wants to turn sideways and if that happens then we could see a Bollinger Bands Squeeze this week. You can see in the chart below that the Lower Bollinger Band has met the 50 day and is now moving above it. If the Upper Bollinger Band dips slightly, watch for signals that the index will dip deeper and could retest the 3200 level which is very light support.
The 21 day moving average however has not wavered and is continuing to rise. It is followed by all the major moving averages as they all push higher.
There are now four support levels in place. 3200 is very light support while 3100 and 3075 are better support. The best support is down at 3000 which is 8% lower.

Stock Market Outlook: Technical Indicators Review:

Momentum: Momentum is positive and and falling.
Settings: For momentum I use a 10 period when studying market 

direction

.
MACD Histogram: MACD (Moving Averages Convergence / Divergence) issued an up signal on Friday Dec 13. On Friday the signal is neutral on market direction.
Settings: For MACD Histogram, I am using the Fast Points set at 13, Slow Points at 26 and Smoothing at 9. 
Ultimate Oscillator: The Ultimate Oscillator signal is not overbought and trending sideways.
Settings: The Ultimate Oscillator settings are: Period 1 is 5, Period 2 is 10, Period 3 is 15, Factor 1 is 4, Factor 2 is 2 and Factor 3 is 1. These are not the default settings but are the settings I use with the S&P 500 chart set for 1 to 

3 months

.
Slow Stochastic: The Slow Stochastic is overbought and has an up signal in place to start the week.
Settings: For the Slow Stochastic I use the K period of 14 and D period of 3. The Slow Stochastic tries to predict the market direction further out than just one day.
Relative Strength Index: The RSI signal is falling.
Settings: The relative strength index is set for a period of 5 which gives it 5 days of market movement to monitor.  It is often the first indicator to show an overbought or oversold signal.
Rate of Change: The rate of change signal is moving sideways.
Settings: Rate Of Change is set for a 21 period. This indicator looks back 21 days and compares price action from the past to the present. With the Rate Of Change, prices are rising when signals are positive. Conversely, prices are falling when signals are negative. As an advance rises the Rate Of Change signal should also rise higher, otherwise the rally is suspect. A decline should see the Rate Of Change fall into negative signals. The more negative the signals the stronger the decline.
---
---
Support and Resistance Levels To Be Aware Of:
3250 is resistance
3200 is light support
3100 is light support
3075 is light support
3030 is light support
3000 is support
2960 is light support
2950 was light support
2900 is light support
2860 is light support
2840 is support
2800 is strong support
---
Stock Market Outlook for Tomorrow – Mon Jan 13 2020 
This is a big week for stocks. Earnings get underway with bank stocks starting to report on Tuesday. As well the Chinese delegation would be in Washington to sign the first phase of a trade agreement. Both of these events should be enough to keep stocks up on Monday and probably Tuesday. A lot though will depend on the situation with Iran. At present investors have taken a wait and see approach following news that Iran has acknowledged they did indeed shoot down the Ukrainian aircraft killing all onboard. Protests have erupted in Iran where protectors are demanding those responsible be brought to justice. A lot of these events are "wild cards" for the week and they could make this week rather volatile.
Technical indicators are primarily neutral to sideways with only the Slow Stochastic actually sporting a buy or up signal. That means there is a good chance we will see a dip mid to late morning in the market but unless something "new" arrives this week to further surprise investors, we should see the index climb, even if only slightly on Monday. Tuesday will be about bank earnings so I am not expecting a large move higher on Monday ahead of earnings starting. However the day should end positive.
---
Stock Market Outlook Archives