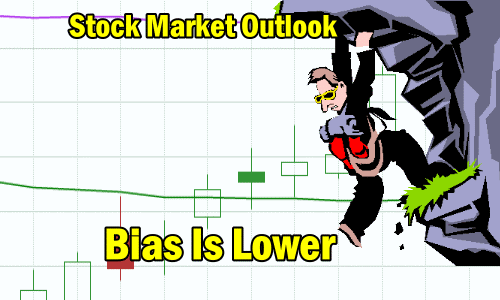 Wednesday started off better with stronger buying volume and wider breadth. More stocks were joining in the rally and this time the rally lasted until more reports on the coronavirus from Brazil and Germany plus domestic comments about concerns from politicians, doctors and other officials wore on investors. Shortly before the lunch hour began buying dried up and stocks fell quickly ending the day's rally. The close was nothing like what was seen on Monday and Tuesday but the loss of the rally for a second day has more investors moving to the sidelines. This evening news of a "community case" where the cause of the infection is not yet known has the market on edge and ready to fall still further.
Let's look at the technical indicators for the market to see what we might expected on Thursday.
---
Stock Market Outlook Chart Comments At The Close on Wed Feb 26 2020 
The SPX chart is bearish following five straight days of selling. Wednesday was however a better day despite another negative close. The loss though was only 11 points, far less than Monday or Tuesday's losses.
The index is sitting above the important 3100 support level and within easy reach of breaking below the 200 day moving average.
The 21 day moving average is still falling and the 50 day is starting to turn lower as well. The 100 and 200 day moving averages are still climbing.
There are still three support levels still in place. These are light support at 3100 and 3075 and 3000 which is major support.
Resistance to the rally is now moved to 3200 following today's rally. The chart is very bearish but signaling that any resolution will see a large bounce occur.
Stock Market Outlook: Technical Indicators Review:

Momentum: Momentum is falling for a seventh day and is at very oversold levels.
Settings: For momentum I use a 10 period when studying market 

direction

.
MACD Histogram: MACD (Moving Averages Convergence / Divergence) issued a down signal on Friday Feb 21. The down signal was extremely strong again on Wednesday and very oversold.
Settings: For MACD Histogram, I am using the Fast Points set at 13, Slow Points at 26 and Smoothing at 9. 
Ultimate Oscillator: The Ultimate Oscillator signal is still falling and very oversold.
Settings: The Ultimate Oscillator settings are: Period 1 is 5, Period 2 is 10, Period 3 is 15, Factor 1 is 4, Factor 2 is 2 and Factor 3 is 1. These are not the default settings but are the settings I use with the S&P 500 chart set for 1 to 

3 months

.
Slow Stochastic: The Slow Stochastic has an extreme down signal in place for Thursday and is very oversold. The signal here is at levels seen usually in bear market panics.
Settings: For the Slow Stochastic I use the K period of 14 and D period of 3. The Slow Stochastic tries to predict the market direction further out than just one day.
Relative Strength Index: The RSI signal is still falling and now into deeper oversold readings that are rare not to see a bounce.
Settings: The relative strength index is set for a period of 5 which gives it 5 days of market movement to monitor.  It is often the first indicator to show an overbought or oversold signal.
Rate of Change: The rate of change signal is trying to bounce which indicates the market is deeply oversold.
Settings: Rate Of Change is set for a 21 period. This indicator looks back 21 days and compares price action from the past to the present. With the Rate Of Change, prices are rising when signals are positive. Conversely, prices are falling when signals are negative. As an advance rises the Rate Of Change signal should also rise higher, otherwise the rally is suspect. A decline should see the Rate Of Change fall into negative signals. The more negative the signals the stronger the decline.
---
---
Support and Resistance Levels To Be Aware Of:
3400 is resistance
3300 is resistance
3200 is light resistance
3100 is light support
3075 is light support
3030 is very light support
3000 is good support and if the S&P fell this low it would mark a full correction in a bull market
2960 is light support
2900 is light support
2860 is light support
2840 is good support
2800 is strong support
---
Stock Market Outlook for Tomorrow – Thu Feb 27 2020 
We are seeing extreme technical readings to the downside on many of the indicators which are rare to see in anything except a panic or a bear market.
The Rate Of Change signal is indicating that a bounce should be occurring but due to continued fears, there is no bounce.
Wednesday evening, a coronavirus case in California of yet to be determined origins, has the market futures falling again. Thursday morning at 9:30 is still a long way off and we could see futures change but the chance of a major bounce on Thursday are now slim to none. A lower close is expected and the 3100 level will be broken probably at the open. Once 3100 is broken the 3000 level is the main support point. That is below the 200 day moving average and not expected to be reached on Thursday.
---
Stock Market Outlook Archives