After my recent loss in the spy put hedge I use, which you can read about here, I am back to day trading the spy put on weakness and Friday saw some weakness.
The market in my opinion remains incredibly soft and any bad news out of Europe is going to have repercussions. I am back using the 5 period simple moving average (SMA) for my daily trades in the spy put.
Friday was no different. The market gapped open, which by the way if you have been reading my recent market direction calls, is a clear sign of bear market activity. The constant gap opens, now more than 27 in the past 35 trading sessions, rarely occur in bull markets but they are a constant part of bear markets. After the gap open the 5 period SMA flattened and I bought my SPY Puts.I chose the 22OCT11 $122 spy put.
Within the hour the market sold back down to retest the gap open and I sold my Puts for about 11% return.  You can view the trade details through this link to my spy put trades for 2011. Scroll down to September 16 2011 to view today's activities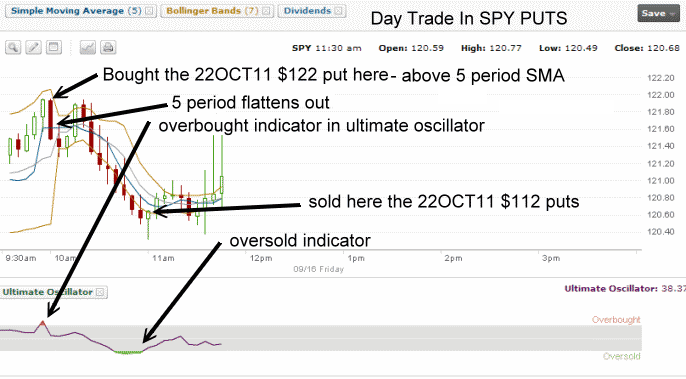 Remember when I am doing these spy put trades I am also using the ultimate oscillator. For day trading on the spy put I find that the standard settings are fine, however I use the settings below which I have found seem to tweak the daily overbought and oversold indicators.
By combining the ultimate oscillator with the 5 period simple moving average I find I get fairly consistent results. Again though, just for day trading.
Again just to mention, by using the ultimate oscillator with the 5 period simple moving average for my spy put hedge, I am combining my strategies which I have discussed and linked to numerous times. However for those who are new to my site, these are the strategies I am referring to:
Spy Put Hedge strategy 1  |  Spy Put Hedge Strategy 2  |  Spy Put Hedge Strategy 3: The short version
If you review those links it will help to understand my trading strategy which I mention often when discussing the spy put hedge.
---
To close out the day I was back buying SPY PUTS right around 1 PM in the afternoon. I bought the Oct$122.00 put again. I plan to hold these over the weekend as I believe the market is topping out. However the close for Friday was not bearish so I could be looking at some more losses come Monday. You can review this trade here and scroll down to Sept 16 2011. We shall see what next week brings.