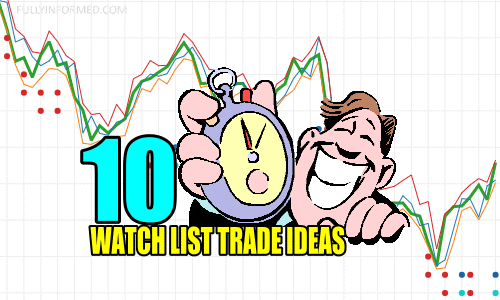 For Fri May 22 2020 there were 10 stocks on my watch list.
9 of the 10 stocks had trades placed on Friday May 22. Some of the stocks had more than one trade placed. As well, some had to have positions adjusted.
Creating Your Own Watch List
Reviewing the watch list is an excellent way to formulate your own watch list for the following days as a review allows an investor to see the profit made on each trade. This allows an investor to decide which trades interest them the most and then plan their own trades and aim for better prices as stocks will fluctuate and can easily provide better prices than the original entry. This is why I often start with a small trade and then build on that trade in the days after the initial trade was placed.
Investing For Consistent Income With Minimal Time and Effort
One goal when investing is to try to generate consistent income, whether to grow a portfolio or to earn income for everyday needs and bills. The method below is what I used for decades when I had a full time career and raising children.
Remember that offers can be placed prior to markets opening. This is an excellent way for busy investors, who might be working full-time for example, to setup trades. I used this method for several decades while working. Each morning over coffee I would place my offers on stocks I had reviewed and selected for my portfolio, prior to 9:00 AM. I usually placed them at better prices than they were the night before. Then if I had a chance at lunch I would check them and make any needed adjustments on those who were not filled. Then at night after tucking the kids into their beds I would review the trades again and make further decisions for the next day.
Cherry Picking Stocks
With the watch lists I develop on FullyInformed.com and post for members, investors can review the day's past trades and cherry pick the best prices earned and the stocks that fit their level of comfort and their portfolio and develop their own watch list for the following day or days.
Build An Income Producing Portfolio With Minimal Effort
It's a great way to stay invested with minimal effort and build an income producing portfolio while leading a busy life. So get busy, review the past trades from the trading week just past and start making your own watch list this long weekend, so you are ready for next week!
The rest of this trade ideas article is for FullyInformed Members.
Outcome Of 10 Watch List Trade Ideas for May 22 2020
---
Disclaimer: There are risks involved in all investment strategies and investors can and do lose capital. Trade at your own risk. Stocks, options and investing are risky and can result in considerable losses. None of the strategies, stocks or information discussed and presented are financial or trading advice or recommendations. Everything presented and discussed are the author's own trade ideas and opinions which the author may or may not enter into. The author assumes no liability for topics, ideas, errors, omissions, content and external links and trades done or not done. The author may or may not enter the trades mentioned. Some positions in mentioned stocks may already be held or are being adjusted.
Internal Stock and Option Trades Links
Put Selling Strategies For Members
Covered Calls Strategies For Members
Profit And Income Strategies Index
Stock and Option Strategies For Members
Stock And Option Trades Explained For Members
Ask A Question About A Trade You Are In