Regular readers of FullyInformed.com know that I use the Weekly Initial Unemployment Insurance Claims as a market timing system. This market timing system has a proven track record which I have benefited from for years. For anyone unaware of this system you can read how this market timing system works through this link. You can also review all the market timing articles through this index and finally, you can review all the weekly unemployment market timing system through this category.
April 3 2014 Weekly Initial Unemployment Insurance Claims
The number of Americans filing new claims for unemployment benefits rose more than expected by 16,000 to 326,000 according to the Labor Department. While not mentioned in their report, I wonder if part of this could be some of the long-term unemployed are back looking for jobs. The non-participation rate is the highest it has been since the Great Depression but eventually a lot of non-participants will return and look for work. Since it has been almost six years since the fall of 2008 when the financial crisis was in full swing and unemployment was sky-rocketing, perhaps now many are beginning to think about getting back into the work force. I didn't see this mentioned anywhere so obviously it is a personal opinion.
One of the more important readings is from the four-week moving average for new claims. That remains almost flat at 319,500 up just 250 from the prior week. Basically this hints at the labor market remaining fairly flat.
Long-Term Unemployed Is A Concern
The claims report showed that the number of people still receiving benefits rose 22,000 to 2.84 million in the week ended March 22. The long-term unemployed still sits at an incredibly high level of 3.9 million who have been out of work for longer than 27 weeks which is still around 35.7%.
Trading Based on Weekly Initial Unemployment Insurance Claims
The numbers from today continue to signal that the chance of a broad-based collapse or topping of stocks at present is extremely limited. That does not mean we won't have further weakness as there are always other factors but as a market timing system, it is rare when stocks will see a plunge and the start of any kind of bear market. In other words I will continue trading and staying with my strategies but with the numbers over the 325,000 level it becomes more important to trade dips and keep an eye out for good put credit spread trades that will open up on dips. There is no signal to advise to protect my capital from an expected large scale correction. My capital will continue to be allotted to my trades.
Below again is my chart showing the trading patterns I follow based on the Weekly Initial Unemployment Insurance Claims.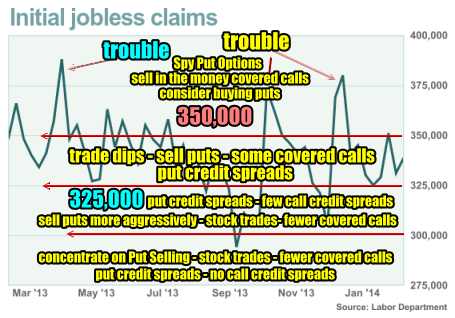 Market Timing Signals Based On Unemployment
We are now between the 325,000 to 350,000 numbers which means trading the dips and looking for Put Selling, put credit spreads and covered calls opportunities in general..
Market Direction Outlook Then Is…
To cut through to an outlook for trading, I see nothing that tells me the market is about to implode, plunge or collapse. There are no signals from this market timing system based on unemployment that I use, that shows any significant collapse is impending. Next week I will review the Weekly Initial Unemployment Insurance Claims once again for clues to any change in that outlook.
Last month I mentioned that March's unemployment numbers which we will get on Friday of this week will be very interesting and could result in some market fluctuations. These numbers should begin to tell investors whether the January and February numbers were impacted by the cold weather. If they continue to reflect some weakness, that will advise that the severe cold weather may not have affected the unemployment numbers as much as economists had predicted. The numbers will impact investor sentiment when it comes to their outlook on Fed policy both for interest rate adjustments higher and the continuation of the tapering of Quantitative Easing. Friday should be interesting.
Internal Market Direction Links
Profiting From Understanding Market Direction (Articles Index)
Understanding Short-Term Signals
Market Direction Portfolio Ongoing Trades (Members only)