Regular readers of FullyInformed.com know that I use the Weekly Initial Unemployment Insurance Claims as a market timing system. This market timing system has a proven track record which I have benefited from for years. For anyone unaware of this system you can read how this market timing system works through this link. You can also review all the market timing articles through this index and finally, you can review all the weekly unemployment market timing system through this category.
March 20 2014 Weekly Initial Unemployment Insurance Claims
The Weekly Initial Unemployment Insurance Claims numbers budged just slightly to rise 5,000 to 320,000. The numbers continues to point to the economy gaining ground although still at a slow pace. The largest increases in initial claims were in Pennsylvania, Washington, Wisconsin, Arkansas, and Illinois. The largest decrease were in New York, Michigan, California, Connecticut, and New Hampshire.
Long-Term Unemployed Is A Concern
The stats show though that almost 3.9 million American have been without work for 27 weeks or more. This places the long-term unemployed at around 35.7%. While this is down from the levels seen at the peak of the recession, it is still among the highest levels seen since the Great Depression.
Yesterday Fed Chair Janet Yellen indicated long-term unemployment is something she is watching closely. She said "The share of long term unemployment has been immensely high, and can be very stubborn in bringing down," she said.
Inflation Expectations
Yesterday Yellen spoke about the Fed outlook on inflation and their expectations that it will rise later this year. That may or may not be the case. Quite a number of studies are showing that the large percentage of long-term unemployed is helping to keep a lid on inflation as with this many unemployed, the pressure on prices to rise is not great. Without much rise in inflation, raising interest rates may actually do more harm to the economy cutting off growth especially at a time when housing is showing signs of weakening a bit after last year's move up in the number of houses being sold. A lot of the housing rise was due to the concern among home-owners that mortgage rates were going to rise and many made home purchases last year.
Trading Based on Weekly Initial Unemployment Insurance Claims
The numbers from Thursday continue to signal that the chance of a broad-based collapse or topping of stocks at present is extremely limited. That does not mean we won't have further weakness as there are always other factors such as the Ukraine crisis, Chinese growth and just the market height itself that can work toward keeping stocks weak. But as a market timing system, it is rare when stocks will see a plunge and the start of any kind of bear market. In other words I will continue trading and staying with my strategies. My capital will continue to be allotted to my trades.
Below again is my chart showing the trading patterns I follow based on the Weekly Initial Unemployment Insurance Claims.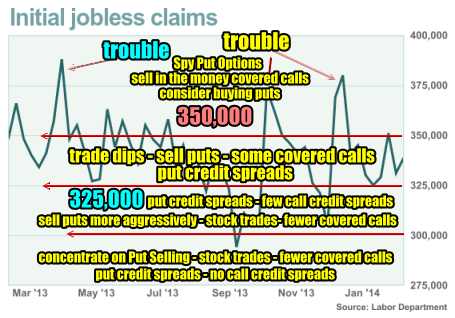 Market Timing Signals Based On Unemployment
We are now between the 300,000 to 325,000 numbers which means selling puts a bit more aggressively, considering put credit spreads, doing fewer covered calls and even fewer call credit spreads as the market direction is usually higher with Weekly Initial Unemployment Insurance Claims at this level.
Market Direction Outlook Then Is…
To cut through to an outlook for trading, I see nothing that tells me the market is about to implode, plunge or collapse. There are no signals from this market timing system based on unemployment that I use, that shows any significant collapse is impending. Next week I will review the Weekly Initial Unemployment Insurance Claims once again for clues to any change in that outlook.  April's unemployment report on March numbers should be most interesting as it will be the first without the poor weather which was experienced in January and February and it may give a better clue on market direction based on the unemployment levels.
Internal Market Direction Links
Profiting From Understanding Market Direction (Articles Index)
Understanding Short-Term Signals
Market Direction Portfolio Ongoing Trades (Members only)