Market Direction for May 9 showed what happens with an overbought market. Despite the better than expected Weekly Initial Unemployment Insurance Claims, the market direction tried to climb higher but sold off in the afternoon fueled in part by a rumor of a story in the WSJ that would indicate when the Fed would discontinue its quantitative easing program this year. But while that did not help the market direction to push higher, overall the move lower is a direct result of the market being so overbought.
Losses today though were very small as most investors sat the day out and waited for clearer signs on market direction as to whether this is the start of a bigger dip or just the market working its way through an overbought condition.
Market Direction Closing For May 9 2013
The S&P 500 closed at 1,626.67 down 6.02 points. The Dow closed at 15,082.62 down 22.50 points. The NASDAQ closed at 3,409.17 down 4.10 points.
Market Direction Technical Indicators At The Close of May 9 2013
Let's take a moment now and review the market direction technical indicators at the close of May 9 2013 on the S&P 500 and view the market direction outlook for May 10 2013.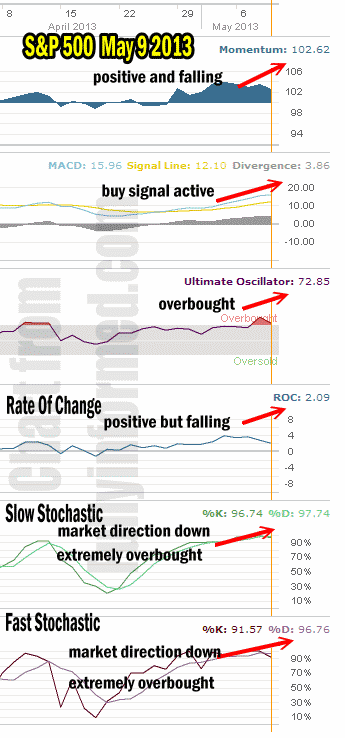 For Momentum I am using the 10 period. Momentum is positive but pulled back again today.
For MACD Histogram I am using the Fast Points set at 13, Slow Points at 26 and Smoothing at 9. MACD (Moving Averages Convergence / Divergence) issued a buy signal on April 26 and the signal remains valid.
The Ultimate Oscillator settings are Period 1 is 5, Period 2 is 10, Period 3 is 15, Factor 1 is 4, Factor 2 is 2 and Factor 3 is 1. These are not the default settings but are the settings I use with the S&P 500 chart set for 1 to 3 months.
The Ultimate Oscillator is overbought and pulled back a bit today but the overbought condition remains.
Rate Of Change is set for a 21 period. Rate Of Change is still positive but down again today.
For the Slow Stochastic I use the K period of 14 and D period of 3. The Slow Stochastic is extremely overbought and the bias from the Slow Stochastic is to the downside.
For the Fast Stochastic I use the K period of 20 and D period of 5. These are not default settings but settings I set for the 1 to 3 month S&P 500 chart when it is set for daily. The Fast Stochastic is also extremely overbought and indicates that the market direction will be lower tomorrow.
Market Direction Outlook And Strategy for May 10 2013
This evening the Japanese yen has fallen further boosting stocks within Japan. This is bound to put pressure on the US Dollar and may pressure some stocks as right now every country wants the cheaper currency to boost exports. Despite all the money printing gold continues to act bearish as do many other commodities including oil. My outlook has not changed. I see no major concerns at this stage but the market direction technical indicators are warning that stocks will pull back from here. There is still lots of strength in the markets so it will be interesting to see if investors step in and buy the dips in the market.
Tomorrow then I expect to see more selling but no big retrenchment just a shallow dip. I will not be surprised if the market direction attempts to recover in mid afternoon only to sell-off into the close, however any selling tomorrow should be well contained and I do not expect severe problems to develop. I remain invested and continue to trade daily when opportunities arise. Any selling on Friday may develop some of those opportunities if the market direction can be push back lower than expected. That could spook some investors and get better put option prices for my Put Selling strategies on big cap stocks. Friday then, should be interesting as I am expecting a "time out" for market direction as investors regroup and take profits.
Internal Market Direction Links
Profiting From Understanding Market Direction (Articles Index)
Understanding Short-Term Signals
Market Direction Portfolio Trades (Members)
Market Direction External Links
Market Direction IWM ETF Russell 2000 Fund Info