The market direction on Thursday was predicted as being weak with a slight bias to the downside. Slight obviously was an inappropriate word. The selling started within a few minutes of a failed rally at the outset. Despite the Weekly Initial Unemployment Insurance Claims coming in lower than expected, investors complained that these better numbers meant the Fed would continue to taper. The news that China was seeing their latest bond offering fail to garner much attention also concerned investors. Then the downgrades of China's GDP from 8% to 7.5% and lower by other analysts seemed to get sellers started. Finally the Ukraine crisis and the posturing by the G7, China and Russia seemed to be the final blow and once the selling started emotions ruled the day. Let's take a look.
S&P Market Direction Intraday for March 13 2014
The one minute intraday S&P chart below ishows today's damage. A short failed rally opened the day and then stocks entered a steep decline. This was an easy Spy Put Options trade. It was obvious by 10:30 that the market was going to pull back harder than expected which is when I bought my Spy Put Options. The selling was pretty well relentless until around 1:00 PM when the market tried to rally. That rally did nothing but bring in anxious investors who were concerned they might get caught holding positions in what could be the end of the bull market, as far as many were concerned. The media started to paint an ugly picture by noon and the usual raft of bears were starting to growl. The market then continued lower and this brought in even more sellers. The market then hit an intraday low of 1841.86 before rallying slightly into the close.
The Dow meanwhile broke through the 16200 valuation which I mentioned in many articles, would bring in more sellers. Just as the 1840 is support for the S&P, the 16200 level was support for the Dow. When support breaks, those investors who bought at the support level, will want out and they rush to sell. By the end of the day a lot of technical damage had been done to all indexes.
Advance Declines For March 13 2014
Surprisingly advancing issues were not as trounced as I would have expected. Usually a decline such as today's results in advancing issues making up less than 25% but today 32% of all stocks still advanced while 66% declined. Meanwhile only 83 stocks made new highs and 94 made new lows. New highs have been faltering for days and the rise of more new lows shows the decline of momentum to the upside over the past several days.
Market Direction Closings For March 13 2014
The S&P closed at 1846.34 down 21.86. The Dow closed at 16,108.89 well below 16200, down 231.19. The NASDAQ closed at 4260.42 down 62.91.
The Russell 2000 ETF IWM closed down $1.37 to $117.05.
Market Direction Technical Indicators At The Close of March 13 2014
Let's review the market direction technical indicators at the close of March 13 2014 on the S&P 500 and view the market direction outlook for March 14 2014.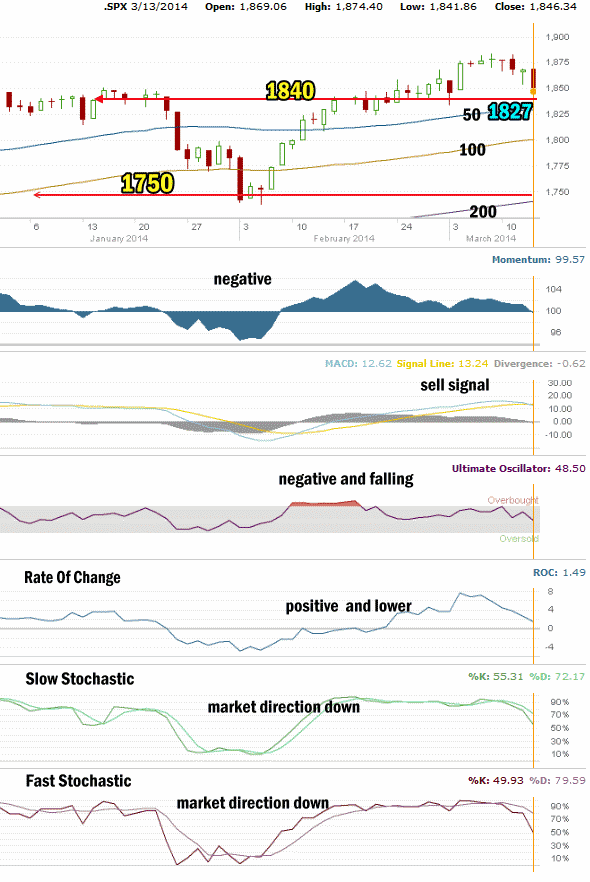 The 1750 level is holding the S&P up. The 1840 is now the first line of support against any a pullback. There is not significant support above 1840 and as we saw today that lack of support made it easy for investors to just keep dumping stocks. 1840 though is not heavy support. The S&P has not been above 1840 for enough length of time. 1840 will break easily. 1825 is the 50 day moving average and while there are pockets of light support after 1840, none have much strength. Only 1750 has enough strength to be relied upon.
For Momentum I am using the 10 period. Momentum has been the best indicator over the past two months, replacing MACD as the most accurate indicator. Momentum is fell further today and is now slightly negative.
For MACD Histogram I am using the Fast Points set at 13, Slow Points at 26 and Smoothing at 9. MACD (Moving Averages Convergence / Divergence) issued a buy signal on Feb 11. MACD continued to decline on Thursday and issued a sell signal at the close. Tomorrow we need to see if the sell signal is confirmed.
The Ultimate Oscillator settings are Period 1 is 5, Period 2 is 10, Period 3 is 15, Factor 1 is 4, Factor 2 is 2 and Factor 3 is 1. These are not the default settings but are the settings I use with the S&P 500 chart set for 1 to 3 months.
The Ultimate Oscillator is negative and falling lower.
Rate Of Change is set for a 21 period. The rate of change is still bullish but continuing to fall on Wednesday showing a lack of buying interest among investors for more than just day or swing trading.
For the Slow Stochastic I use the K period of 14 and D period of 3. The Slow Stochastic is signaling that the market direction is down again and as it looks out more than a day, we could be seeing lower prices early next week for stocks..
For the Fast Stochastic I use the K period of 20 and D period of 5. These are not default settings but settings I set for the 1 to 3 month S&P 500 chart when it is set for daily. The Fast Stochastic is signaling that the market direction is down big for Friday.
Market Direction Outlook And Strategy for March 14 2014
Today's pullback provided a number of opportunities for my portfolio. But a big drop such as we saw today cannot be undone overnight. This type of technical damage takes days to work out. Therefore with the technical indicators all pointing to lower prices, there is no reason to continue to trade stocks to the upside. We could see a rally back tomorrow but it will fail. Investors remain nervous but remember that bull markets correct and often corrections can be big. 2013 was an easy year to make profits as the markets were in a solid uptrend with very few small corrections. Bull markets normally have corrections or 10% or better.
Whether this is the start of a bigger correction than the previous one which ended at the start of Feb, no one can tell. However the strategies to employ are obvious. They include selling call credit spreads, cautiously, selling put credit spreads only on stocks you would own and taking small positions in every trade made so as to scale in in case stocks should fall further than expected. For my long-term positions I will be looking at some at the money covered calls. I will not be selling in the money covered calls until I see if the S&P can break convincingly below the 50 day simple moving average (SMA) and the Dow falls to the 100 day Exponential Moving Average (EMA).
I had not expected any kind of severe pullback until into late April or May or June. This is why I had been taking my time trying to get VIX Index call options filled. Today the VIX Index closed at 16.22 up 12.09%. Meanwhile the June 18 expiry $17 call options were up 20 cents. I believe it's too late to be buying the VIX Index call options and the better trade is the Ultra Bear short ETFs and definitely the Spy Put Options. There are many products available for generating profits when the market turns down and I will be using a number of them.
For tomorrow then the market direction is lower. We could see a rally attempt but it will not recover enough of pullback from today to make a difference to the market direction at present. The direction is down for Friday.
Market Direction Internal Links
Profiting From Understanding Market Direction (Articles Index)
Understanding Short-Term Signals
Market Direction Portfolio Trades (Members)
Market Direction External Links
Market Direction IWM ETF Russell 2000 Fund Info
Market Direction SPY ETF 500 Fund Info