The market direction outlook on Friday was for stocks to attempt a bounce back and then move lower. I had expected a better attempt to push higher but when this failed to happen, sellers stepped in and decided it was time to get out. The VIX Index shot up 31% to over $18 by the close. Many investors were in fact panicking by the close and pushed stocks lower. There's a lot to cover tonight so let's jump right in.
Market Direction S&P 500 Intraday For Jan 24 2014
Below is the 1 minute chart from Friday's S&P 500.  The opening saw a gap down. Then within a half hour a poor rally failed to recover much group and sellers stepped in and sold stocks pushing the market direction back to 1800. This marked about 3.2% decline from the recent high of 1850. That 1800 level had a little bit of support and a second rally was staged which amounted to not much.
The market drifted lower until mid-afternoon when investors obviously decided that 1800 was not going to hold. Investors started selling and by 3:00 PM with 1800 behind stocks, more investors joined in and pushed stocks even lower as they rushed to get out of stocks before the weekend.
Advance Declines For Jan 24 2014
The push lower on Friday is a serious blow to the market direction uptrend. 85% of stocks were pushed lower. Indeed many big caps broke through 100 day moving averages and many closed below them. Advancing issues made up just 13% of stocks. 130 issues set new 52 week lows while just 44 made new highs. Investors wanted out of stocks on Friday.
Market Direction Closings For Jan 24 2014
The S&P closed at 1790.29 down 38.17. The Dow closed at 15,879.11 down 318.24 and marking the worst decline since July 2012. The NASDAQ closed at 4128.17 down 90.70.
Meanwhile the IWM ETF fell $2.97 to close at $113.45 back below the all-time high of $116.42 which was just set a couple of days earlier.
Market Direction Technical Indicators At The Close of Jan 24 2014
Let's review the market direction technical indicators at the close of Jan 24 2014 on the S&P 500 and view the market direction outlook for Jan 27 2014.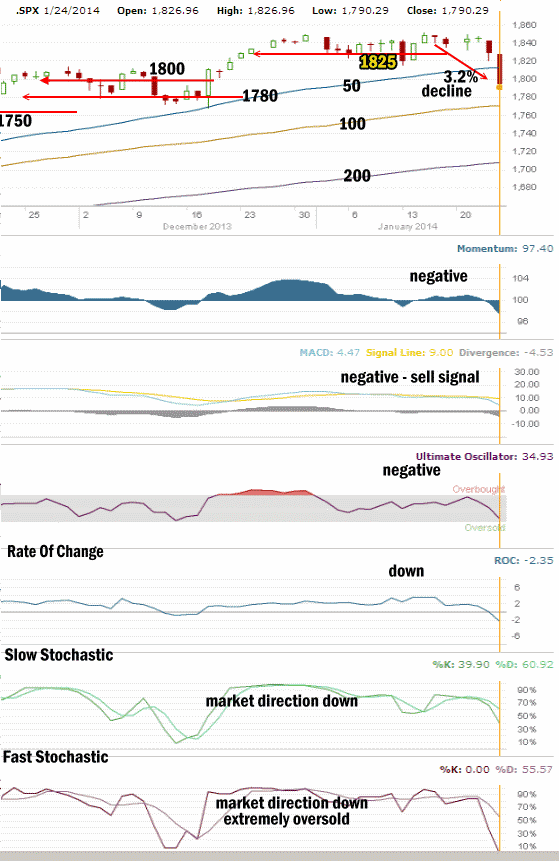 The most important support line in the S&P 500 is now at 1750. That support line is holding the market direction up at present and that has not changed. The other levels of support have all broken except 1780, which is light support. As mentioned in previous market direction posts, all the support above 1750 is light and could easily be broken which is what has happened.
With the market now down 3.2% from the highs of 1850, the S&P on Friday sliced right through the 50 day SMA without any trouble. The 1750 level is just below the 100 day exponential moving average (EMA). If the 100 day is reached on Monday, that will break the 1780 support level. A lot of technical damage was done last week to the market direction uptrend. The uptrend is broken.
For Momentum I am using the 10 period. Momentum has been the best indicator over the past two months, replacing MACD as the most accurate indicator. Momentum turned negative on Thursday and continued negative and lower on Friday as it builds momentum to the downside.
For MACD Histogram I am using the Fast Points set at 13, Slow Points at 26 and Smoothing at 9. MACD (Moving Averages Convergence / Divergence) issued a sell signal on Jan 8 2014 which was confirmed on Jan 9. MACD refused to turn positive since Jan 8 and on Friday the readings show more strength building to the downside.
The Ultimate Oscillator settings are Period 1 is 5, Period 2 is 10, Period 3 is 15, Factor 1 is 4, Factor 2 is 2 and Factor 3 is 1. These are not the default settings but are the settings I use with the S&P 500 chart set for 1 to 3 months.
The Ultimate Oscillator is now negative and falling rapidly on Friday.
Rate Of Change is set for a 21 period. On Thursday the Rate Of Change indicated that Friday was going to be negative for stocks. On Friday the signal is telling us investors that more downside is ahead for stocks.
For the Slow Stochastic I use the K period of 14 and D period of 3.  The Slow Stochastic is signaling that the market direction is down.
For the Fast Stochastic I use the K period of 20 and D period of 5. These are not default settings but settings I set for the 1 to 3 month S&P 500 chart when it is set for daily. The Fast Stochastic is indicating that the market will move lower on Monday. It is extremely oversold so stocks could be in for a bounce.
Market Direction Outlook And Strategy for Jan 27 2014
Technical damage has been done to stocks during the latter half of last week. While we could easily see a bounce back on Monday and then more selling later in the day, any bounce is definitely suspect now and normally the market will move lower before it can recover from the recent selling. Investors by the last half hour on Friday were beginning to panic as stocks fell faster and harder than analysts had anticipated. This type of damage cannot be repaired in just a day or two. Therefore any bounce is just that, a bounce.
With more selling ahead there is no rush to be selling puts on stocks. Indeed the better avenue for investing is trading more toward the downside through Ultra short ETFs or buying puts on the market direction lower through the Spy Put Options or such other asset.
The technical indicators are now bearish and while this is still a bull market, it is important to understand that this market has had not serious corrections since 2012. A pull back of at least 5% should be expected but that pullback may end up being bigger than most expect.
Friday saw many analysts painting a picture of stocks being strong in the USA and currency issues and the like, not affecting stocks. But that is rarely the case when most companies are international in their scope and in their earnings.
The drop last week in stock values shows again that once bullish sentiment becomes too high, stocks tend to do the opposite. Analysts seemed surprised on Friday by the magnitude of the drop but considering the length of nervousness among investors, who since the start of the month began to worry, it should not be surprising that so many investors decided to dump their positions and get out.
For Monday we could still see the bounce I had expected for Friday morning and then more selling, but whether there is a bounce or not is immaterial at this point. The trend for now is lower so bounces should be traded against which is what I will be busy doing.
Market Direction Internal Links
Profiting From Understanding Market Direction (Articles Index)
Understanding Short-Term Signals
Market Direction Portfolio Trades (Members)
Market Direction External Links
Market Direction IWM ETF Russell 2000 Fund Info
Market Direction SPY ETF 500 Fund Info