Market Direction today continued along the path of least resistance today and followed exactly the outlook I covered on the weekend. Weakness to start the day and then back to up. It is this market direction weakness that is somewhat orchestrated by the bigger investors and fund managers as they place the capital that is flowing in from investors leaving bonds. As I explained in today's intraday market direction comments, it is easy for these bigger players to sell large blocks to push stock prices lower and shake out smaller investors. To understand, please read my intraday market direction comments from today so that as a small investor you learn to spot the different between a shakeout and an actual decline in the overall market direction.
Market Direction Closings
The S&P 500 closed at 1492.56, up 6.58 points and the Dow closed at 13,712.21, up 62.51 points. The NASDAQ closed at 3143.18 up 8.47 points.
Market Direction Technical Indicators of Jan 22 2013
Let's take a moment now and review the market direction technical indicators at the close of Jan 22 2013 on the S&P 500 to see what we can learn about tomorrow's market direction.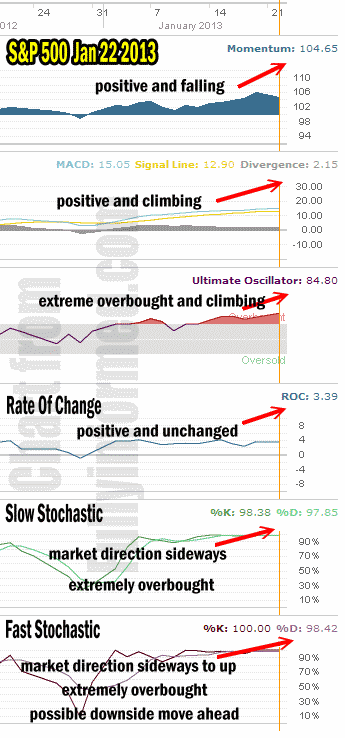 For Momentum I am using the 10 period. Momentum is still solidly positive but it fell lower today. This marks a dramatic shift from the previous few past days as today market direction continued higher, yet momentum pulled back dramatically. Normally this shows that buying interest is slowing or was weak and we could see a change in direction or at least a sideways movement.
For MACD Histogram I am using the Fast Points set at 13, Slow Points at 26 and Smoothing at 9. MACD (Moving Averages Convergence / Divergence) is still positive and continued to climb today. This does not mean the market direction will just keep climbing. What we want to watch is that MACD does not turn quickly down if the market direction turns sideways or even down for a day or two from here. As long as MACD stays reasonably positive, that's all I need to tell me that the market is still moving higher.
The Ultimate Oscillator settings are Period 1 is 5, Period 2 is 10, Period 3 is 15, Factor 1 is 4, Factor 2 is 2 and Factor 3 is 1. These are not the default settings but are the settings I use with the S&P 500 chart set for 1 to 3 months.
The Ultimate Oscillator is extremely overbought with a reading of 84.80.
Rate Of Change is set for a 21 period. Rate Of Change is still positive but today's continuing surge saw Rate of Change slip slightly. It's another sign that the market is so overbought that conviction of it moving a lot higher from here is eroding.
For the Slow Stochastic I use the K period of 14 and D period of 3. The Slow Stochastic is overbought to the extreme and is still signaling that market direction will be higher or sideways but not down by much. Therefore even if there is some selling the market direction will continue strong.
For the Fast Stochastic I use the K period of 20 and D period of 5. These are not default settings but settings I set for the 1 to 3 month S&P 500 chart when it is set for daily. The Fast Stochastic is overbought to the highest extreme level possible. This is the second day and it will not last. It is rare when the Fast Stochastic can stay at 100 on K period for more than a couple of days. This is the second day and I doubt it will last. While the signal is still for the market to move higher, my judgement tells me that a reading of 100 will not last. The market direction will pull back shortly.
Market Direction Outlook And Strategy
The market direction outlook for Wednesday January 23 2013 is to see perhaps a bit of a bounce first thing and then selling. This is just an opinion and NOT what the technicals indicate. Instead the technical indicators show there is enough strength that the market direction may open soft once again but investors will try to push the direction higher still, but according to the readings, the chance of new highs for tomorrow are slim.
I noted that Doug Harris with his market direction portfolio adjusted his position again today. FullyInformed Members might want to check out his comments for today.
Meanwhile I am anticipating a breather on Wednesday and if that does not occur, certainly by Thursday. Readings are incredibly high and show overbought across the board. Despite all the Dow Theory analysts who are almost divided on whether a buy signal was generated on Friday, the market direction for this year may have been decided already by the January Effect I wrote about on the weekend.
The market direction could use a break and needs one to consolidate some gains made. As well some stocks need time to digest the moves they have made on the earnings released. While some stocks have had decent earnings, only a handful so far have had spectacular ones while a number have had disappointing earnings and yet their shares have been snapped up even with poorer earnings. Other stocks set to report soon include McDonalds Stock which I consider a bit of a bellwether stock. I am not expecting strong earnings from McDonalds Stock.
Finally there is also the number of up days we have seen in this rally. We have now been up 5 days in a row on the S&P 500. It is a rare event when the S&P 500 has 6 up days in a row. Even rarer is 7 such days.
The market direction on the S&P 500 is within a stone's throw of 1500. It has been an incredible 5 years from the ashes of the bear market of 2008 to 2009 when so many thought the economic world was about to end, to today's spectacular recovery. If the S&P 500 market direction needs a rest I think it has deserved it. 1500 on the S&P 500 will certainly wait for a few days if need be.
Internal Market Direction Links
Understanding Short-Term Signals
Market Direction Candlestick Daily View (Members only)
Market Direction Portfolio Ongoing Trades (Members only)