The market direction outlook for Tuesday was for stocks to continue to advance. With the S&P in record territory on Tuesday, today saw further advances into new all-time highs. US durable goods orders were mixed with a rise of just 0.8 percent in April versus a gain of 3.6 percent in March. Upon inspection analysts noted that the gain was all defense contracts, and without them the durable goods orders actually would slip by 0.8 percent for April. Adding to the numbers was news that capital goods orders fell by 1.2 percent in April. Last was the Case-Shiller house price index that showed a rise of 0.9 percent for housing prices in March. This mixed picture helped boost stocks as it supports the "theory" by many investors that the economy is actually weak and cannot sustain higher interest rates. Low-interest rates feeds investors' confidence that stocks will keep rising which is what all the indexes did today.
Market Direction S&P Intraday Chart May 27 2014
Intraday on Tuesday investors were keen to push stocks higher right from the open. The morning saw a gap up open and then a quick rally to 1911.58 by 11:00 AM. This ended up being the close for the day. The afternoon saw stocks drift lower but without any selling pressure, investors stepped back in and pushed stock back up to the late morning high into the close. Choppiness was less evident on Tuesday and the VIX Index closed down at 11.51 at significantly lower prices which reflects a lack of concern on the part of investors and a large decline in volatility.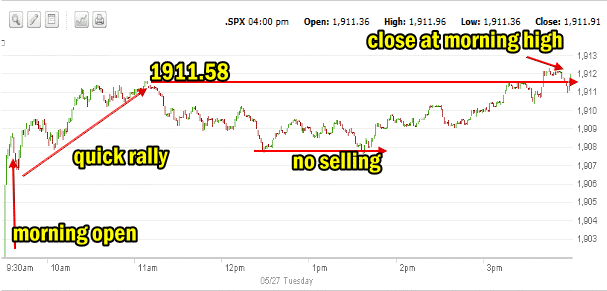 Advance Declines For May 27 2014
On Tuesday we finally saw larger numbers for new highs. 232 new highs were set on Tuesday and only 64 new lows. Volume was 66% up and 30% down. Volume itself was excellent with almost 3 billion shares traded to the upside and 932 million to the downside. These are much better numbers with volume among the higher days so far this month. The new highs is also significant as I had indicated repeatedly that we needed to see better numbers among the new highs. This definitely supports the belief that stocks may be breaking out here.
Market Direction Closings For May 27 2014
The S&P closed at 1911.91 up 11.38. The Dow closed at 16,675.50 up 69.23. The NASDAQ closed at 4,237.07 up 51.26.
The IWM Russell small cap ETF had a good day rising $1.612 for a gain of 1.44% to close back above the 100 day EMA at $113.58 and just slightly above the 50 day simple moving average (SMA).
Market Direction Technical Indicators At The Close of May 27 2014
Let's review the market direction technical indicators at the close of May 27 2014 on the S&P 500 and view the market direction outlook for May 28 2014.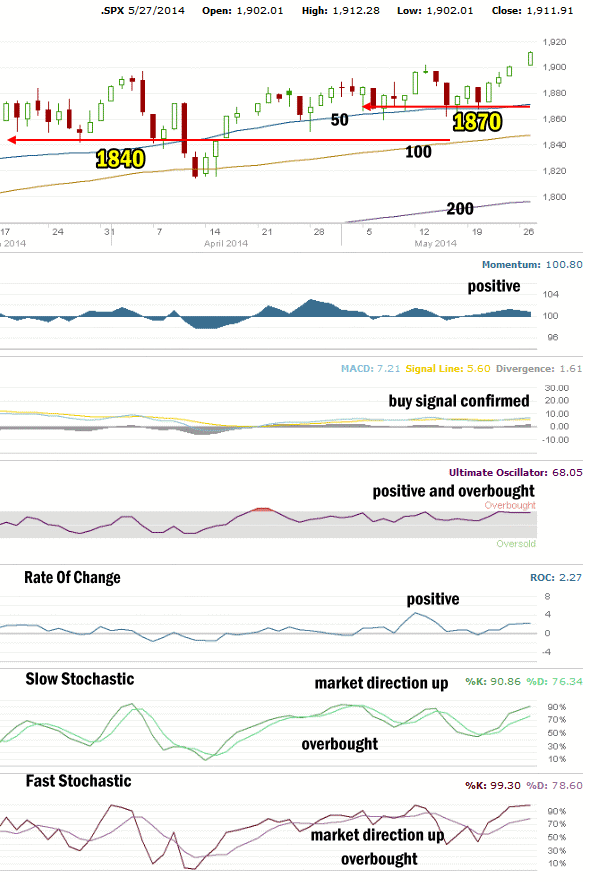 With the market continuing to break into new all-time highs, there are now four key support levels in the market. Long-term support is at 1750. If that level should break at this point, it would mean a significant correction would ensue. The second level of support is at 1775 which again is good support and if broke would mean that the market direction would quickly collapse down to 1750. TheSe two indicators are good values to use for longer-term trading. As long as stocks stay above these levels, there is no concern the markets will experience any kind of severe pullback.
The next two levels are at 1840 and 1870. At this point with the S&P above 1900, any pull back to 1870 would be a signal to pick up short instruments like the SDOW or SQQQ ETFs or spy put options. If 1870 were reached it would mean a further break lower to at least the 1840 level and as investors it would be a quick and easy trade to pick up short products to enjoy some profits down to 1840. If 1840 were to break at this point it would mean to roll any at the money puts lower and roll down covered calls as after 1840 breaks. Between 1840 and 1775 there is very little to no support. At this point then, 1870 is actually more important than 1911 for those of us who sell puts for income. The market can wander all it wants but as long as it does not break 1870 then I will be taking advantage of any dips to continue put selling.
For Momentum I am using the 10 period. Momentum has been the best indicator over the past five months, replacing MACD as the most accurate indicator. Momentum is positive but just barely.
For MACD Histogram, I am using the Fast Points set at 13, Slow Points at 26 and Smoothing at 9. MACD (Moving Averages Convergence / Divergence) issued a buy signal on May 23. Today that buy signal was confirmed.
The Ultimate Oscillator settings are Period 1 is 5, Period 2 is 10, Period 3 is 15, Factor 1 is 4, Factor 2 is 2 and Factor 3 is 1. These are not the default settings but are the settings I use with the S&P 500 chart set for 1 to 3 months. The Ultimate Oscillator is continuing positive andremains overbought.
Rate Of Change is set for a 21 period. The rate of change remains positive on Friday and is starting to climb.
For the Slow Stochastic I use the K period of 14 and D period of 3. The Slow Stochastic is signaling market direction is up and it is overbought.
For the Fast Stochastic I use the K period of 20 and D period of 5. These are not default settings but settings I set for the 1 to 3 month S&P 500 chart when it is set for daily. The Fast Stochastic is signaling that the market direction is up and it is overbought.
Market Direction Outlook And Strategy for May 28 2014
In the above market direction comments I discussed the support levels in the S&P 500 at this point which I am now using for trading purposes. Those valuations are worth adding to your own trading charts. Today's market followed the historic pattern and moved higher on the day after Memorial Day. Remember though that for the week the Dow has been lower 10 out of the last 17 years. That however may not be the case this week as the technical indicators are all pointing to a higher day for tomorrow.
The main concern is the Fast Stochastic which is quickly flattening out and momentum which is just clinging to positive and could easily turn negative. Aside from those two indicators the rest are quite bullish for stocks for Wednesday. With MACD now issuing a buy signal for Wednesday the overall market direction is for stocks to continue to move higher. However after the past four days of higher valuations, the S&P could turn sideways. Only the Fast Stochastic points to a flat day. The rest of the indicators point to higher prices for May 28.
Market Direction Internal Links
Profiting From Understanding Market Direction (Articles Index)
Understanding Short-Term Signals
Market Direction Portfolio Trades (Members)
Market Direction External Links
IWM ETF Russell 2000 Fund Info