The market direction outlook for Monday was for stocks to move lower although a rally could be attempted. Two catalysts helped stocks on Monday. The first was better than expected earnings from Citigroup. The second was a rise in retail sales in March of 1.1 percent marking the best monthly increase since September 2012. As well February numbers were revised higher to 0.7 percent which was double the original. On top of these two announcements, the Ukrainian crisis failed to escalate further on Monday which also helped boost the market direction higher.
Market Direction S&P Intraday Chart April 14 2014
The morning saw a higher open to start and then a push towards the 1830 level. By 11:00 AM the market direction had been pushed above 1830 to around the 1833 valuation. A choppy action then developed and finally into the lunch hour investors pushed the S&P to the 1834 level. The inability of the market direction in the morning to break through to the 1840 level brought in sellers who probably were waiting for the market to reach 1840 and decided not to wait any longer.
They sold the market the entire afternoon until by 3:15 they had pushed the market direction back to almost Friday's close. With stocks pressured right down to 1815.80 investors bought back in and pushed stocks rapidly higher to close back at 1830.61. The problem for the S&P however is that the market is still below 1840 support. Each day that it closes below 1840, marks continuing weakness in the S&P and helps build stronger resistance at 1840.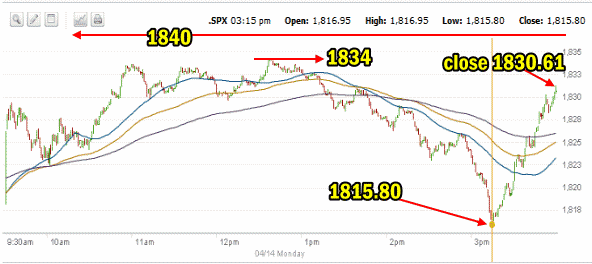 Advance Declines For April 14 2014
Despite the steep sell-off in the afternoon, advancing issues dominated declining ones with 63% of stocks advancing and 33% declining. New highs though came in at just 77 while new lows were at 97.
Market Direction Closings For April 14 2014
The S&P closed at 1830.61 up 14.92. The Dow closed at 16,173.24 up 146.49. The NASDAQ closed at 4022.69 up 22.96.
The Russell 2000 ETF IWM rose just 31 cents to $110.72.
Market Direction Technical Indicators At The Close of April 14 2014
Let's review the market direction technical indicators at the close of April 14 2014 on the S&P 500 and view the market direction outlook for April 15 2014.
The 1750 level has been holding the S&P up since the correction ended in early February. All the levels of any support above 1800 have been broken last week. This leaves the next area of any real support to be down around 1775. The market direction bounced back today in what was a very choppy session. The 1840 level was not retaken but the S&P did manage a close at the 1830 level which is not support. Overall the market direction looks more like it bounced off the 100 period exponential moving average (EMA) than any reverse of the current downtrend.
For Momentum I am using the 10 period. Momentum has been the best indicator over the past four months, replacing MACD as the most accurate indicator. Momentum continues to remain negative.
For MACD Histogram, I am using the Fast Points set at 13, Slow Points at 26 and Smoothing at 9. MACD (Moving Averages Convergence / Divergence) issued a sell signal on Apr 7. The sell signal gathered more momentum to the downside on Monday.
The Ultimate Oscillator settings are Period 1 is 5, Period 2 is 10, Period 3 is 15, Factor 1 is 4, Factor 2 is 2 and Factor 3 is 1. These are not the default settings but are the settings I use with the S&P 500 chart set for 1 to 3 months.
The Ultimate Oscillator is negative but has pushed back up out of oversold territory.
Rate Of Change is set for a 21 period. The rate of change is basically almost unchanged from Friday although slightly lower. It continues to signal that despite the rally investors are lightening their portfolios ahead of this shorter week.
For the Slow Stochastic I use the K period of 14 and D period of 3. The Slow Stochastic is signaling that the market direction is down and it is oversold. It issued a sell signal on Friday.
For the Fast Stochastic I use the K period of 20 and D period of 5. These are not default settings but settings I set for the 1 to 3 month S&P 500 chart when it is set for daily. The Fast Stochastic continues to point to more downside action for Tuesday despite the market direction rally today. The readings though are close and an upside move on Tuesday could produce a buy signal from the Fast Stochastic tomorrow.
Market Direction Outlook And Strategy for April 15 2014
While the market direction technical indicators are unanimous in their down signal, there are still some signs that the market might try to continue to bounce again on Tuesday. While today's bounce is suspect as the technical indicators did not support a move higher only a rally, the extreme oversold nature of the indexes should draw investors in for a second day. The late afternoon plunge was not something a lot of investors like to see as it shows the lack of support left in the S&P at present levels. At the same time though the recovery in the index shows there is still strength in this market.
Bull Market
It is important to keep in mind that this is still a bull market and that corrections, even severe ones, happen in bull markets. 2013 made a lot of investors complacent. 2014 is showing investors what a normal market looks like. But the second downturn in four months has rattled a lot of investors and many are dumping shares and leaving the market behind. This could be a mistake. While the short-term outlook is for more weakness and more selling, there is still strength in this market. Investors have to leave the doom and gloom analysts behind and instead focus on what is happening with stocks.
Fair Value
I read the other day that famed doomster Marc Faber is predicting a crash in the next 12 months that will be worse that the 1987 crash. Yet even when he was predicting doom and gloom as the market recovered in 2009, he was still investing in stocks. There are literally dozens of such doom and gloom individuals who are paraded on down days across the media outlets. This breeds uncertainty among investors. Instead stay the course, stick with quality big caps, keep some cash back and sell put options at what are fair valuations. When stocks fall to the point where I can sell puts at fair valuations, I jump in and sell a handful. Then if the stock bounces back up I buy them back and wait for another downturn. If the stock does not bounce back but continues to fall, I can consider a variety of rescue strategies to move lower in the stock or I can continue to sell puts at fair valuation and wait for the stock to recover.
Visa Stock Example
There are many good examples, but Visa stock is a prime example. On Friday April 11 as the stock collapsed below $195, I received an alert from my discount brokerage software. I jumped in and sold 10 naked puts for April 25 expiry at the $190 put strike for $2.80. You can see that $190 is support in the chart below. At $190 if earnings remain the same, Visa Stock would be trading at 24 times price to earnings. At $175 it would be trading at 22 times price to earnings. Both of these are below historic norms for fair value in credit card companies. MasterCard trades at 26 times Price to Earnings.
On Monday April 14 Visa stock bounced and I bought back these naked puts for an average price of $1.50. Total profit was $1.30 or about 46% of the value they were sold for on Friday. These kinds of trades are common in severe corrections on big cap stocks.
Picking these opportunities is easy if you build a watch list of big cap stocks and place alerts for moves greater than 1%. Then keep a sheet, either paper or spreadsheet,  available at all times that show support levels in the stock. For example, in Visa stock following the recent pull back, support is at $190, $175 and $160 over the past 12 months. In my opinion $190 and $175 are fair value and $160 is below undervalued. That means those are the strike areas to consider selling puts at in big price drops. This makes it easy to take advantage of plunges like Friday's plunge in Visa.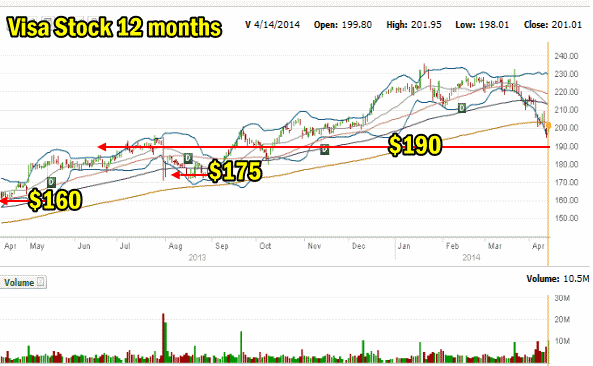 Market Direction Outlook For April 15
For Tuesday the technical indicators are still very negative but there is also a strong oversold condition which could help to continue to propel stocks higher on Tuesday. A lot depends on the Ukrainian crisis as well as more revenue and earnings numbers. Overall I am still looking to trade to the downside such as I did today with the pullback in the late afternoon. But tomorrow could see the rally still push up as the market direction tries to bounce off the 100 day exponential moving average (EMA) and regain the 1840 support level. I am expecting the rally tomorrow to have less strength and to be quite choppy. I am continuing to watch for more trade opportunities as the correction continues.
Market Direction Internal Links
Profiting From Understanding Market Direction (Articles Index)
Understanding Short-Term Signals
Market Direction Portfolio Trades (Members)
Market Direction External Links
Market Direction IWM ETF Russell 2000 Fund Info
Market Direction SPY ETF 500 Fund Info