Market Direction today certainly followed the weak outlook but whereas I expected buyers to grab stocks during the period of weakness and attempt to push back, this didn't occur as selling was fairly steady all day. There was no high volume today, just steady erosion as buyers kept drifting lower and sellers kept the pressure on. The Dow market direction ended up down 111 points for 0.76% downturn. The NASDAQ market direction was down 1.11% and the S&P 500 market direction fell 1.05%.
So what caused the selling? Overall it was a combination of poor expectations for March job gains to be released on Friday and a reading of 54.4 for non-manufacturing was was below the forecast for 55.5 and lower than February's 56.  Tossed in was the concern over a missle defence system being shipped to Guam over growing threats from North Korea and investors found enough reasons to sell.
Resources of all kinds fell in price including Gold, oil, copper which tumbled the Toronto Stock Exchange 259.98 points and wiped out all gains for 2013. It's the same problem every market faces. When bad news arrives so do the bearish analysts who paraded about predicting doom and gloom for the Canadian banks who have had stellar returns for the past 4 years and now analysts claim the Canadian housing market bubble is bursting, loan demand is drying up and bad debts are about to sweep into Canadian banks. So banking, the final pillar of the Toronto Stock exchange pulled back today as well adding to the turmoil on Toronto.
Market Direction Action For Today
Not much can be said further about today except it was steady selling. There was no panic and no high volume but sellers held sway all day.
Market Direction Closings
The S&P 500 closed at 1553.69 down 16.56 points and the Dow closed at 14,550.35 down 111.66 points. The NASDAQ closed at 3218.60 down 36.26.
Market Direction Technical Indicators At The Close of Apr 03 2013
Let's take a moment now and review the market direction technical indicators at today's close on the S&P 500 and view Thursday's outlook.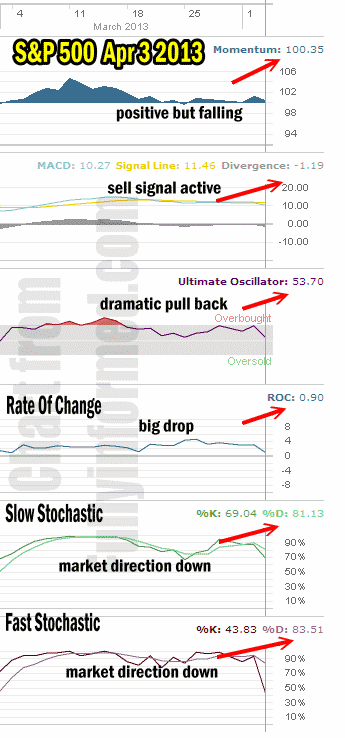 For Momentum I am using the 10 period. Momentum is still positive but falling. More selling tomorrow will turn momentum negative.
For MACD Histogram I am using the Fast Points set at 13, Slow Points at 26 and Smoothing at 9. MACD (Moving Averages Convergence / Divergence) is still signaling a sell signal and the signal if gaining momentum to the downside.
The Ultimate Oscillator settings are Period 1 is 5, Period 2 is 10, Period 3 is 15, Factor 1 is 4, Factor 2 is 2 and Factor 3 is 1. These are not the default settings but are the settings I use with the S&P 500 chart set for 1 to 3 months.
The Ultimate Oscillator is still positive but today's selling has made a dramatic drop in the Ultimate Oscillator .
Rate Of Change is set for a 21 period. Rate Of Change is still positive but it too took a dramatic tumble reflecting that buyers were absent while sellers were active.
For the Slow Stochastic I use the K period of 14 and D period of 3. The Slow Stochastic is signaling that the market will be lower late this week and into the early part of next week.
For the Fast Stochastic I use the K period of 20 and D period of 5. These are not default settings but settings I set for the 1 to 3 month S&P 500 chart when it is set for daily. The Fast Stochastic is also signaling that the market direction is down and is signaling that tomorrow will see more selling.
Market Direction Outlook And Strategy for Apr 04 2013
The technical indicators are confirming that the market direction is shifting to down. While today was not a big drop, it is more the fact that the rise has stalled and the market direction has had trouble both following through on big up days like Tuesday. The inability of the market direction to push through resistance at the 2007 highs in the S&P 500 has been telling and the chance that this is a one day blip I doubt is the case.
Right now the market direction technical indicators are in agreement that the market direction will pull back. This could finally be the correction needed to consolidate the market at a lower level. This is not 2007 and aside from North Korea I believe any pull back will be temporary. That said, my market direction technical indicators are only good for short-term outlooks or a few days at best. The mid-term outlook is more conjecture than anything.
My strategy has been Put Selling against strong dividend paying large cap stocks that I would own if assigned. If the market direction is about to shift lower, this means as each put strike I have sold is reached I will use a simple roll down process to lower my valuation to lower strikes. I am well positioned with a lot of cash that has not been placed so it will be more a wait and see scenario for tomorrow. However for any core positions, if the market direction should bounce back tomorrow I will be selling covered calls as I do not think the market direction can continue higher until there is more consolidation, which means a bounce is suspect.
Personally I am not sure we will see much of a bounce tomorrow. There may be a short lived bounce in the morning but I think the market direction has seen too many up days followed immediately by down days. Eventually this pattern had to break and it almost always breaks to the downside. The market direction up has seen an incredible 3 months. Who would have thought the Dow would break into all-time highs and the S&P 500 would finally break the 2007 closing high. This bull market is not over but it badly needs a rest and it looks like investors want to take a few days out here before the market direction resumes moving back up.
My outlook for tomorrow then is for a bounce back in the morning and then more selling as the day progresses. I do not expect I will be placing any put selling trades tomorrow as I want to wait to see if there are lower prices ahead in my favorite stocks and I may need my capital to assist in rolling to lower put strikes. I believe the trades now will be with my Spy Put Options and the IWM ETF using the Trading For Pennies Strategy.
Internal Market Direction Links
Profiting From Understanding Market Direction (Articles Index)
Understanding Short-Term Signals
Market Direction External Links
Market Direction IWM ETF Russell 2000 Fund Info