The Market Direction yo-yo continued on Tuesday. In the morning after the first initial open the market waffled a bit and I almost bought Spy Put Options but I remembered that my market direction technical indicators last night said "bounce" and then more selling.  Typically after a big sell-off in a bull market stocks rebound the next day and indeed after losing 36.49 points on Monday the S&P 500 reclaimed 22.21 points or 60.8 percent. Now Fibonacci technicians will tell you that this is a typical rebound and nothing more. A 61% retracement is common after a steep sell-off. However all technical indicators aside, a big drop like Monday is rarely a single day event. Almost every big drop is retested at some point in the near future.
Market Direction and Economic News
The market direction was pushed up by some positive news today. As a side note, do you ever notice how on bad days all the bad news is handed out and then suddenly good news appears and the market direction down turns back to up? Just thinking outload. Anyway, housing starts rose 7 percent in March to 1 million units which is the first 1 million threshold since 2008. Strange that the recent home builders confidence report showed extremely low levels of confidence. So are builders just building homes but figure no one will buy them? Pretty conflicting news there and then this bit of news, building permits fell 3.9 per cent. I wonder who actually keeps the stats for this type of information?
Next stocks were hit with the news that the Labor Department reported inflation had declined 0.2 per in March which marked the first decline in four months. CNBC reported that this marked a "real chance of deflation starting". A 0.2% decline for one month? Meanwhile the IMF cuts its forecast for world growth and indicated they believe the Eurozone will contract by 0.3 percent this year. For Canada the IMF advised government officials that the economy is fragile and to not consider raising taxes or pulling back on spending.
Gold and Market Direction
Gold returned to the forefront with an unimpressive rise of $22.70, but investors decided that Barrick Gold Corp was a sell and pushed it down another 5.2 percent. I again rolled down my naked puts only this time the return was excellent as I bought my puts back at the open and sold the next round near the close. I like the volatility in Barrick Stock and it has made Put Selling and rolling a lot simpler. Meanwhile Goldcorp fell just 0.2 percent which for a lot of investors may be the better choice for a gold stock. Yamana meanwhile set another new 52 week low as it fell 2.2%
"Macro-Economic Instability"
Meanwhile Goldman Stock fell 1.6 percent after reporting earnings that beat estimates at $4.29 a share but warned of what they called "macro-economic instability." Note they did not say "macro-economic insanity." These apparently are two entirely different things.
Market Direction Closing For Apr 16 2013
The S&P 500 closed at 1,574.57 up 22.21 points and the Dow closed at 14,756.78 up 157.58 points. The NASDAQ closed at 3,264.63 up 48.14 points.
Market Direction Russell 2000 (IWM)
Meanwhile the small cap ETF, the Russell 2000 (IWM) rose 1.73% after falling yesterday 3.77%. It has been weak lately and yesterday it came close to the 100 period exponential moving average (EMA). You can see in the chart below that the stock today hit the Lower Bollinger Band and then rose. I have marked the 50 period simple moving average (SMA)  and 100 period exponential moving average (EMA). The stock yesterday broke through the Lower Bollinger Band but today is pulled back to the inside of the Lower Bollinger Band and closed above it. It is still stuck below the 50 period simple moving average (SMA) but there has been no break of the 100 period exponential moving average (EMA) which is a good sign that the market direction remains bullish.
Market Direction Technical Indicators At The Close of Apr 16 2013
Let's take a moment now and review the market direction technical indicators at the close of Apr 16 2013 on the S&P 500 and view the outlook for Wednesday April 17.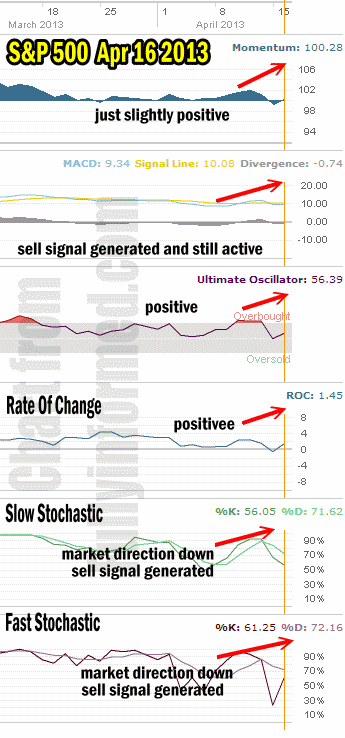 For Momentum I am using the 10 period. Momentum yesterday turned slightly negative and today it turned slightly positive. Overall then momentum is more neutral than anything else..
For MACD Histogram I am using the Fast Points set at 13, Slow Points at 26 and Smoothing at 9. MACD (Moving Averages Convergence / Divergence) issued a sell signal on Monday April 15 and that signal continues to expand to the downside.
The Ultimate Oscillator settings are Period 1 is 5, Period 2 is 10, Period 3 is 15, Factor 1 is 4, Factor 2 is 2 and Factor 3 is 1. These are not the default settings but are the settings I use with the S&P 500 chart set for 1 to 3 months.
The Ultimate Oscillator rose from yesterday's negative reading to today's positive reading.
Rate Of Change is set for a 21 period. Rate Of Change is back positive after turning negative yesterday.
For the Slow Stochastic I use the K period of 14 and D period of 3. The Slow Stochastic issued a sell signal on the market on Monday April 15 and today that sell signal is still active. The Slow Stochastic continues to point to a lower market later this week.
For the Fast Stochastic I use the K period of 20 and D period of 5. These are not default settings but settings I set for the 1 to 3 month S&P 500 chart when it is set for daily. The Fast Stochastic issued a confirmed sell signal on Monday April 15. Today that sell signal is still active and direction is still down but the big push back today did turn the %K reading a lot higher. Still, there is of a reading from the %D Period that the signal is definitely pointing to more selling tomorrow.
Market Direction Outlook And Strategy for Apr 17 2013
The market direction at the close of today has recaptured about 60% of yesterday's trading losses. While this may seem like a good sign and often it is, just as often it is a knee-jerk reaction to yesterday's selling and the market direction simply did a technical bounce today. That bounce could extend one more day or even half a day but we need to see the market direction hold today's gains and then claw its way higher to put Monday's plunge behind us.
A lot of money has been pulled from the GLD ETF and hundreds of stocks. Today's volume showed that a lot of investors felt that the day was a possible trap and stayed away. Tomorrow then, look for the market to try to open strongly but keep an eye out for weakness because today could have been nothing more than a technical bounce.
Internal Market Direction Links
Profiting From Understanding Market Direction (Articles Index)
Understanding Short-Term Signals
Market Direction External Links
Market Direction IWM ETF Russell 2000 Fund Info