The outlook for market direction today was for a down move. We saw this in the morning and a gradual push back by investors intent of buying what they perceive as bargains here and there. But stocks are showing a number of signs of a weaker outlook so I am trying to keep cash back in the hopes of selling puts at better premiums than at present. Let's take a look at the one minute S&P 500 to see what is happening so far today.
Market Direction Outlook Intraday – 1 Minute Chart
The one minute chart Intraday chart today shows a return to the early morning sell-off pattern. This is great for my Trading For Pennies Strategy but if you look at the chart you can see that today as of 2:00 the market direction up has failed to capture the morning higher. There are also other signs including a gap in the morning drop which is right around 1761. After the plunge around 10:30 the market recovered but look how it pulled back up right to that gap at 1761. Technically it's a sign of weakness as is the inability to recapture the morning high. I won't be surprised to see the market end the day right around either 1762 which was the opening first low or 1761 that early morning gap.
Meanwhile the push back off 1755 was nice to see this morning. The key to this market is 1750. If 1750 is tested then it means holding off further trades until we see if it holds. This is a bull market but the strength has weakened in this rally. All rallies eventually run their course and the market stalls and sometimes pulls back before continuing the rally. Right now it looks like this week we have stayed in the consolidation phase for much of the week.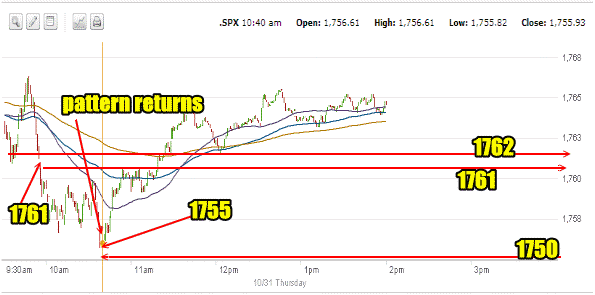 Market Direction Outlook For November 1
Tomorrow marks the beginning of November. Over the past decade November 1 has been weak about 60% of the time. With those odds I have not made any change to the market direction portfolio which was stopped out on Thursday. I have also not added short ETFs either. I want a clear direction before jumping back in.
Microsoft Stock (MSFT) – Time For Covered Calls?
I've had a lot of investors wonder if it is time for covered calls on Microsoft Stock. personally I think it is too early for a certain call. The stock is hanging tough here but it is trending sideways away from the Upper Bollinger Band. The biggest thing I see if that momentum is still good and MACD is still positive but volume is declining. This is tough to judge right at present because the stock did try just last Friday to break out and then turned sideways. It did not fall. The problem is the break-out did not occur either. Usually when a stock breaks out volume increases and that is not happening. By tomorrow perhaps we will get a better idea but you can see how last May-June the $35 level was resistance. I would have thought Microsoft Stock would have broken that resistance now but it has not. This stock might want to head back to just below $35 before attempting again to break out. If the goal is to unload Microsoft stock then I can see covered calls being excellent at this point. If though the goal is to not lose the shares then I really think waiting for a clearer signal is a better move.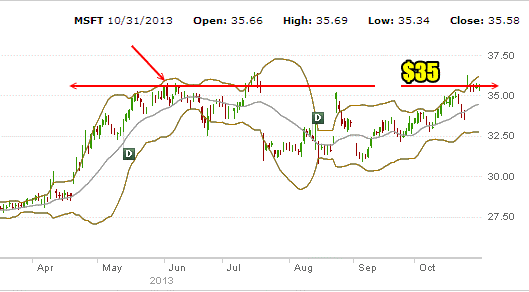 Intel Stock (INTC)
Intel is looking stronger but now it will be coming up against a lot of resistance as it heads to $25. The question again is should covered calls be used on long-term holdings. Personally I think the stock is losing momentum but could punch through $25 before turning back to rest. If I was holding shares I would be waiting for the stock to break $25 and then sell the $25 if I didn't mind losing my shares or $26 if I want to try to hold onto them. For Put Selling I am waiting for weakness again before venturing into more naked puts.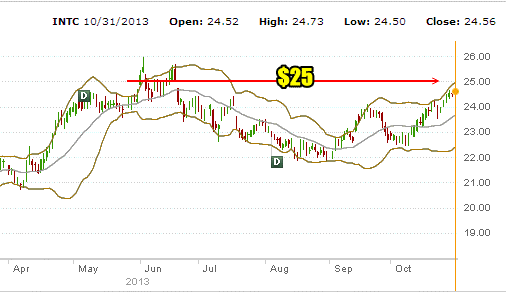 Market Direction Close for Oct 31 2013
Into the close I believe we could see the market close around the 1761 1762 level. A green close would be nice but I think there is much for investors to consider at this point so a red close is perhaps in the works for today.
Market Direction Internal Links
Profiting From Understanding Market Direction (Articles Index)
Understanding Short-Term Signals
Market Direction Portfolio Trades (Members)
Market Direction External Links
Market Direction IWM ETF Russell 2000 Fund Info