The outlook for market direction today was for sideways action but a green close. I think we will probably see that green close as soon as the Federal Reserve indicates that it will be keeping interest rates at present levels and not scaling back the amount of stimulus in the system yet. The US dollar was down slightly which has increased gold by about $8.00. Time certainly flies when you think that just 6 weeks earlier everyone thought the Fed would be trimming the amount of stimulus. Today employment news certainly does not seem to point to bigger gains ahead. ADP indicated that only 130,000 jobs were added from September to October which was less than forecast and September's gains were revised down 21,000 to 145,000. If the trend continues we could see additional decline ahead. This news could be partly tempered by the government shutdown but with January looming ahead for yet another fight on the budget ceiling to get underway stocks could be reaching a peak shortly.
Stocks Could Reach A Short-Term Peak Shortly
I am keeping some of my cash still free for a possible short-term downturn in November for stocks. I had a lot of cash released with so many puts expiring out of the money on Oct 19. I have placed some of it back to work but the market technicals keep eroding just slightly, but enough to make me wonder if there is a short-term pull back on the near-term horizon. The biggest indicator will come from MACD I believe as it has been the best technical timing indicator for getting in and out of stocks all year. It has not made a mistake yet. Yesterday MACD failed to rise even though the S&P was up. That marked the continuation of a downturn in MACD signals that are possibly warning that the uptrend is under too much pressure and will pull back. That's when I will be applying more capital to trades. If I am wrong, well I won't be disappointed as my returns this year are at present 52% so there won't be any complaining from me (until tax time).
GM Stock Earnings
I thought GM Stock earnings were just okay but didn't compare to the strength of Ford. General Motors earned $698 million in the quarter, or 45 cents per share when last year for the same quarter they had earnings of $1.48 billion, or 89 cents per share. The company then reported that ex-items, GM made 96 cents per share, two cents better than expected, but still I thought they would have done better on the earnings front.
Revenue which is by far the better way to look at a company, was up four per cent to $39 billion which was actually short of estimates.I do not trade GM Stock and have no interest it doing so, but it was up about 3.9 percent on the news. I think the move was overdone. More on that in a separate article.
Market Direction Outlook Intraday – 1 Minute Chart
The one minute chart Intraday chart today shows the steady erosion. It is interesting how at the time of completing this article, around 2:12 the S&P is sitting right at the axis of the downtrend. There is an interesting drop around 2:00 PM and then a recheck of support at that drop just a few minutes later. I won't be surprised if the market pushes back up to close around 1770 or 1772 at the end. I did not engage in any IWM ETF Trading For Pennies Strategy trades today as I was busy with Aflac Stock in the morning and then Canadian Bank stocks later in the morning.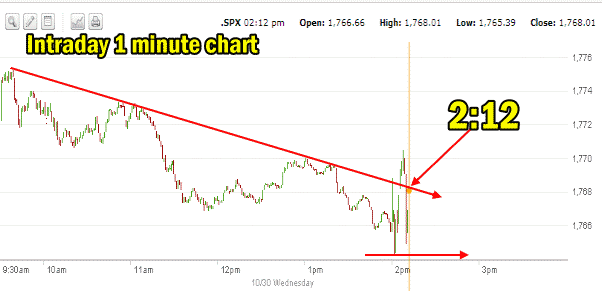 Market Direction Outlook Into The Close
Into the close I believe the markets will end with just slightly in the green. I think we could see a bit of a jump if the Fed does indicate no scaling back of their Quantitative Easing at this point, but the market is very oversold and I think any bounce up will be muted by the close. I'm looking for some green at the close but not much.
Market Direction Internal Links
Profiting From Understanding Market Direction (Articles Index)
Understanding Short-Term Signals
Market Direction Portfolio Trades (Members)
Market Direction External Links
Market Direction IWM ETF Russell 2000 Fund Info