The outlook for Market Direction for today was for the market direction to possibly try a bit of a bounce in the morning and then some further weakness and a weak close. So far that has been the case as the morning saw a nice attempt to rally and then further downside action. Let's take a look at the 1 minute intraday chart.
Market Direction S&P 500 Intraday For Dec 4 2013
The morning saw a dip lower to 1786.27 which brought in a few buyers. A second higher low about 20 minute later failed to push back to 1786 and this brought in a lot of buying.  This is the bounce back that I wrote about in last night's market direction outlook.
I did my first Trading For Pennies Trade for today at that level. I will write that one up as I used the SPY Call options and not IWM options. This pushed back right to 1800 which brought in renewed selling. The selling was weak at first and on the second little push higher I bought Spy Put Options. Following the inability to break through the 1800 level the market direction pushed lower to a 3rd higher low right around the lunch hour. At the time of my writing this article (1:00 PM) the market is attempting to push back up.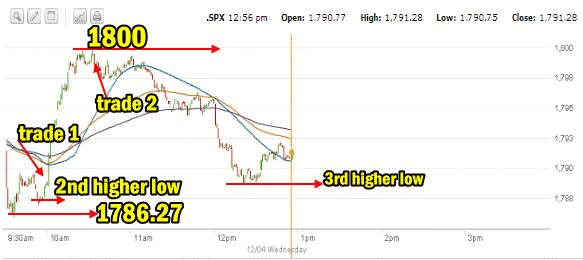 IWM ETF Watch
The IWM ETF has a very similar chart except the morning low was only slightly lower than the last 3 previous lows. We are not seeing higher lows during the day on the IWM ETF by 1:00 PM. The push back in the morning to $112.38 saw limited buying interest and the IWM easily fell back with again little investor interest in trying to pick up further shares as the ETF fell back. The small caps are remaining weak here.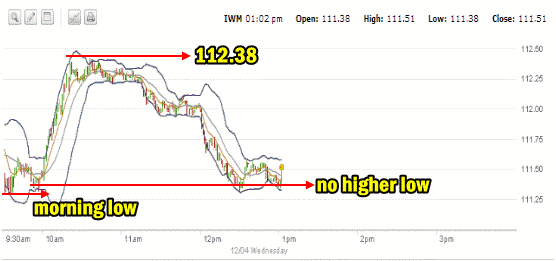 Market Direction Into The Close for Dec 4
Into the close I am not expecting too much change. The market direction is still weak but after 4 days of selling we are bound to see more buyers enter again. Overall there is not much concern. This is really more about fund managers taking profits and many investors repositioning themselves ahead of Friday's unemployment numbers. The market direction today is down just about a quarter of a percent so there is room to fall lower. The S&P though remaining within striking distance of breaking back above 1800. That could easily occur shortly especially if on Friday the unemployment numbers are just OK.  Any chance that the Fed will not commencing tapering and we will see the market direction push higher once again.
For today though I am expecting a lower close. But remember that this is just weakness and nothing more at this stage. This morning's rally back to 1800 was not unexpected as a bounce was definitely in the works after yesterday's market close. But while the bounce back was doomed to fail this morning, this present bout of weakness is not much to be concerned about. In other words, the market has a very good chance of pushing back up shortly.
That means watching covered calls on stocks that you would rather not  be exercised out of. It is worth watching for opportunities to take profits on them by buying them back as they decline in value. Any move back up in market direction and covered calls will push up quickly in value on many stocks.
Market Direction Internal Links
Profiting From Understanding Market Direction (Articles Index)
Understanding Short-Term Signals
Market Direction Portfolio Trades (Members)
Market Direction External Links
Market Direction IWM ETF Russell 2000 Fund Info